CUP: Greg Biffle – A Really Interesting Guy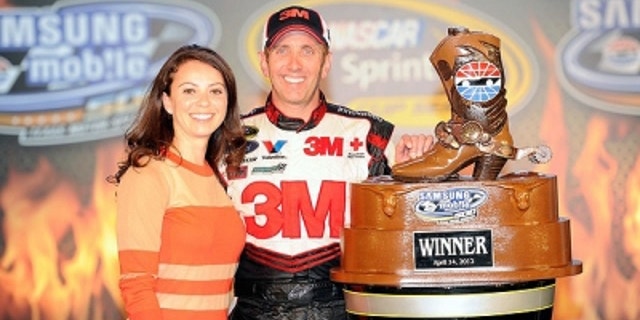 Greg Biffle has been around for quite a while. The Biff, as we call him, is a Washington-state native who came from the short tracks of the Northwest.
Benny Parsons is given credit for discovering Biffle during the 1995-96 Winter Heat Series. Parsons called car owner Jack Roush and told him he better take a look at this kid.
In 1998, Biffle won Rookie of the Year honors in the Truck Series and won the championship there two years later. In 2001, after taking his career to the next level, he was the Rookie of the Year in what's now the Nationwide Series. In 2002, he won the Nationwide Series championship and became the first driver in NASCAR history to win championships in both those series.
Then, after moving up to NASCAR's premier series, Biffle won his first NASCAR Sprint Cup race at Daytona International Speedway in 2003. Then 2005 was the breakout year for Biffle in the Cup series. He won five times in the first 15 races. He ended up getting his sixth win that year at Homestead and finished second in the points to champion Tony Stewart.
I've always called Greg a "wheel man." I love watching him on the in-car camera because he holds that wheel at the nine and three positions, which is dramatically different than others who drive with their hands normally at the 10 and two positions. He just wheels away like only the Biff can.
The one thing you never have to worry about with Greg Biffle is whether he is giving you 100 percent all the time. That's just the way he is — all out, all the time. He gives you all he has.
I think the Biff is really at his best when he is slingin' a car around the track and just manhandling it. One of the biggest positives I have seen out of Biffle is the chemistry he has with his crew chief, Matt Puccia.
They have been together less than a year, with Puccia replacing Greg Erwin after the July Kentucky race last year. The cars are fast and handling well. Puccia is making great calls in the pits. The pit crew is performing flawlessly. Quite honestly, this is the best I have seen Biffle look in his Cup career.
Saturday night was a little out of character for Biffle. As I mentioned, he is normally flat-out every lap. On Saturday night, I saw the maturity of Biffle as he waited for the right moment to make his move on Jimmie Johnson. Johnson led a lot of laps and had a very fast race car, but I was wondering whether Biffle had anything left for him.
He stalked Johnson. And when it came time, Biffle passed him and drove away. Johnson had some issues with Ryan Newman, who was a lapped car and eventually got into the wall but Johnson did still manage to come home in second place. Biffle was patient; he waited for his opportunity and then he pounced.
What an awesome run he had. Now he has his first win of the year. He already has a pole position, and now, after seven races, he has five top-10 finishes plus a 19-point lead over teammate Matt Kenseth. Greg Biffle is making an early-season statement that he is going to be really hard to beat and someone you'll have to contend with for the championship.
So I just wanted to make sure everyone gave Biffle the credit he is due. He's a really great guy. He's popular. He does a lot for our sport, both on and off the track. He and his wife, Nicole, founded the Greg Biffle Foundation in 2005 to promote awareness and be a voice in advocating treatment of animals. They grant money to a lot of humane societies and animal shelters from coast to coast.
I look for Biffle and all the Roush Fenway cars to be good again Sunday at Kansas. He'll have plenty of competition, though. I think the Hendrick cars will be tough. My brother's cars are running really well. He has two cars in the top 10 in points right now. I also think Denny Hamlin and Kyle Busch will be tough Sunday.
I look for Tony Stewart to rebound from Texas this weekend, where he was never a factor. Mile-and-a-half tracks have pretty much been his bread-and-butter tracks. But Saturday night at Texas was just ugly for him . Both Stewart-Haas racing cars really, really struggled.
Actually, Saturday night's race seemed to be a little saner than normal. I really think driving at 200 mph and having a 40-knot tailwind pushing you into the turn made guys play it a little more cautious than usual at Texas. We had two only cautions, and the race was at a record-setting pace.
I give NASCAR a lot of credit because they could have thrown more cautions — for instance, when the No. 21 of Trevor Bayne hit the wall again or when the No. 48 of Jimmie Johnson did. NASCAR could have thrown the yellow flag and simply said there was debris out there. It didn't and let the race take its course and didn't alter the outcome with a yellow flag.
You also have to feel for Marcos Ambrose. I really think what happened to David Reutimann at Martinsville affected the decision that Ambrose made at Texas. He was having a great run and was in the top five all night at Texas. Unfortunately, he ran out of gas on the last lap. Instead of coasting across the finish line, Ambrose came down pit road with the checkered flag in the air.
Unfortunately, coming to pit road, he was speeding and got a speeding penalty. Had he stayed on the track and just coasted around, he would have finished something like ninth. Instead, though, he came to pit road, got the speeding penalty and finished in 20th, one lap down. He did the right thing, but it cost him. Again, I think him seeing what happened to Reutimann at Martinsville, when he stayed on the track and his car stalled and caused a caution period, affected his decision.
I mentioned the Hendrick cars. They had all four cars finish in the top 10 Saturday night. No one needed those finishes more than Jeff Gordon and Kasey Kahne. Kahne took that Texas momentum straight to Rockingham on Sunday and won the track's inaugural Truck race.
Andy Hillenburg has done a wonderful job of bringing The Rock back from the dead. I really appreciate what Hillenburg has done at Rockingham. It was another positive step for one of our NASCAR series and tracks.
I look for Kahne to combine his great Saturday night finish with his Sunday win and roll into Kansas wanting to keep the momentum going.
Over on the Nationwide side of things, Ricky Stenhouse Jr. got his second win of the season for Jack Roush. He's a great young man, and I know Roush is just looking for a way to get him into a Cup car soon. Stenhouse will make a great addition to the Cup series.
I'd also love to see Roush's other driver, Bayne, get a full-time sponsor so that he can run full time in both series. Stenhouse and Bayne are glimpses of our NASCAR future. They both have bright careers ahead of them in the Cup series.
Our sport always evolves, and people want to know where the next stars are going to come from. Those two are ready. You have Richard Childress' grandkids, Ty and Austin Dillon, on the radar now. The future of NASCAR is quite bright, and it's exciting to watch these guys develop, hone their craft and move up eventually to the ranks of the NASCAR Sprint Cup series.
But for today, everyone really better keep their eye on that No. 16 car, because Biffle is on a roll and he really is an interesting guy.