CUP: Great American Grid, Positions 21-30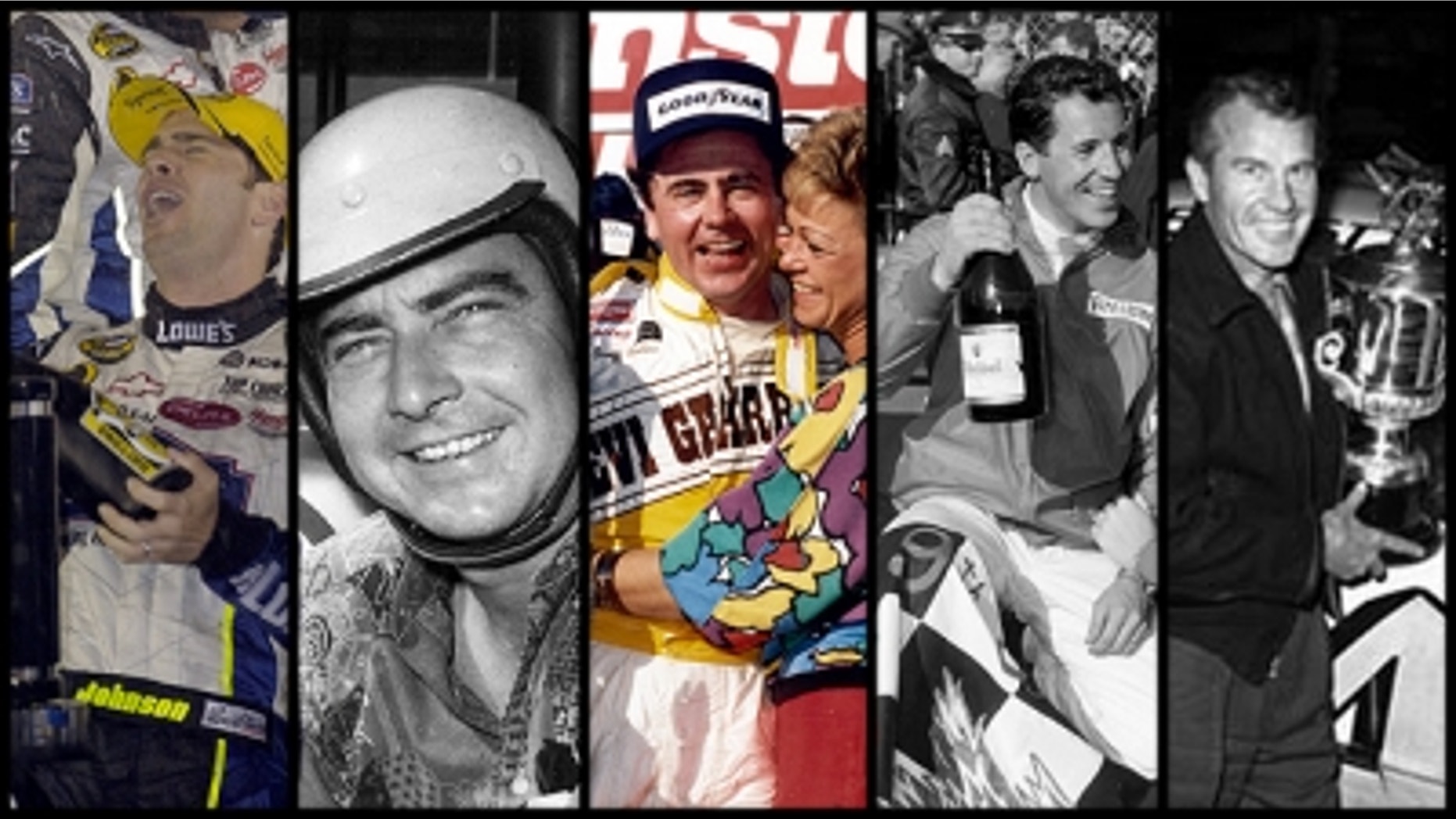 SPEED's Great American Grid, the definitive list of the top 43 performers in Daytona 500 history, is beginning to take shape, as in this installment, we unveil positions 21 to 30, rows 11 to 15.
Our Great American Grid is comprised of all 35 prior Daytona 500 winners and eight other drivers who made a significant impact on NASCAR's biggest race.
Here are positions 21-30 for the Great American Grid:
21. LEE PETTY — The patriarch of the Petty clan won the inaugural Daytona 500 in 1959, in a photo finish that wasn't decided until the Wednesday after the race. Petty only made one more start in the Daytona 500, as his driving career ended with a near-fatal crash in a Daytona qualifying race in 1961;
22. MARIO ANDRETTI — The only driver to win the Daytona 500, Indianapolis 500 and a Formula One world driving championship, the diminutive Italian native stunned the NASCAR community by winning the 1967 500 in a Holman-Moody Ford Fairlane. It was one of just three Daytona 500 starts for Andretti.
23. GEOFF BODINE — By winning the 1986 Daytona 500, Bodine put the fledgling Hendrick Motorsports team on the NASCAR map in a big way. In 21 Daytona 500 starts, the New York native posted five top-five and eight top-10 finishes, along with an average finish of 18.6.
24. ERNIE IRVAN — Called "Swervin' Irvan" early in his career, Irvan developed into one of the most feared restrictor-plate racers of the early 1990s. He drove the Kodak-sponsored Morgan-McClure to victory in the 1991 Daytona 500 and won the Coke Zero 400 the following year in the same car.
25. JOE WEATHERLY — A two-time NASCAR Sprint Cup champion who was killed in the prime of his career in 1964, Weatherly posted three top-five and four top-10 finishes in just five Daytona 500 starts. Weatherly, known as the clown prince of NASCAR, Weatherly had a great average finish of 11.8 in the 500.
26. FIREBALL ROBERTS — NASCAR's first superstar, Roberts won the 1962 Daytona 500 driving a Smokey Yunick-prepared Pontiac. He also scored three polls in NASCAR's biggest race. Tragically, Roberts succumbed to injuries following a crash in the 1964 Coca-Cola 600 at Charlotte Motor Speedway.
27. KURT BUSCH — Although he's yet to win a Daytona 500, Busch has been sensational here: three Daytona 500 runner-up finishes and 10 top fives in 22 starts. Last year, Busch won the Budweiser Shootout and his Gatorade Duel race before finishing fifth in the Daytona 500. He is always a threat here.
28. JIMMIE JOHNSON — In 2006, Johnson won his only Daytona 500 and did so after crew chief Chad Knaus was suspended because the No. 48 Hendrick Motorsports Chevrolet flunked post-qualifying inspection. Johnson's car has been at the center of three Daytona rules controversies.
29. LEEROY YARBROUGH — The 1969 Daytona 500 winner, Yarbrough had two top-five and four top-10 finishes in seven starts in the Great American Race. In the '69 race, Yarbrough came from 11 seconds back with 10 laps to go, but ran down Charlie Glotzbach for the victory.
30. TERRY LABONTE — The two-time NASCAR Sprint Cup champion made 29 Daytona 500 starts, tying him for second all-time with Ricky Rudd. Labonte had six top-five and 10 top-10 finishes, finishing second in 1997 between Hendrick Motorsports teammates Jeff Gordon and Ricky Craven.
31. MARVIN PANCH — One Daytona 500 victory, two top-five and three top-10 finishes in seven starts for Panch, who was named one of NASCAR's 50 greatest drivers. Panch, a native of Wisconsin, won the third Daytona 500 in 1961, driving a Smokey Yunick-prepared 1960 Pontiac.
32. TINY LUND — A gentle giant, Lund pulled Marvin Panch from a burning sports car at Daytona in 1963, saving his life in the process. The injured Panch convinced the Wood Brothers to let Lund drive their car in the 1963 Daytona 500, which Lund won on a single set of tires.
33. RYAN NEWMAN — Hard to believe, but when Newman won the 2008 Daytona 500, it was the first NASCAR restrictor-plate race victory for Team Penske, dating back to 1972. Newman also has two top-five and three top-10 finishes in the Daytona 500.
34. MATT KENSETH — The 2003 NASCAR Sprint Cup champion won the 2009 Daytona 500 when he passed Elliott Sadler just moments before heavy rain fell, forcing a premature end to the race. That was Kenseth's only top-five finish in the Daytona 500, though he has four top 10s.
Previously announced were positions 35-43 for the Great American Grid:
35. JUNIOR JOHNSON — NASCAR Hall of Fame driver Junior Johnson is credited with discovering the draft at the fabled 2.5-mile superspeedway, which he used to great advantage to win the second Daytona 500 in 1960. In seven starts in the Great American race, Johnson had one victory, one top-five and one top-10 finish.
36. NED JARRETT — Gentleman Ned, as Jarrett was known, never won the Daytona 500, but the two-time NASCAR champion had two top-five and six top-10 finishes in seven starts in the race. His finishing average was 9.1, impressive given the era he raced in saw a lot of engine failures.
37. WARD BURTON — In what at the time was something of an upset, Burton won the 2002 Daytona 500 driving a Bill Davis Racing Dodge with Tommy Baldwin as his crew chief. For his career, Burton made 10 Daytona 500 starts, with three top-10 finishes and an average finish of 19.7.
38. JAMIE MCMURRAY — One of the best restrictor-plate racers of his generation, McMurray won the 2010 Daytona 500 in his first race back with Earnhardt Ganassi Racing with Felix Sabates. It was McMurray's only top-10 finish in the 500, though he has also won the Coke Zero 400.
39. PETE HAMILTON — The New England driver with the good looks of a Southern California surfer, Hamilton famously won the 1970 Daytona 500 in the winged blue No. 40 Petty Enterprises Plymouth Superbird. He also swept both Talladega races that year.
40. RICKY RUDD — The main claim to fame for Rudd in the Daytona 500 is that his 29 starts in the Great American Race tie him for second all-time with Terry Labonte. Rudd earned four top-five and 10 top-10 finishes in the 500, and in 1984 raced in the 500 with his eyes taped open after a horrible crash in the Busch Clash.
41. TREVOR BAYNE — In one of the greatest upsets in sports history, Bayne won the 2011 Daytona 500 one day after turning 20 and in only his second career NASCAR Sprint Cup start. And his call on the radio — "Are you kidding me?" — was the definitive NASCAR sound bite of the year.
42. DERRIKE COPE— In 14 Daytona 500s, Cope scored just one top-10 finish, but it was a huge one: Cope won the 1990 500 after leader Dale Earnhardt ran over a piece of bellhousing on the last lap and cut his right-rear tire going into Turn 3. Cope, who was second at the time, took the lead when Earnhardt slowed and scored a huge upset victory.
43. DAVE MARCIS — No one made more career starts in the Daytona 500 than the wingtip-wearing Marcis. In 33 starts in the Daytona 500, Marcis scored three top-10 finishes and led six laps.
Tom Jensen is the Editor in Chief of SPEED.com, Senior NASCAR Editor at RACER and a contributing Editor for TruckSeries.com. You can follow him online at twitter.com/tomjensen100.