CUP: Gordon's Long, Strange Trip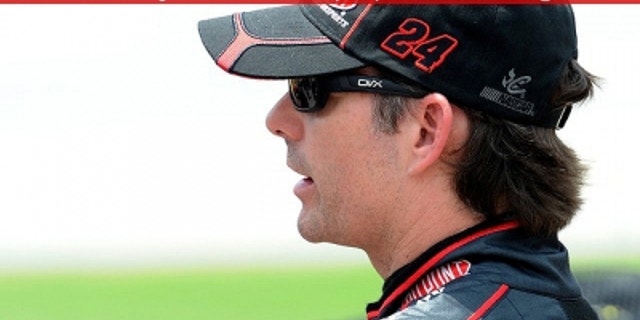 The 2012 season has been unlike any other for four-time NASCAR Sprint Cup champion Jeff Gordon.
He wound up on his roof in the Budweiser Shootout and lost an engine in the Daytona 500, finishing 40th.
An exhaust pipe on teammate Dale Earnhardt Jr.'s car cut a tire on Gordon's Hendrick Motorsports Chevrolet at Bristol, sending him home 35th.
Half a lap from winning at Martinsville, a late-race caution deprived him of victory, as he got wrecked during a green-white-checkered finish, ending up 14th.
A crash doomed Gordon to a 33rd-place finish at Talladega, and a week later, a series of flat tires left him 35th at Darlington.
Through the first 14 races of the season, Gordon's average finish was an atrocious 20.714 and he was 22nd in points.
"When you go through something like that, it really tests you," said Gordon. "It tests every aspect of the team, personalities. It either pulls you apart or it brings you closer together."
And then, slowly things began to turn around.
In mid-June, Gordon finished sixth at Michigan, at that point just his fourth top-10 finish in 15 races.
The following week, Gordon came home sixth again, this time on the road course in Sonoma, Calif., his home track.
Then it was on to Kentucky, where Gordon finished 15th and Daytona, where he ended the night 12th.
That was followed by another sixth, this one at New Hampshire and a fifth at the Brickyard 400.
And then, suddenly, it all came good at Pocono Raceway, where Gordon won in a fluke fashion, after leaders Jimmie Johnson and Matt Kenseth crashed, allowing Gordon to move up from fourth to first. And while the track was under caution, a huge storm moved into the area, washing out the remainder of the race and handing Gordon the victory.
"If that was the first race we ever won, I certainly wouldn't want to win it that way," said Gordon. "That's 86 (Sprint Cup race victories) for me. I've won plenty of races like that and lost plenty of races like that."
Over the last seven races, Gordon's average finish has been 5.857, and suddenly, he holds down the second and final wild card spot in the Chase for the Sprint Cup.
Of course, with five races left in NASCAR's regular-season, anything can happen. Like Gordon, rivals Kyle Busch, Ryan Newman and Joey Logano each have one race victory and are in the top 20 in points. If one of them wins one of the next five races and Gordon doesn't, he'll be knocked out of the wild card slot and will miss the Chase for the Sprint Cup for only the second time in his career.
Still, seven weeks ago, no one really thought Gordon would be in the wild-card mix. Gordon is aware of the recent improvement, and hopes it will translate into a Chase spot.
"For us, we've been building momentum for several weeks with great finishes, as well as just really solid runs," he said. "That's the difference from the start of the season. We had great runs and just weren't putting any kind of results together. So we put ourselves into this hole that we're in. But the last eight weeks, even with a few glitches along the way, we've been getting ourselves out of it. I hope the next five weeks we continue to do that."
This week, Gordon's challenge will come in the form of the 2.45-mile Watkins Glen International road course, where he has four victories, but none since 2001. In fact, after posting those four wins in a five-year stretch, Gordon has just two top 10s in his last 10 starts at the Glen.
He thinks this week could be better, though.
"I'm really optimistic because I feel like we made some great gains at Sonoma this year, had a nice finish (sixth) there," said Gordon. "Qualified good there (second), as well. Sonoma and Watkins Glen are different, but we feel like the test we did at Road Atlanta earlier in the year, the things we're finding to improve the car in performance is going to pay off at Watkins Glen, as well. I'm hoping that's what we do first. Then knowing now that things can go our way if we put ourselves in the right place at the right time, we're very capable of pulling off top-five finishes and even a win."
So now that Gordon is back in the hunt, the challenge is to win again and secure that wild card spot.
"Now there is more pressure because four, five weeks ago I don't know if we really felt legitimately there was a shot at us getting into the Chase," said Gordon. "We knew how badly we needed one win. Now we've got one win. Hopefully, we cannot only just keep the momentum going but take on that extra pressure of 'we-do-have-a-shot-at-it-now' and step up."
Tom Jensen is the Editor in Chief of SPEED.com, Senior NASCAR Editor at RACER and a contributing Editor for TruckSeries.com. You can follow him online at twitter.com/tomjensen100.