CUP: Gordon's Daytona Wreck Still Reverberates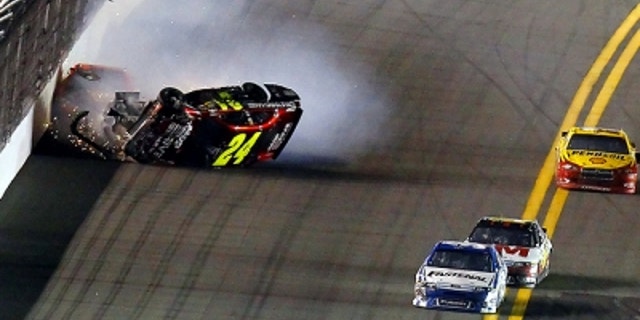 Of the multitude of wrecks that opened the NASCAR season with sparks and fury at Daytona, Jeff Gordon's wild ride near the end of the Budweiser Shootout continues to generate comment.
Although Gordon has had harder hits (notably at Pocono and Las Vegas) in his 20-year career, his sliding, flipping ride at Daytona last month is high on the list of his most spectacular accidents.
Drivers tend to brush off these things as part of the normal workday, but Gordon admits that the Daytona crash got his attention. From several perspectives.
"You hold onto the steering wheel, but you basically just brace yourself for any impact that may be coming," he said. "The one thing about when you are flipping upside down, you really don't know what's coming next because you can't see. You're spinning around, and you're seeing the sky and the track and the sky and the track, and it's all happening pretty fast. You'd be surprised at how fast it goes by.
"I think for somebody who doesn't drive a race car for a living that's been doing it as long as I have and hasn't hit a lot of things along the way and been upside down and spun around and sparks flying and fires and everything else – that thought process of going through 60 seconds of something like that seems terrifying. There are only a few split-seconds through that whole experience where I was nervous, and one was when I was sliding on the door and I was more concerned with if those sparks turn into fire and I need to get out, how am I going to go through the other window?
"I knew some cars had gotten into me, and I thought the car might be stuck like that. That didn't last for very long because I started flipping. Then I was like, 'Please don't land upside down.' Then it landed upside down. When it landed upside down, everything was fine. I was like, 'That didn't hurt so bad, and I'm not injured.' I told the team I was fine, but now it's like how am I going to get out? The longest part of that entire wreck was waiting for them to get to the window and going through the process of whether or not we should flip it over or not.
"That seemed like it took forever, and I wish I would have waited longer because I wanted to get out in a hurry, and they wanted to wait and flip the car over. I wish I had waited because I tried to get out and that was the only time I was scared. I was stuck inside the car when I tried to unhook. That was the part that wasn't much fun.
"As far as coping with it, maybe it's just the mentality you have to have to be a race car driver. I was ready to get back in the car as fast as I possibly could and go out there and go race."
Gordon also talked about his off-the-track life and how much he enjoys being a father after a first child-less marriage that ended in a very public divorce.
"We have two amazing children, and every day I'm so thankful," Gordon said. "I also look at how hard parenting is, and I think if I had children when I was 20 – I got married the first time very young, and if I had children at 25 or 26, I don't think I would have been ready for it.
"I don't know if I would have been able to stay as focused on my career. Or one would have suffered more than the other, and so I think now I'm able to balance it out, I feel like, pretty well and enjoy both."
Mike Hembree is NASCAR Editor for SPEED.com and has been covering motorsports for 30 years. He is a six-time winner of the National Motorsports Press Association Writer of the Year Award.