CUP: Gordon Woes Put Damper On Hendrick Roll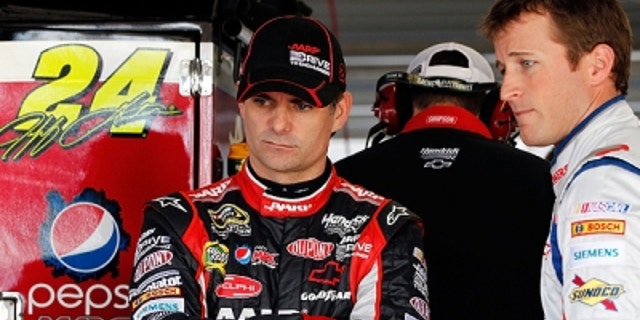 Kasey Kahne's win was awesome, not only for him, but for that whole No. 5 team. I see a really unique situation developing now at Hendrick Motorsports. I wonder if the giant has come awake one more time.
Jimmie Johnson, whose season started in Daytona with controversy plus being wrecked out of the Daytona 500 on Lap 2, is on a roll. Kasey Kahne, who started his first season at Hendrick Motorsports with seemingly all the bad luck a driver could have in the early part of the season, is also on a roll. There is no longer skepticism and questions about Kasey.
Remember that, at one point, Kasey was 30-something in the points. With the tremendous rebound they have enjoyed the past number of weeks, topped off with his win at the Coca-Cola 600 on Sunday night, Kasey is now 15th in points and what I believe is only one win from a guaranteed spot in the Chase. I think two wins will get anyone in as long as they stay in the Top 20.
Then there is Dale Earnhardt, Jr. He is having a great year, ranking fourth in points. In 12 races he has four Top 5 finishes and nine Top 10s. He is making a statement that if he keeps knocking on the door long enough — like we always tell the drivers you need to do — he will get himself a win.
Until that day arrives, he is going to concentrate on making the Chase no matter what. Again, just look at last year and what Tony Stewart was able to do once he got into the Chase. Tony proved to everyone that you have to get into the Chase first, then you never really know what will happen after that.
The question or the pressure at Hendrick Motorsports has to be on Jeff Gordon. Where is he? He's our sport's four-time champion, and it seems like he has picked up all of Kasey's bad luck from early this season and made it his own. It really has everyone asking the same question — "What is going on with Jeff Gordon?"
In fairness, Jeff did move up two spots in the points to No. 22 after Sunday's race. But let's face it — he's Jeff Gordon. He shouldn't be the far back in the points in the first place. In 12 races in 2012 he has only one Top 5 and three Top 10 finishes.
Where's the fire we are used to seeing from him, quite honestly, as recently as last year? Is the pressure to deliver getting too great? Is the focus not on his racing career like it used to be? The man has a lovely wife and now two kids, so one's priorities are going to change.
Sure, he's had bad luck, but so did Kasey Kahne. The difference is Kahne has risen from the ashes and Gordon hasn't yet. That No. 5 pit crew delivered Sunday night when the chips were down and Kahne brought it to the house. That black cloud we all saw early in the season is no longer hovering over Kahne.
With Gordon buried in the points, he has to start winning and do it now. As I mentioned earlier, I think it will take two wins this year to guarantee any driver one of the two wild-card spots in the 2012 Chase. In addition to that, Gordon has to stay consistent enough where he is 20th or better in the points. You can win all the races you want, but if you fall down in the ones you don't win and aren't at least 20th in points, then your wins don't get counted toward those two Chase spots.
Johnson, Dale Jr. and Kahne are red hot and are now the three lead horses at Hendrick Motorsports. Can Gordon dig deep and do what it takes to join his three teammates in becoming the Four Horsemen who will give car owner Rick Hendrick a legitimate shot of reclaiming the NASCAR Sprint Cup championship?
Can Gordon rally between now and September at Richmond, which is the cut-off for making the Chase? That will mean the Hendrick drivers would take up four of the 12 spots at that point. So, who then gets left behind?
But back to Gordon — it's the lack of fire that has me concerned. Car owner Rick Hendrick arguably has given him the best available crew chief in his entire organization (since Rick obviously is not going to split up Johnson and crew chief Chad Knaus). There are even people within Hendrick Motorsports who say Alan Gustafason is even better than Knaus. So, if you have the best or second-best crew chief under your roof, but you are the fourth-place finishing car in the stable every week, then something just isn't adding up, especially when your driver is a four-time champ.
Gordon is one of the classiest guys you will ever meet. He's done it all in our sport. He is a great ambassador and he gives so much back to the community and those in need. I see and hear the frustration and I simply don't understand what's going on.
We are talking about the third-winningest driver in the HISTORY of NASCAR! It's like the mighty New York Yankees having Derek Jeter and wondering why he isn't getting on base or hitting home runs anymore. In my book, Jeff Gordon is the Derek Jeter of Hendrick Motorsports. He's done it all. But right now he is in a slump of biblical proportions.
What is that? Is it physical? It is mental? I honestly don't know. Gordon is the face of Hendrick Motorsports. With 201 wins in that garage, he has 85 of them. To have all these questions surrounding Gordon and the No. 24 car is somewhat unfair in my book. It's mystifying to me. When he's not having bad luck, they still aren't even competitive.
There simply isn't a race track we go to where Jeff Gordon can't win. The mystery now is what the missing piece of the puzzle is. That's the key to what's wrong with the No. 24. Once they find that missing piece, step back and watch what their four time champion can do.