CUP: Gordon Seeking Elusive Victory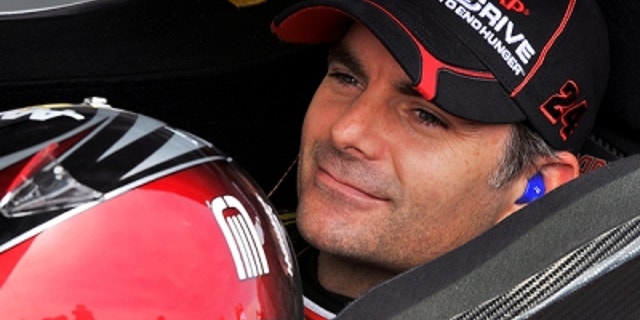 With a sixth-place run last week at Sonoma, Jeff Gordon gained two spots in the Sprint Cup point standings to 18th, but he acknowledges that his most realistic shot at making the Chase is jumping into the win column.
And that has been a tough task, indeed, for the Hendrick Motorsports driver, who hasn't won since last September at Atlanta and whose 2012 record shows only one top-five finish (a fourth at Texas) despite a season of strong cars.
Gordon said the team is staying the course.
"We don't change how we approach each race," he said. "We just go into it trying to win and to be the best that we can be. We want to get in the Chase bad, and we know we have to win races to do it.
"I think it might just change your mindset when you get into the race and you have to make a risky call. But, other than that, it's just business as usual trying to put the fastest race car on the track and go out there and prepare yourselves to win races. And that is no different than what we have been doing all year long, and I really don't look at right now where we are in points or whether we have won or not. It's just like last week – I get in the car, I start the race and all I am thinking about is that lap and putting the corners together. It is frustrating when things continue to happen to us, but when you are in the race you are thinking about what you have to do to win the race."
Gordon said the schedule's summer stretch offers opportunities for him.
"There is no doubt in my mind that this race team has what it takes to win races, and we have some great race tracks coming up to do that," he said. "This (Kentucky Speedway) is not one that would be high on my list just because I was very challenged at this track last year and even today went so-so (in practice), but it could happen here just as easily as it could happen anywhere else. But when we leave here, there are several tracks."
Gordon said Saturday night's race will be particularly challenging because of the intense heat, a factor that increases the driver's workload on a bumpy track.
"Just being on the edge of being out of control on every single lap, especially over in turn three, where there is a big bump," he said. "You are under heavy braking there, and the car is very light there. We are already sweating because it's hot, but we were sweating some more just because you have your hands full."
Mike Hembree is NASCAR Editor for SPEED.com and has been covering motorsports for 30 years. He is a six-time winner of the National Motorsports Press Association Writer of the Year Award.