CUP: Gordon, Earnhardt Good After Bristol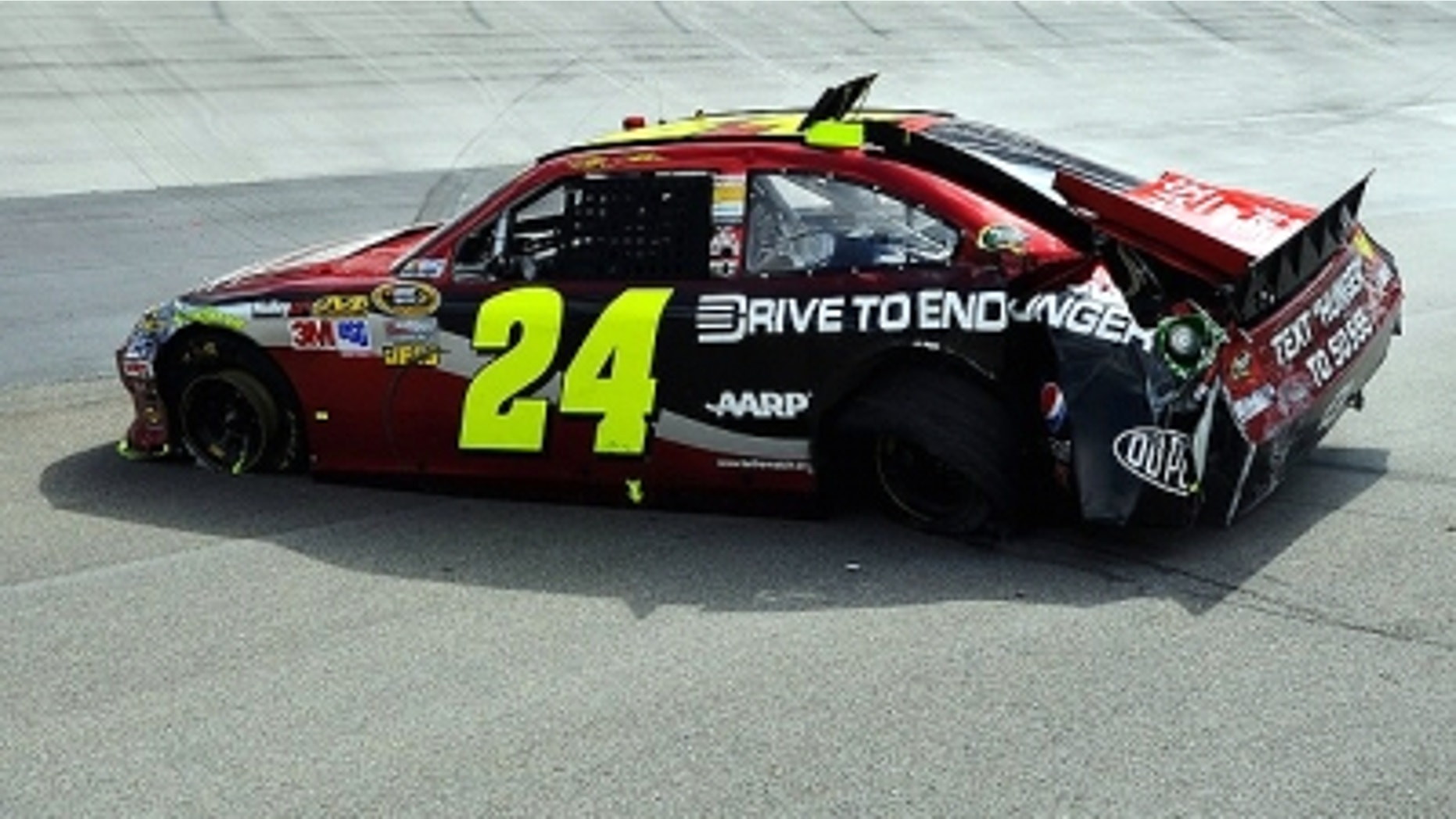 Sunday's Food City 500 at Bristol Motor Speedway was another tough outing for four-time NASCAR Sprint Cup champion Jeff Gordon, who was one of the fastest cars in the race, but finished 35th after cutting a left-rear tire on the exhaust pipe of teammate Dale Earnhardt Jr.'s Hendrick Motorsports Chevrolet on Lap 360.
But five days later, Gordon said Bristol essentially was just part of racing and downplayed the teammate-to-teammate aspect of the incident.
"It didn't have anything to do with teammates," Gordon said Friday at Auto Club Speedway. "We were just racing hard for position. It makes our Tuesday meetings more interesting."
On the contact between the two, Gordon said it was a freak accident.
"You could do that 100 times and just go on about your business," Gordon said. "This time, it just so happened the tailpipe lined up with the tire."
Gordon added that he'd like to see the tailpipes, which exit under the right side of the cars, adjusted so they can't cut tires. "I don't understand why the tailpipes are even capable of getting to the left-rear tire. I'd like to see that addressed."
As for Earnhardt, he, too, said the incident was random.
"We talked and I feel pretty good about how that went," Earnhardt said of his discussion with Gordon. "We should have no problem going forward. It was an unfortunate situation, especially for him. I'm sure it stings a little bit for him and the team. We will just see.
"It was just a freak situation and you kind of got to remember that, you know, and not really beat yourself up too much about it. Jeff has a good reputation in this sport. I've got a lot of respect and enjoy being his teammate. I've learned a lot from him even before we were teammates, just racing him over the years. He has been here a long time and I think we will be able to race each other without any problems. I think he respects me and I respect him. We will be able to move forward without any problems."
Tom Jensen is the Editor in Chief of SPEED.com, Senior NASCAR Editor at RACER and a contributing Editor for TruckSeries.com. You can follow him online at twitter.com/tomjensen100.