CUP: Gordon Car Headed For Scottsdale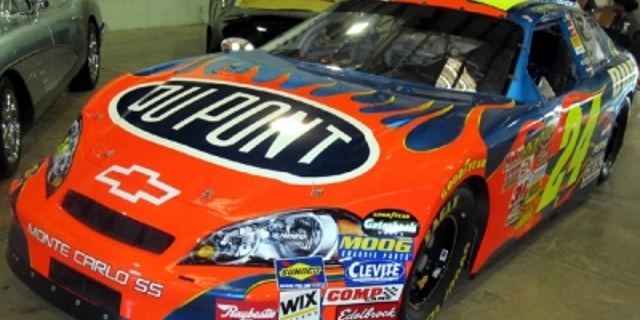 Arizona construction magnate and car collector Ron Pratte and NASCAR team owner and car collector Rick Hendrick have become good friends in recent years, with charities benefitting mightily as a result.
That appears to be set to happen again, as SPEED prepares to for 21 hours of live television coverage from the Barrett-Jackson Palm Beach Collector Car Event from 2-8 p.m. ET Thursday and Friday and 11 a.m.-8 p.m. Saturday.
First, some background: In January at the Barrett-Jackson Scottsdale event, Pratte paid bought the first 2013 Corvette 427 Convertible Collector Edition, raising $700,000 to benefit the AARP Drive to End Hunger program, which, not coincidentally, sponsors Jeff Gordon's No. 24 Hendrick Motorsports Chevrolet NASCAR Sprint Cup car.
Five years earlier, Pratte paid $500,000 to buy one of Gordon's 2006 NASCAR Sprint Cup Series Hendrick Motorsports Chevrolets, with all proceeds going to the National Marrow Donor Program, one of Hendrick's favorite charities. Hendrick is a 15-year survivor of chronic myelogenous lekemia.
Then, in February, Pratte was Hendrick's guest at the Daytona 500.
Now, the same No. 24 Hendrick Sprint Cup car that Pratte purchased at Barrett-Jackson Scottsdale in 2007 is sitting in the Barrett-Jackson Palm Beach Showcase Pavilion, next to a handful of cars Hendrick has for sale at this weekend's auction.
But the 2006 No. 24 isn't for sale this weekend at Palm Beach.
Multiple sources have told SPEED.com that Pratte agreed to sell the car for charity again at Scottsdale in 2013, with one proviso: That Gordon agree to be there when the car sells. With NASCAR on vacation this week, representatives from Gordon and Hendrick Motorsports were unable to provide details, but it looks like the No. 24 will be put to good use, for a good cause next January.
Tom Jensen is the Editor in Chief of SPEED.com, Senior NASCAR Editor at RACER and a contributing Editor for TruckSeries.com. You can follow him online at twitter.com/tomjensen100.