CUP: Good Run, Bad Ending For Patrick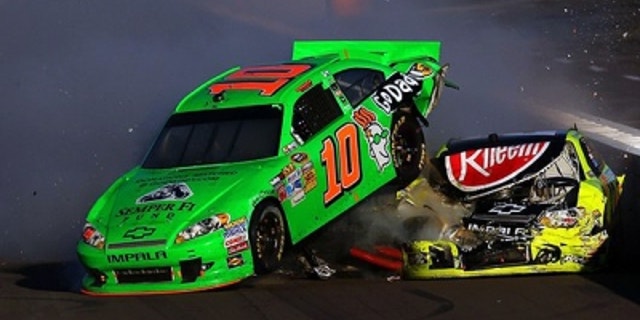 After a year of slow progress racing part-time in the NASCAR Sprint Cup Series, Danica Patrick showed genuine promise as she had her best race of the year in Sunday's AdvoCare 500 at Phoenix International Raceway.
And it would have been a good bit better had it ended one lap earlier.
Patrick was in the top 15 during a green-white-checkered finish when she was hit by Jeff Burton and spun out in Turn 3. She gamely tried to make it back to the start-finish line, but with no caution called by NASCAR she slid in oil on the track and hit the outside of Turn 4.
Then she came back across the track and was on the frontstretch when she got rammed by an on-rushing Paul Menard, which lifted the rear of Patrick's No. 10 GoDaddy.com Chevrolet into the air, landing on top of Kurt Busch's car. None of the drivers involved in the contact was injured.
Officially, Patrick had her best result in 10 Sprint Cup starts this year, ending the race 17th. But she should have finished much higher, perhaps even in the top 10.
"Man, we save it all at the end in these Cup races," said Patrick, who will race full-time in the Cup Series next year. "Came out of (Turn 2) on the backstraight, and with the No. 31 (Jeff Burton), and he took the apron. I already had a good distance coming out of 2. The apron was not quicker all day long to make a pass, unless you had a big run going."
Unfortunately for Patrick, Burton did have a big run going.
"The No. 31 (Burton) clipped me, I spun around, got it going again," said Patrick. "Was on fire, I think, and I was trying to get across the (start-finish) line. I was literally trying to drive into the wall then drive along it because I couldn't see. I don't know exactly what happened. I heard there might have been oil from me, or something. If so, I definitely wasn't intending to make a mess. But 17th … we were 13th, that's pretty good. Short tracks are not my strong suit."
After the initial spin, it was on the frontstretch where things got real in a hurry.
"I definitely got airborne down the frontstraight," Patrick said. "What is unfortunate is I'm pretty sure that the No. 39 was one of them. I hope I didn't cause a problem, but I think we have different cars for Homestead hopefully. We don't run our short-track cars on the big track right? And we get new ones next year. This will make for good charity crash damage body work."
Despite the rough end, Patrick's new crew chief, veteran Tony Gibson, was very pleased at the end.
"She deserved to finish 12th at least," Gibson said. "But, she got wrecked by Burton. But, it's our best finish. 17th. We'll take that. But we know we were better than that. She's getting better, and better, and better. It just makes up pumped for next year. She said herself, I wish we were going to Homestead (for the final race of the year). It is just pumping everybody up. It's exciting. I'm glad we got these two races in, because it just shows her she can drive and run with these guys. It puts confidence in our guys, that yes, she can do it."
Tom Jensen is the Editor in Chief of SPEED.com, Senior NASCAR Editor at RACER and a contributing Editor for TruckSeries.com. You can follow him online at twitter.com/tomjensen100.