CUP: Gibbs Driver Returns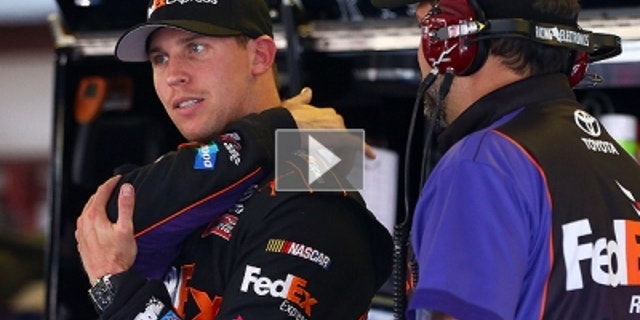 Denny Hamlin's desire "to feel speed again" surely made it difficult for him to sleep Friday night.
Just knowing he would climb back in his No. 11 Fed Ex Toyota at Talladega Superspeedway following a four-race absence became a natural stimulant.
"I understand what makes me a race-car driver because I've been so determined to get back in the car — win, lose or draw no matter what the circumstances or the repercussions might be," Hamlin said, who sustained a fractured vertebra following a wreck at Auto Club Speedway on March 24.
"Obviously, I've had a lot of great people around me that have protected my best interests. Really, if this was the old NASCAR, if this was the '80s or '90s, I would've been racing at Martinsville [the following week]. But NASCAR has put in place some great people with their medical staff and they ensured that my quality of life is not in danger when I get on the racetrack."
Hamlin was optimistic he would return to action last weekend at his home track — Richmond International Raceway. However, after the doctors reviewed his scans, they couldn't come to "a full consensus" to clear the driver.
Hamlin agreed it was in his best interest to "err on the safe side" and wait until Talladega to offer his back additional time to heal. Although anything can happen at a restrictor-plate track, given the 2.66-mile length of Talladega Superspeedway it would afford Hamlin ample time to turn over the wheel and continue to rest his back.
"Knowing basically what we were going to do this weekend was going to be the equivalent of a quarterback basically hiking the ball and taking a knee. We were going to very much minimize our risks this weekend of re-injuring ourselves, which gives us one more week to then heal," Hamlin said. "We're going to rescan next week and obviously just make sure everything is still intact and everything is where it needs to be."
Still, Hamlin would not confirm whether indeed he will remove himself from the seat on Sunday. One moment the driver claims he wants to offer his team "an honest shot at a win" and doesn't feel that he's up to being that "aggressive right now." Then he vacillates to the excitement of being behind the wheel.
Regardless, Brian Vickers is standing by for Hamlin. Vickers has subbed for Hamlin the last three weeks in the No. 11 Toyota. On Friday, it took Hamlin and Vickers just one minute and six seconds to swap out of the seat — a little more than the time it takes to run a lap at Talladega.
"As far as the first lap, early-on wreck, it definitely can happen. We've seen it here at this racetrack on lap one and we've seen it on the last lap. I'm obviously going to put myself in what I believe is a safe position. Obviously you can't help things like blown tires or whatever that could possibly happen, but like I said, I think the equivalency of our risks this weekend will be taking a knee."
Hamlin found the speed he was hoping for on Friday. In first practice, he posted the fifth-fastest 10 consecutive lap average (195.110 mph) and the seventh-fastest time (48.044-seconds) after 18 laps. Although Hamlin says he would have stayed on the track "until (he) ran out of gas," crew chief Darian Grubb called an audible and parked his driver.
Hamlin insists "there's no discomfort" inside of his race car. It's just the process of getting in and out of the car that causes distress to his back — which is why the team decided to use the roof hatch as his escape route rather than the window, to avoid a twisting motion.
While Hamlin feels no different in the cockpit than he did six or seven weeks prior, he was one of 17 drivers who opted to sit out during happy hour. Considering that his vertebra hasn't fully recovered, there's no reason to take unnecessary chances.
"There's going to be risks," Hamlin said. "There is risk. There is risk until — I don't know the exact science and no one knows the exact percentages. Nobody knows, and that's what makes this really, really hard. With bone healing, it doesn't matter if you break your arm, you break your leg or whatever, a bone takes a year to heal. That's realistic.
"But, as far as I've been told and I understand, it would take such a significant hit that you probably would be injured from it even if you were 100-percent healthy, as far as I understand. So, it's very hard. I've got to let the doctors speak for that a little bit more than me, because I don't know the risks exactly and neither do they. We're just trying to buy myself another week obviously until Darlington, but the risk is so minimal that it's almost not even there."
Hamlin currently sits 28th in the driver point standings, 126 points out of the Chase Zone. However, he's currently 71 points outside of the top 20 — where Hamlin would need to be in order to earn a wild-card berth for the Chase to the Sprint Cup should he win at least one race or possibly two before the "playoff'' standings are recalculated after the first 26 races.
Despite taking a laid-back approach to this weekend, Hamlin understands he will have to "be more aggressive" over the next 17 races. And he's confident he can reach the initial goal of battling back to 20th.
Then it becomes a question of whether he can win races. Certainly, with his Joe Gibbs Racing teammates Kyle Busch and Matt Kenseth both visiting victory lane twice, Hamlin is optimistic.
"Luckily, our team cars are running really, really well right now, so that's very uplifting," Hamlin said. "We're in a good spot. We've just got to capitalize when we're in those race-winning situations late in races. We've got to finish the deal.
"There is a formula. What it is, we don't know. We are going to start collecting points one week sooner than what we originally thought. When this happened and we started figuring things out of missing five points races, if we just did what we did last year we would make it.
"But nothing is a given. As much as I like to say that I'm going to win two, three, four races before the Chase and we've done it numerous years, it's no given. We have to just treat it like it's the last chance. It's Game 7 every single week for the next 17 weeks realistically for us. We know realistically if we win two races, I'm going to find it very hard to believe that we won't be part of the Chase. "
Hamlin has qualified for the playoffs since he started running full time in the Sprint Cup Series in 2006. While it's difficult for any driver to watch the action from the sidelines, it offered a Hamlin an opportunity to concentrate on the team's strengths and weaknesses, including his own. That's given Hamlin "a lot better perspective," and he believes will make the team stronger.
Yet with the team's current deficit, Hamlin understands there cannot any catastrophic failures between now and when the Chase begins in September — but he can only control things behind the wheel. However, under the format of NASCAR's championship, even a driver who misses four events can stage a comeback — and that gives Hamlin hope.
"I'm grateful that that's still an option," Hamlin said. "If this was the old system, we would be long out of it. So, there's a lot of good things happening that give me a lot of optimism."