CUP: Fuel Saving Drops Hamlin To Third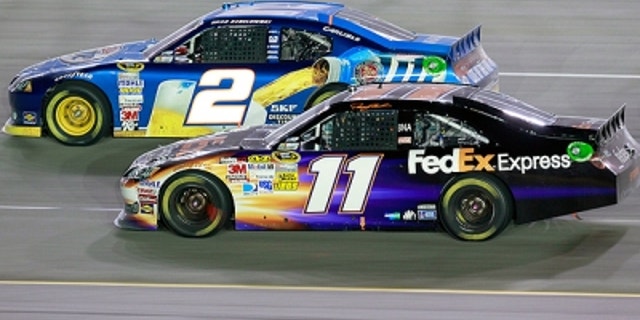 Denny Hamlin wound up in "save fuel" mode in the closing laps of the Quaker State 400 and wasn't able to challenge Brad Keselowski for the win.
Hamlin still finished third, however, and jumped three spots in the Sprint Cup point standings into a tie for fifth with Kevin Harvick.
His frustration centered on his inability to be competitive late.
"We had a good run," Hamlin said. "Our car was pretty good through the middle stages of the race. We lost the lead with 70 to go or so. It seemed we had to go into fuel- save mode, and our car started going back towards the lead. And we came in and once we did that pit stop, we made a charge to the front. But we knew we had to save fuel the entire last run.
"There was nothing I could do. As much as I wanted to keep the 2 (Keselowski) honest and run him hard, I had to run a certain pace, and that's all I was allowed to do if we were going to make it to the end.
"So, kind of anticlimactic for our day. We try to spend all day working on your car, and you can't run it to its full potential. So that part of it is a little frustrating."
Hamlin was the flagship for Joe Gibbs Racing for the night. Teammate Kyle Busch led 118 laps but fell victim to mechanical problems, and Joey Logano finished 22nd after damage from an incident with Ryan Newman.
"You want everyone running up front as much as possible, because that is more information you can use when they do have problems and things like that," Hamlin said of his teammates. "It's tough. They're all having their separate issues and things that are going on and engine stuff, and wrecks and things like that.
"So, it's very frustrating. But the law of averages should all work out. We had a really good run at the beginning of the season and two straight DNFs. I think everything kind of works out in cycles, and those guys are just in a bad one right now."
Busch whacked the wall and eventually had to have a shock replaced.
"Tough night again, once again," he said. "Just had to persevere and try to get through the best we could. Broke a shock mount. Then it broke a shock and just all ensued after that. So, tough night again for these M&M's guys. We salvaged a heck of a finish (10th) for what all we had to go through. Definitely not any fun to drive, but had to do what we could on three pogo sticks."
Dave Rogers, Busch's crew chief, said his team continues to respond to tough times.
"One thing that we said we had to work on this year was overcoming adversity, and the last several weeks has given us our fair share of adversity, and I think we did a really good job this week of overcoming it, staying focused and getting the best finish possible."
Mike Hembree is NASCAR Editor for SPEED.com and has been covering motorsports for 30 years. He is a six-time winner of the National Motorsports Press Association Writer of the Year Award.