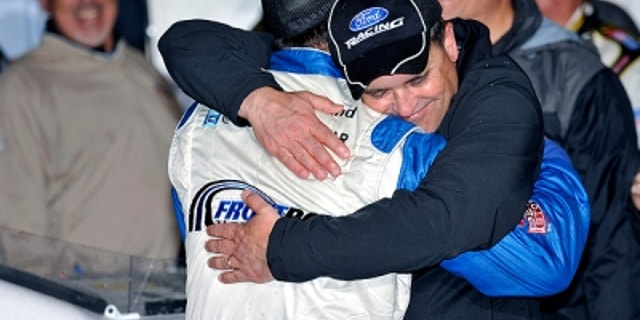 The day would come, team owner Bob Jenkins said.
"Most of all, it's so satisfying that over the last nine years every year we've gotten a little bit better, and I felt the progress and I knew it was just a matter of time before we'd win one of these things," said Jenkins, minutes after celebrating the biggest moment of his motorsports career, as Front Row Motorsports drivers David Ragan and David Gilliland finished one-two in Sunday's Aaron's 499 at Talladega Superspeedway.
Jenkins began his Sprint Cup career in 2005, fielding cars in a handful of races for such drivers as Stanton Barrett, P.J. Jones, Tony Raines and Hermie Sadler. He ran his first full season in 2009 and has been battling the big boys with an underfunded team across almost a decade.
Sunday the skies opened up – literally and figuratively – and put him in the throne room.
"In the racing graveyard, my epitaph won't be I won the most races or championships, but I want to be known as a team that did the most with the least," Jenkins said. "Every year, we try to get better. We work within ourselves. The chassis we run we build, so we're not able to go out and buy products from other teams, and that's a disadvantage, but on a day like today it really makes you feel good because you know the equipment that you won the race with was what you built in your own shop.
"That's what makes it so gratifying is to see these guys – they make less than what a top‑tier team would make, but they're still at the shop doing the same thing every day, and it paid off for them today. For me, I'd much rather do it this way than to go out and write a check for top‑tier equipment."
Can Front Row do it again? Will Sunday's cash flow boost the team to another level?
"Trust me, these guys know how to spend it," Jenkins said. "But it'll help our program, there's no doubt about that. The thing we've done is although it's an expensive sport, we just reinvest what we make back into the sport. That's the only way we're going to get better.
"My philosophy from the beginning is, in this sport, you have to make your own place at the table. Nobody is going to give it to you. I've always felt like if we can go out and perform and put out a good product, then sponsorship will come, respect will come, and hopefully wins will come, so that's kind of been our attitude all along."
Mike Hembree is NASCAR Editor for SPEED.com and has been covering motorsports for 31 years. He is a six-time winner of the National Motorsports Press Association Writer of the Year Award.