CUP: Friday Auto Club Notebook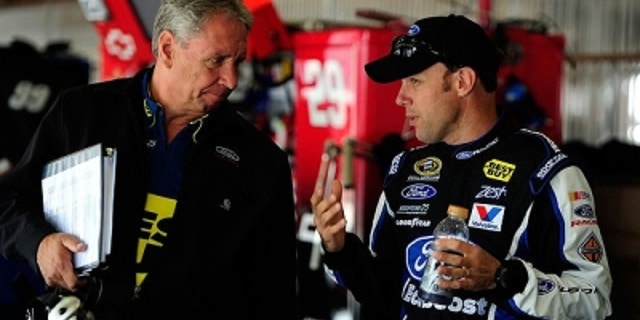 NEWYou can now listen to Fox News articles!
KENSETH READY TO ROLL — Matt Kenseth is always someone to watch whenever the NASCAR Sprint Cup Series races at Auto Club Speedway. Kenseth, the 2003 Sprint Cup champion, has three victories at the fast 2-mile oval, the most recent coming in 2009, immediately after he won his first Daytona 500. Having just won his second Daytona 500, Kenseth will again be one of the favorites to win this week at ACS, though he admits that he's not sure why he enjoys so much success here.
"It always comes down to the cars and the team," said Kenseth, third in points now behind his Roush Fenway Racing teammate Greg Biffle and Kevin Harvick. "Nobody can do anything without a fast race car and fast pit stops and good strategy, but, other than that, I don't know why. Sometimes you have tracks that you do better at than others and you don't know why. If I could figure it out, I would try to bring that to other tracks and do better at them as well, but it's just been a track that seems like it's suited our style and I've been able to communicate to the guys what I want in the car and what I want it to feel like and keep working for that until we get there."
HARVICK WEIGHS IN — As expected, the main topic at Auto Club Speedway on Friday was the successful Hendrick Motorsports appeal of penalties assessed by NASCAR against the team after Jimmie Johnson's No. 48 Hendrick Motorsports Chevrolet was nailed at Daytona with altered C-posts. Arbitrator John Middlebrook, a former General Motors executive and close friend of team owner Rick Hendrick, threw out suspensions of crew chief Chad Knaus and car chief Ron Malec, plus a 25-point penalty. But Middlebrook, who has not commented publicly on the case, let stand a $100,000 fine against Knaus, leaving confusion about the legality or lack thereof of the No. 48 car.
The verdict stunned many, race teams included.
"It's no different than watching a case like O.J. (Simpson), and watching OJ go free," said Kevin Harvick, driver of the No. 29 Richard Childress Racing Chevrolet. "Watching that case, there's no way you thought that was going to happen. Then you see the verdict, and then it happens. It's very similar to that. Sometimes you think something is cut and dry, and you think this is going to be the verdict, and the next thing you know it's not. You move on and you go to the next one."
BRAD BACKS BRISTOL — Fresh off his second consecutive victory at Bristol Motor Speedway, Brad Keselowski understandably is not someone who's about to complain about new Bristol vs. old Bristol, a subject of some debate this week.
"Personally, I think it's irresponsible, misinformed and at best, self-serving, for any driver or media member who goes out there and criticizes the track," Keselowski said Friday morning at Auto Club Speedway. "I don't think that's right. I think there are drivers that struggle there as the track has been reconfigured and have ulterior motives to point the figure at the surface reconfiguration instead of their own teams' performance. And I think there are media members that enjoy getting the extra attention and extra reads for talking about the track's surface, but I don't think that it's an informed opinion when you look at it objectively."
SHORT TAKES — On Tuesday, officials from Charlotte Motor Speedway will announce what, if any, changes will be made for the format of the Sprint All-Star Race. ... Rodney Atkins will perform a Saturday night infield concert on May 5 during the 2012 Aaron's Dream Weekend at Talladega Superspeedway. ... Bruce Jenner, reality television star and gold medalist in the decathlon at the 1976s Olympics, will serve as Grand Marshal for the Royal Purple 300 NASCAR Nationwide Series race at Auto Club Speedway. ... Brad Keselowski has signed an endorsement deal with Gargoyles Performance Eyewear. ... Eighties rockers Night Ranger will perform the National Anthem prior to Sunday's AAA 400 at Auto Club Speedway. ... NASCAR CEO and Chairman Brian France paid tribute to former Atlanta Journal-Constitution sportswriter Furman Bisher, who died March 18 at the age of 93. "Furman Bisher was an American treasure," said France in a statement released by NASCAR. "As one of the country's highest-profile sportswriters, the column inches he devoted to NASCAR were invaluable to our sport. He helped give us credibility among sports fans, then helped us build that credibility through the years. He was, simply, a giant in his craft. Our condolences go out to his family and friends." ... Jimmie Johnson's Helmet of Hope program has signed Blue Bunny Ice Cream as its title sponsor. To date, it has given away more than $300,000 to 49 charities. More at www.helmetofhope.org.
Tom Jensen is the Editor in Chief of SPEED.com, Senior NASCAR Editor at RACER and a contributing Editor for TruckSeries.com. You can follow him online at twitter.com/tomjensen100.