CUP: Ford Vs. Ford Vs. Ford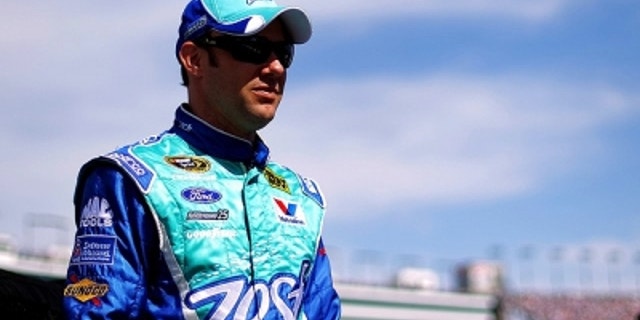 Taking the green flag for the Kobalt Tools 400's final restart, Roush Fenway Racing drivers Matt Kenseth, Greg Biffle and Carl Edwards were third, fourth and fifth in the running order behind Tony Stewart and Jimmie Johnson.
When the race finished four laps later, Biffle had third, Edwards fifth and Kenseth 22nd.
Obviously, those closing miles saw some hard racing between the teammates.
The uneasiness came on the last restart when Edwards shot forward from fifth, diving to the inside to go three wide in pursuit of Stewart, who had bolted away from Johnson.
Edwards' move squeezed out Kenseth and put Edwards and Biffle side by side. Kenseth appeared to make slight contact with Biffle, then slapped the wall before regaining control and finishing the race.
"You got to get what you can get," Biffle said. "We saw the 14 (Stewart) go three-wide on the 2 car (Brad Keselowski, earlier). Unfortunately, these days you got to race each car like you have to pass for position.
"Now, you're probably not going to put the guy out in the weeds [or] jeopardize him wrecking. But you got to do what you got to do, I guess."
Biffle, who took over the point lead with his finish, said he gave Edwards plenty of room when he saw his teammate moving to the inside.
"When I looked out the side mirror, the 99 car (Edwards) was coming up the track [and] was going to hit me. I started moving up a little bit to try to give him a little bit of room on the bottom. My spotter told me the 17 (Kenseth) is looking at the top. I'm like, 'What else can happen in one corner?'
"As long as we're not beating and shoving on each other, I suppose anything goes."
Kenseth said the teammates ran out of racing room.
"Carl just laid back and got by me three-wide, and then it just didn't seem like there was a lot of room getting into one," he said. "Then I did get clear behind him, and he just stopped in the middle of the corner. I don't really know what happened.
"I got into him a little bit, and then I don't know if I got the air pulled off on the right side or what happened."
Edwards said Kenseth "gave me a ton of room, and we just got all bunched up over there. Matt spun his tires a little bit, and I got a run on him, and then Greg and I went around him and he ended up getting wrecked. I feel terrible. He did a really good job."
Mike Hembree is NASCAR Editor for SPEED.com and has been covering motorsports for 30 years. He is a six-time winner of the National Motorsports Press Association Writer of the Year Award.