CUP: Ford Drivers Battling Drought At Indy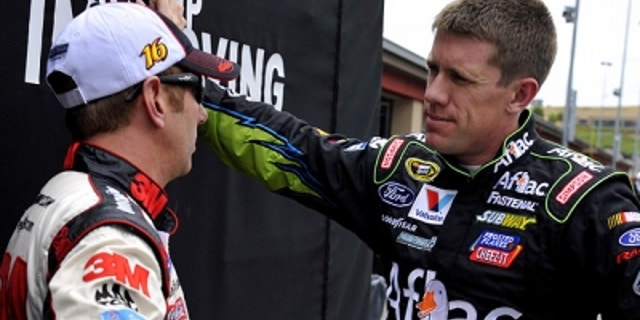 Ford drivers and teams have some catch-up work to do at Indianapolis Motor Speedway, where the Blue Oval has been oddly absent from discussions at the front in recent seasons.
The past nine Sprint Cup races at the Brickyard, auto racing's most famous track, have been won by Chevrolet – three by Jimmie Johnson, two by Tony Stewart and one each by Kevin Harvick, Jeff Gordon, Jamie McMurray and Paul Menard, last year's upset winner.
The record book must be flipped all the way back to the last century – 1999 – to find Ford's last Brickyard win. That was scored by Dale Jarrett, then driving for Robert Yates Racing.
Ford's top driver a year ago was Matt Kenseth, who finished fifth.
Ford is coming off a dismal showing at the most recent Sprint Cup race. Ford teams failed to lead a lap of the 301 raced at New Hampshire Motor Speedway as Chevrolet driver Kasey Kahne scored the win.
There is a No. 1 reason Ford needs an impressive rebound at Indy, and his name is Carl Edwards.
Last year's championship runner-up, Edwards is dancing really close to the edge of the fire. With seven races remaining to the Chase cutoff, he's 46 points out of 10th – the last qualifying spot – and he has no wins and thus is nowhere to be seen in the wild-card hunt.
Edwards was out to lunch at New Hampshire, finishing 18th. It was his third finish of 18th or worse in the past four races, extending his winless streak to 51 races.
Edwards' dire situation resulted in a crew chief change at Roush Fenway Racing, and Chad Norris has taken over duties in that role for the 99 team at Indy.
"Our whole 99 team's mindset is to go through these next seven races and make every race as perfect as we can make it and get every single thing we can," Edwards said Saturday. "If that is a win, then we are going to get the win. If that is 12th, then we are going to get 12th. We have to be perfect and get the best we can. If at the end of the day that gets us where we want to go, then great."
Norris said he's trying to build on a good foundation left by departing crew chief Bob Osborne.
"Bob has done a great job with this team and these cars, so I don't see a bunch of huge changes coming," he said. "We're going to go to Indy with a new car and give it everything we've got for the next seven races and get in this Chase because that is what Carl, Jack (team owner Jack Roush) and this team deserve and expect."
Greg Biffle, Edwards' teammate, will be making his 350th Sprint Cup career start in the Crown Royal 400 Sunday.
"Indy is a fast, flat race track, and it's very important to be able to get into the corners well there," Biffle said. "Having the Ford power under the hood will help us get down the straightaways, which is also crucial for a fast lap at Indy. We've run well there in the past, and I have high expectations for this weekend."
Mike Hembree is NASCAR Editor for SPEED.com and has been covering motorsports for 30 years. He is a six-time winner of the National Motorsports Press Association Writer of the Year Award.