CUP: For Junior, A Win – And Two Absences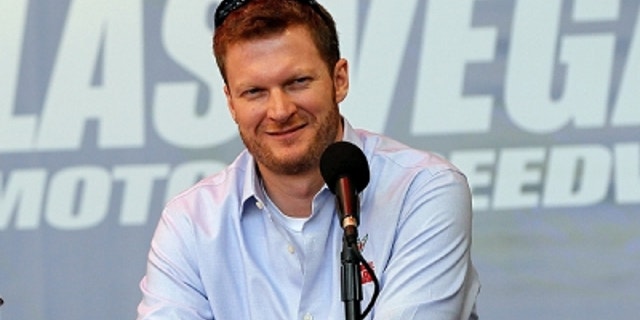 For Dale Earnhardt Jr., 2012 was the year that was – and the year that wasn't.
The sport's most popular driver – he won the award for the 10th straight time last month – finally ended a miserable winless streak by leading 95 laps on the way to a victory in June at Michigan, and Junior Nation breathed a big sigh of relief.
But there was bad news to come, and it swept across the NASCAR community to become one of the biggest stories of the season.
During an Aug. 29 Goodyear tire test at Kansas Speedway, Earnhardt slammed into the outside wall at near full speed. He left the track almost immediately, later saying he was aware that he had suffered a significant shot to the head. Yet he continued to race.
The difficulty of the situation was underlined weeks later when Earnhardt Jr. was involved in a multi-car crash at Talladega. Still shaken by the accident two days later, he sought medical treatment, and it was then revealed that he had suffered a concussion in the Kansas accident and another at Talladega.
In a dramatic press conference at Charlotte Motor Speedway, Earnhardt Jr. said he would sit out races at Charlotte and Kansas to allow himself time to heal and recover. He thus effectively exited the Sprint Cup championship race and dropped to 12th in the final standings. And his situation brought new attention to the fact that drivers often compete after suffering significant head injuries.
Later, Earnhardt Jr. said he should have responded faster and with more concern to the Kansas incident.
"I think I should have been smarter about it the first time, at Kansas," he said. "I didn't feel good, and I started getting nauseous. I knew right then, for damn sure, that I had a really bad concussion. I wish I had taken that more seriously."
Earnhardt Jr. returned at Martinsville, finishing 21st. He was seventh at Texas, 21st at Phoenix and 10th in the season-ender at Homestead.
Despite sitting out two races, he finished the season with 20 top-10 runs, more than seven of the drivers who finished ahead of him in the standings.
He joined teammates Jimmie Johnson, Jeff Gordon and Kasey Kahne in putting all four Hendrick Motorsports Chevrolets in the Chase, and he was one of only two Chase drivers (also Greg Biffle) with no DNFs during the season.
Although the year was another difficult one for Junior in relation to victory lane (beyond the Michigan win), he was solidly consistent all season and was no lower in points than seventh before he missed the two races in October. He led the points for two straight weeks in July and August.
Earnhardt Jr.'s search for his first Sprint Cup championship will continue with the new year, one he will enter with 19 Cup victories – and a clear head.
Mike Hembree is NASCAR Editor for SPEED.com and has been covering motorsports for 30 years. He is a six-time winner of the National Motorsports Press Association Writer of the Year Award.