CUP: Five Join NASCAR Hall Tonight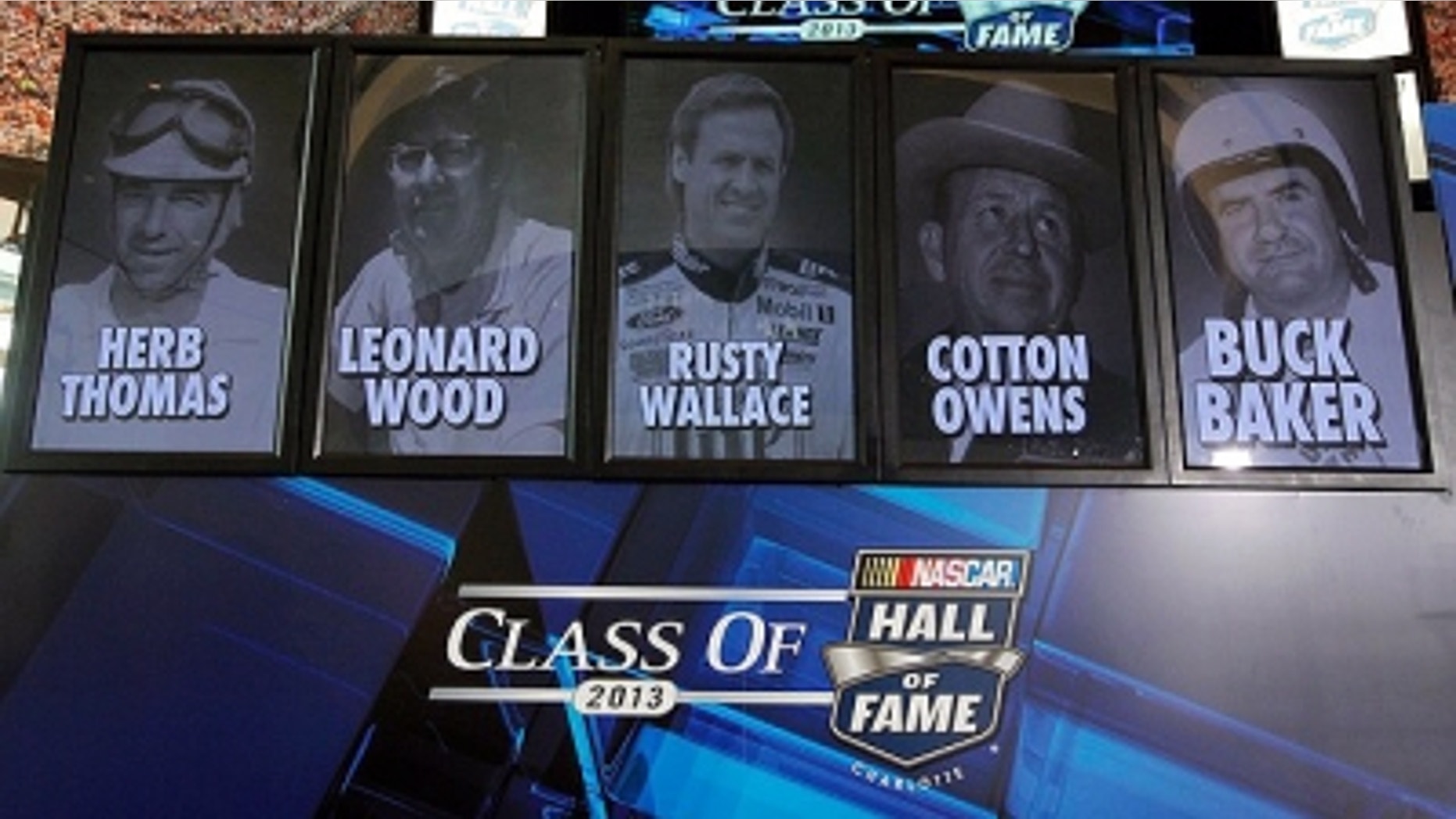 Two won championships in NASCAR's pioneer years. Another was a star driver, team owner and innovator. The fourth is one of a handful of drivers to win more than 50 Cup races, and the fifth dominated pit road like few before or after.
Herb Thomas, Buck Baker, Cotton Owens, Rusty Wallace and Leonard Wood join select company tonight as they will be inducted as the fourth class in the NASCAR Hall of Fame.
The induction ceremony is scheduled at 7:30 p.m. ET at the Charlotte (N.C.) Convention Center's Crown Ballroom. It will be broadcast by SPEED.
Thomas, Baker and Owens will be inducted posthumously.
This year's class has solid representation from that grouped of rugged individuals who built the foundation for NASCAR in the 1950s.
Owens, who died last June at the age of 88, was a star on the barnstorming NASCAR Modified circuit in the 1950s, scoring more than 100 victories before moving on to NASCAR's top series, where he won nine times. His first win came in 1957 on the old beach-road course at Daytona Beach, where he gave Pontiac its first series victory.
Owens moved on to become a crew chief and car owner, and won the 1966 Cup championship with driver David Pearson, a member of the hall's second class.
"He was super on dirt … one of the better guys who raced on the dirt tracks," said Hall of Famer Richard Petty of Owens. "When he became a car owner, he really helped the cars get better. He was a good mind in doing some new things in the sport."
Junior Johnson, Bobby Allison, Fireball Roberts, Marvin Panch, Ralph Earnhardt, Mario Andretti and Al Unser all drove Owens-prepared cars. In 1970, Buddy Baker (whose father, Buck, goes into the hall tonight) drove the first official 200-mph lap in NASCAR history in an Owens-prepared Dodge Daytona. The speed was recorded at Talladega Superspeedway.
Thomas won 48 Cup races between 1951 and 1956 and was the first driver to win two Cup titles (1951 and 1953). Over a 228-race career, he had a winning percentage of 21.05 percent, a number that included three of the first six Southern 500s.
A farmer, Thomas got into racing after watching an event in Greensboro, N.C., and he moved rapidly up the ranks. He built his reputation driving Hudson Hornets built by master mechanic Smokey Yunick.
Thomas died in 2000 at the age of 77.
Baker personified the tough-guy approach that won NASCAR races and championships in the 1950s. Known for driving cars beyond the edge of their limits, he won 46 Cup races and was the premier series' first back-to-back champion (1956-57).
Baker, who once drove buses in downtown Charlotte, raced into his 50s and won for the last time in the 1964 Southern 500 at Darlington.
He died in 2002 at the age of 83.
There were strong hints that Wallace, now 58, would have a special career when he finished a remarkable second in his Cup debut in 1980 at Atlanta.
He would drive on to 55 Cup victories and the 1989 Cup championship, all the while wrestling close friend Dale Earnhardt Sr. for the sport's high ground.
Wallace retired from driving in 2005.
Wood, the mechanical genius behind the decades-long success of the Wood Brothers Racing team, joins his brother, Glen, the team's founder, in the hall.
Wood was among the first crew chiefs to emphasize the speed of pit stops, and his mechanical innovations and groundbreaking work with such changes as tire stagger changed the nature of the sport.
The Woods' cars won 96 times with Leonard Wood as crew chief. Now 78, he continues to work at the team's shop.
Mike Hembree is NASCAR Editor for SPEED.com and has been covering motorsports for 31 years. He is a six-time winner of the National Motorsports Press Association Writer of the Year Award.