CUP: Five Join Hall On Memorable Night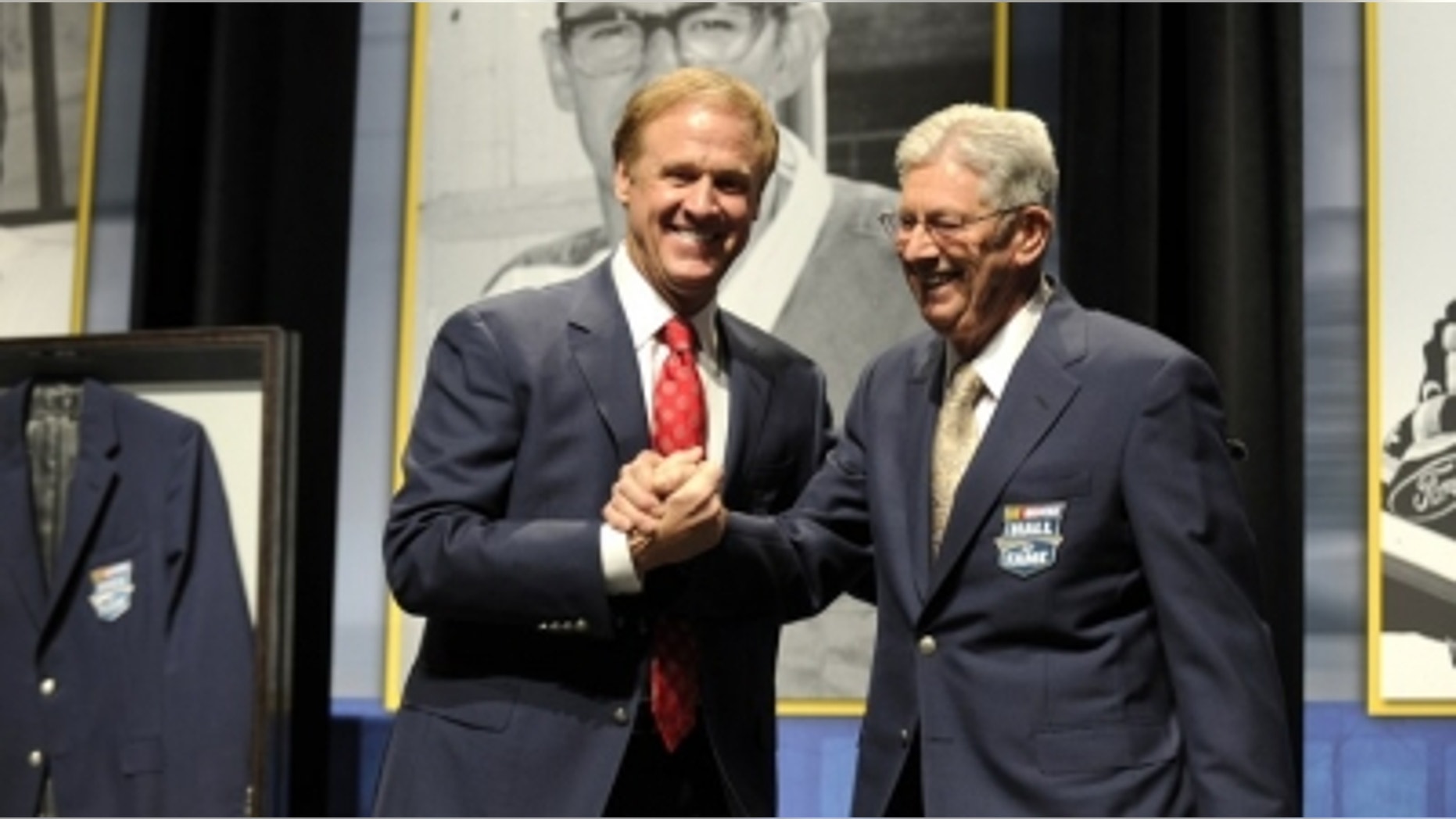 NASCAR added five men to its Hall of Fame Friday night in a ceremony that was heavy on memories of the missing.
Rusty Wallace, Leonard Wood and the late Cotton Owens, Buck Baker and Herb Thomas were inducted into the hall at the Charlotte Convention Center Crown Ballroom, increasing membership in the relatively new hall to 20.
Wallace and Wood were joined by dozens of family members, friends and former racing associates as they accepted NASCAR's highest honor. Included in the group honoring Wood was his older brother, Glen, who was inducted into the hall last year.
brightcove.createExperiences();
Family members of Owens, Baker and Thomas also joined in the celebration.
Baker won the Cup championship in 1956 and 1957, becoming the first back-to-back champ. He won 46 Cup races in a career that began in NASCAR's first season, 1949, and ended in 1976. Formerly a Charlotte bus driver, he won at the Cup level for the last time in 1964.
"I wish Buck was here tonight," said his wife, Susan, who accepted the Hall ring from Baker's son (and former driver) Buddy. "He would have something very witty to say.
"There has never been anyone quite like Buck. He was an amazing man and the love of my life."
Owens, who died of cancer last June, not long after learning he had been chosen for the hall, won nine Cup races and, with Hall driver David Pearson, took the Cup championship as an owner in 1966. He was a dominant driver in NASCAR's Modified series.
Kyle Davis, one of three Owens grandsons who drove dirt-track cars built by the former Cup winner after his NASCAR career, accepted the induction.
"My grandfather was one of the most humble, most loyal and hardest working men I've ever met," Davis said. "He was a wizard, truly, at turning wrenches and behind the wheel. It didn't matter if he was at Daytona or Darlington or at a Carolina dirt track with the grandkids. He was going to have some of the best-looking and safest cars on the track."
Pearson presented the Hall of Fame ring to Davis and called Owens "not only a good guy to drive for but a good friend – one of the best friends I've ever had."
Thomas, a farmer and sawmill operator from Olivia, NC, competed from 1949 to 1962, winning 48 races and producing one of the best winning percentages (21) in the history of the sport. He won the championship in 1951 and 1953, becoming the first two-time champion. He died in 2000.
Joel Thomas accepted the induction for his father. "My father would have been very honored and humbled in receiving his recognition," Thomas said. "Dad, this is for you."
Wallace, now a motorsports broadcaster, won the Cup championship in 1989. He totaled 55 victories and scored at least one win per season for 16 straight years (1986-2001). Although he won the title driving for team owner Raymond Beadle, Wallace had his most extensive success teaming with Roger Penske.
Wallace, wiping tears, talked about the "fantastic ride" that took him from St. Louis area short tracks to the top ranks of NASCAR.
"I'm humbled that I've made it here," Wallace said. "I'm humbled that I'm standing up here."
Wallace thanked the dozens of people who boosted his driving career, including Beadle, who traveled from Dallas to attend the ceremony.
"Raymond worked so hard and put all he had in that 1989 championship," Wallace said. He said current team owner Rick Hendrick loaned the Beadle team money to finish that season. "Rick has I don't know how many championships and a half of one," Wallace said.
Wood, long-time crew chief for the Wood Brothers Racing team and its extensive list of accomplished drivers, scored 94 wins as a pit-road boss and is acknowledged as one of the best mechanical innovators in the sport's history.
Wood accepted the Hall of Fame ring from his nephew, Eddie, who, along with his brother, Len, and sister, Kim, operate the Wood team.
"It's certainly a high honor to go into the NASCAR Hall of Fame, especially behind brother Glen and two of our former drivers, David (Pearson) and Cale (Yarborough). We learned together, and we won together."
Wood listed the long line of drivers who raced to wins in Wood Brothers cars, including Pearson, Yarborough, Neil Bonnett, Marvin Panch, Dan Gurney, A.J. Foyt, Joe Weatherly, Curtis Turner and 2011 Daytona 500 winner Trevor Bayne.
Eleven of the 12 living Hall of Fame members from the first three classes attended the ceremony.
Before the hall inductions, long-time broadcasters Barney Hall and Ken Squier were honored with the presentation of the first Squier-Hall award, recognizing news media contributions.