CUP: First Step For A Champion?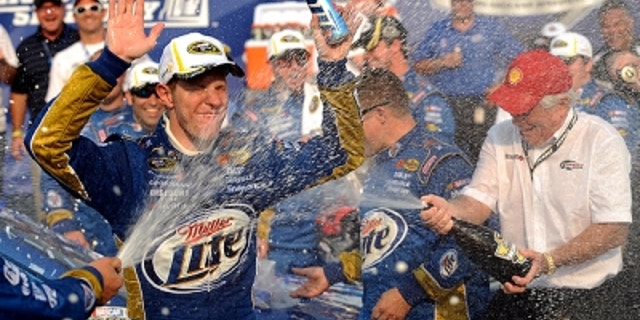 NEWYou can now listen to Fox News articles!
When Brad Keselowski and Roger Penske talked for the first time about the possibility of the young driver joining Penske Racing, Keselowski told the long-time team owner he wanted to help land the team's first Sprint Cup championship.
He took a very big step in that direction four years later by coming back late in the first race of the Chase for the Sprint Cup and zapping the championship favorite, Jimmie Johnson, in the closing miles to reach victory lane and move into first place in the Chase standings.
It was important for Keselowski to win the first Chase race and move into the point lead, but it was even more important to do it in a gunfight with Johnson and Hendrick Motorsports, the team Penske Sunday called the "gold standard".
Keselowski said Johnson has "an impeccable resume over the last 10 years."
It was as if Keselowski and his team had stared down the bear and stolen the kill.
"To be able to race the 48 (Johnson), we've been wanting to race the 48 for as many years as I think I've been in this sport, and to be able to race side-by-side within two or three seconds for probably almost 100 laps and come out on top is a real credit to his (Keselowski's) driving skills," Penske said. "That last pit stop – I don't know if anyone noticed – was about 12.9 (seconds), which got us out there in good shape. To me, those are the things, if you put them all together, we ended up with a win."
Does Keselowski's big surge in the first race of the championship run – and the fact that he outgunned Johnson along the way – make him the big dog on the block? He stopped short of claiming the victory gave him the emotional edge going forward.
"It's not for me to speak about a mental edge," he said. "That's for you guys (media) to speculate [about]. But when you're winning races and running up front like we did today, it means a lot to everybody. It means a lot for your own team, and it means a lot to others, sometimes. I know that watching the 48 win quite often has. That does have an effect over time, a psychological advantage."
Adding a little shine to Sunday's win was the fact Keselowski accomplished it by returning to the track after a late-race pit stop and moving up the racing surface in front of Johnson for the position. Johnson later said Keselowski moved back onto the track sooner than NASCAR's pit-blend rule allows but added that the move probably didn't have an impact on the outcome of the race.
"It's a policy of merging down the backstretch, off of turn two I think it said specifically in the drivers meeting, and I feel like that's what we did," Keselowski said. "You can make rules that count it down to the inches and just make it a pain in the ass for everybody that participates in the sport, or you can just have a rule like we do, and I felt like I was inside those guidelines. I think NASCAR agreed, as well, based on their no-call."
Mike Hembree is NASCAR Editor for SPEED.com and has been covering motorsports for 30 years. He is a six-time winner of the National Motorsports Press Association Writer of the Year Award.