CUP: Final NASCAR Sprint Cup Power Rankings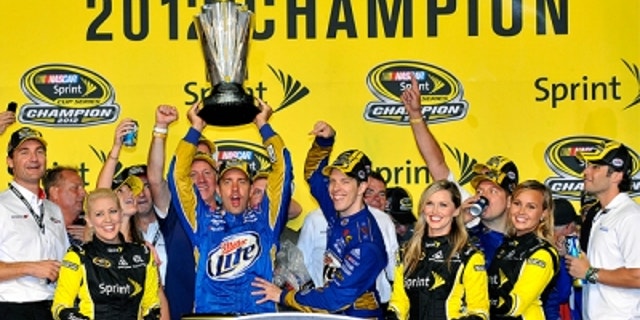 All hail Brad Keselowski, the new NASCAR Sprint Cup champ, who not coincidentally, ends the 2012 season atop the FOXSports.com/SPEED.com Power Rankings.
The new list, following Sunday's season-ending Ford EcoBoost 400 at Homestead-Miami Speedway:
1. BRAD KESELOWSKI — What a remarkable run for Keselowski, bringing Roger Penske his first NASCAR Sprint Cup championship 40 years after The Captain first entered NASCAR. Truly an epic accomplishment worthy of praise. Las Vegas better have a lot of Miller Lite. Last week: 1st.
2. JIMMIE JOHNSON — Yes, Johnson finished third in points, but he led the most laps, had the most top-five and top-10 finishes and tied for most race victories. He had a great season, but the last two races deflated his six-pack. Last week: 2nd.
3. CLINT BOWYER — When Bowyer left Richard Childress Racing to move to Michael Waltrip Racing for 2012, many thought he was nuts. Yet he finished second in points and second in the race at Homestead, leading MWR to a breakout season. Last week: 5th.
4. KYLE BUSCH — The story of Kyle Busch's year: He had the dominant car and led the most laps, but didn't win the race. Déjà vu all over again and not in a good way. Last week: 3rd.
5. KASEY KAHNE — After a horrible start to the season – four finishes of 29th or worse in the first six races — Kahne rebounded to end the year fourth in points, making his first year with Hendrick Motorsports a success. Last week: 4th.
6. GREG BIFFLE — A strong fifth-place run at Homestead allowed Biffle to move to fifth in points, edging Denny Hamlin by a mere 3 points. All in all, a good season, although Biffle was not as strong in the Chase as he was in the regular season. Last week: 8th.
7. DENNY HAMLIN — This was supposed to be the year Hamlin and new crew chief Darian Grubb won it all, but four finishes outside of the top 10 in the last five Chase races wrecked Hamlin's title hopes. Last week: 6th.
8. MATT KENSETH — Next year, Kenseth should be a stabilizing influence at Joe Gibbs Racing. This year, he had an erratic Chase, although he won twice. Last week: 7th.
9. JEFF GORDON — Original Four-Time is proof that you're only as good — or bad — as your last race. After making an ass of himself last week at Phoenix, Gordon rebounded to end the season in Victory Lane. Last week: 14th.
10. KEVIN HARVICK — Although he finished eighth at Homestead, Harvick was never in serious contention to win. Last week: 9th.
11. DALE EARNHARDT JR. — A 10th-place finish by Earnhardt wasn't bad, but he was a lot happier on Saturday when Regan Smith won the NASCAR Nationwide Series race in a JR Motorsports Chevrolet. Last week: 12th.
12. MARTIN TRUEX JR. — The only driver on the circuit to make the Chase but not win a race all year, Truex was sixth at Homestead and led 11 laps. Last week: 11th.
13. TONY STEWART — Truth is, Stewart wasn't very good at Homestead, finishing 17th. Like a lot of drivers, he'll be happy to see 2013. Last week: 10th.
14. RYAN NEWMAN — Great finish for Newman, who came home third. Last week: 13th.
15. CARL EDWARDS — As good as he normally runs at Homestead, 12th was a disappointment for Edwards, much like his season has been. Last week: 15th.
16. PAUL MENARD — Pretty much where he's been most of the year, Menard ran in the second 10, finishing 11th. Last week: 16th.
17. ARIC ALMIROLA — In the last few races, Almirola has really come on strong, finishing seventh at Homestead. Last week: 19th.
18. JOEY LOGANO — In his final race with JGR, Logano qualified on the pole, got wrecked in practice and had to start in the back of the grid. He finished 14th. Last week: 17th.
19. MARK MARTIN — Given that Bowyer finished second and Truex sixth, Martin had to be disappointed with 16th. Last week: 18th.
20. JEFF BURTON — A 19th-place finish for Burton. Last week: 20th.
Tom Jensen is the Editor in Chief of SPEED.com, Senior NASCAR Editor at RACER and a contributing Editor for TruckSeries.com. You can follow him online at twitter.com/tomjensen100.