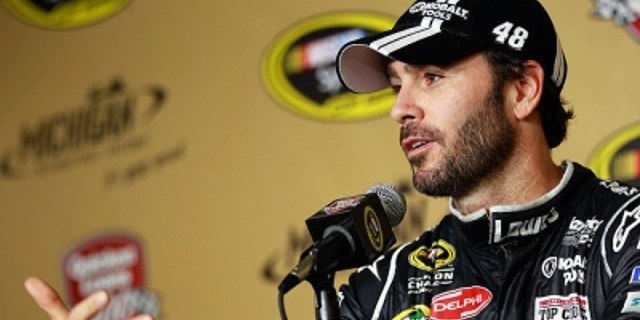 High speeds have spiked the attention meter at Michigan International Speedway this week, with Thursday's testing sessions practically guaranteeing that qualifying speeds Saturday will top 200 miles per hour.
But what about the race? New pavement often is a detriment to solid competition.
MIS has been a multi-groove track virtually since Cale Yarborough won the speedway's first Cup race in 1969. Repaving tends to "tighten" the surface and limit racing to one or two grooves.
"This place is so damn wide," said Greg Biffle after Thursday morning's three-hour test runs. "I love racing here, but right now it is probably eight grooves in the corner, and we are running three and a half. You could put probably three cars side-by-side in the corner right now – minimum two for sure. I don't see it going a lot higher. I don't think there is going to be any more speed to be had the higher you go."
Of course, conditions will change to a degree as thousands of laps are run on the track from today through Sunday.
"I just want everyone to be ready that just because we are going faster doesn't mean that the race on Sunday is going to be more competitive," Jimmie Johnson said. "The faster we go, the more important aero becomes. At the same time, the faster you go, the more narrow the race track gets, and right now we have a narrow groove because of the repave.
"For the best side-by-side racing, the old Darlington, Atlanta, all those old porous used-up race tracks or asphalts as surfaces, this is where that comes from. So we won't have that here, clearly, but sure it is cool to see the headlines read record speeds. It doesn't hurt anything for Friday and all the pre-race media.
"I don't know if it is going to be what all the fans want to see on Sunday. It is a necessary evil, I understand. We have to repave race tracks, and we all have to be patient for the year or two. Some tracks, it seems to be four or five years later before we get back to the way it was."
This week's elevated speeds have drawn attention, and that's a good thing, within limits, Biffle said.
"We have to walk that fine line of not killing people and creating excitement," he said. "I think the biggest thing is that when people say that it is too fast or whatever is, that it makes it hard to race other cars at that speed. You look at the places we go the absolute fastest, and sometimes those aren't the best races to watch. Sometimes the tracks that are a little bit slower put on a little better side-by-side action and more bumping and grinding. I promise you that you aren't going to bump somebody at 218 mph, I promise you that. It isn't going to happen.
"Saying that just because we are going that fast doesn't mean it is going to be a great race. Just because the speeds are the thrill or excitement. TV tames it down a lot. Watching in the grandstands here and watching on TV at home is a lot different. It numbs you from that speed. High speed doesn't always mean exciting racing. Sometimes a little slower speed actually could be a little more exciting and thrilling. You are seeing guys root and gouge and go."
Mike Hembree is NASCAR Editor for SPEED.com and has been covering motorsports for 30 years. He is a six-time winner of the National Motorsports Press Association Writer of the Year Award.