CUP: EXCLUSIVE - Keselowski Does The Math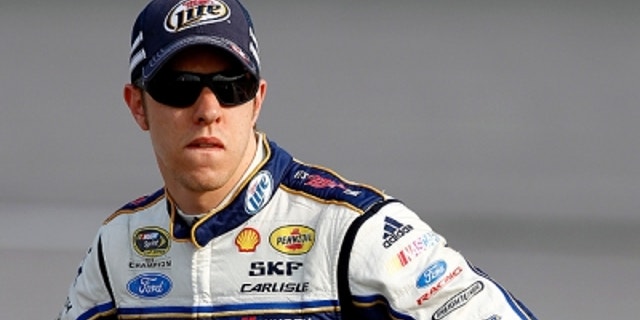 Spend any time around Brad Keselowski and two things become readily apparent: First, the 2012 NASCAR Sprint Cup Series champion is a passionate and thoughtful student of the sport's history. Second, he has some strong and interesting opinions.
Keselowski, currently seventh in the Sprint Cup points standings after 11 races, was at SPEED's studios Sunday night to co-host Wind Tunnel with Dave Despain. Prior to the show, Keselowski discussed the upcoming Sprint All-Star Race, which takes place Saturday night at Charlotte Motor Speedway and will be televised live on SPEED.
A brief explanation about the significance of the all-star event quickly turned into a larger discussion about how drivers ought to be selected to the NASCAR Hall of Fame. Given that the 2014 NASCAR Hall Class will be voted on and announced in just nine days from now, the topic is timely.
And as one would expect from Keselowski, he had some thought-provoking notions about who should go in.
"A friend of mine asked, 'What makes somebody a Hall of Fame driver?'" Keselowski said. "I thought really long and hard about it, because, 'What about this driver? He's done this,' or 'This driver, he's done that.' And I came up with this really simple way: You should have to score points to get into the Hall of Fame."
How would Keselowski set up a NASCAR Hall of Fame points system?
"Well, you get two points for every Cup championship you have," he said. "And one point for every marquee race win."
And what are five big races?
"The Daytona 500, the Brickyard, Southern 500, Coca-Cola 600, all-star race," he said. "Those are our marquee races. … Winning one of those five marquee races is something that a Hall of Fame Driver does, and I want to be on that list."
Although he has nine Sprint Cup race victories to his credit so far, Keselowski has not won one of NASCAR's five big races yet. He will be among the favorites to do so in the next two weeks, with the all-star event and the Coca-Cola 600 on successive weekends at Charlotte Motor Speedway.
Tom Jensen is the Editor in Chief of SPEED.com, Senior NASCAR Editor at RACER and a contributing Editor for TruckSeries.com. You can follow him online at twitter.com/tomjensen100.