CUP: Everything Bigger In Texas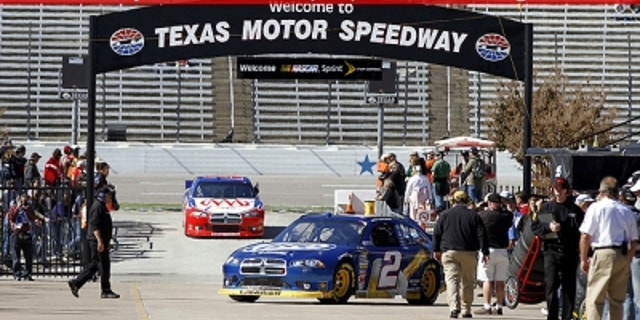 From the time Texas Motor Speedway opened in 1997, it's been a track known for its action — the good, the bad and the ugly.
In the inaugural NASCAR Sprint Cup race at the mammoth Fort Worth facility, torrential rains in the month before the race left parking lots unfinished. On race day, literally thousands of cars were abandoned by the roadside, as massive traffic jams caused terrible gridlock. Not the expected state of affairs for a then-brand new, state-of-the-art $120 million track.
Furiously fast, the 1.5-mile track is a place where big trouble can happen in a heartbeat. In the first race, half the field, or so it seemed, got wadded up in Turn 1 on the very first lap. A year later, there was an equally calamitous pileup on Lap 2.
And yet, there's been plenty of great racing, too. Jeff Burton won his first Cup race in 1997 at TMS, and perennial fan favorite Dale Earnhardt Jr. won both his first NASCAR Nationwide Series (1998) and Sprint Cup Series (2000) races at the high-speed Texas oval.
Current NASCAR Sprint Cup points leader Greg Biffle won the spring Texas race in 2005, but a loose wheel in the fall race that year robbed him of becoming the first driver in history to win championships in all three of NASCAR's top series.
Michael McDowell walked away from a spectacular and horrifying crash in April 2008, the same year Carl Edwards swept both Texas races.
Denny Hamlin repeated Edwards' feat in 2010, sweeping both Texas races. And that second Texas race in '10 just added to the legacy of weirdness at TMS. It was at the fall Texas race when Burton inexplicably drilled Jeff Gordon head-first into the wall — under caution no less — and the two nearly came to blows on the backstretch afterward. And with Gordon out, Chad Knaus essentially fired Jimmie Johnson's pit crew mid-race and replaced them with Gordon's crew, a move that drew fierce criticism from Hamlin's crew chief Mike Ford after the race.
It's Texas. Stuff happens.
One driver looking forward to getting back to action this weekend is Ryan Newman, the most recent series winner, having triumphed at Martinsville Speedway two weeks ago.
"I always look forward to racing at Texas," said Newman, driver of the No. 39 Stewart-Haas Racing Chevrolet. "I love the speed at Texas. It's a fast racetrack. Texas is actually one of the fastest tracks we go to all year, so you have to be on top of your game because things can happen pretty quickly. It's a track I've always liked, although it doesn't necessarily show in my finishes. It's a smooth, fast racetrack and there are multiple grooves, so it's fun to race there."
Because the track surface is older, don't expect to see a qualifying lap like Brian Vickers ran in November 2006, when he set the track record at 196.235 mph. That suits Newman, who likes that the track has slowed down just a little.
"The asphalt has aged the track to the point it has gotten better and better each time we come back," said Newman. "What I mean is that the track has basically gotten wider. It's gotten a bit more character. A little more bumpy, which is fine. I like it. I think that, in general, the track has gotten wider and racier each time we've come back. It's got less grip, but that's fine. I'd rather slide around a little bit and be in charge of my racecar than be stuck to the racetrack."
Tom Jensen is the Editor in Chief of SPEED.com, Senior NASCAR Editor at RACER and a contributing Editor for TruckSeries.com. You can follow him online at twitter.com/tomjensen100.