CUP: Engine Quiet, Kenseth Surges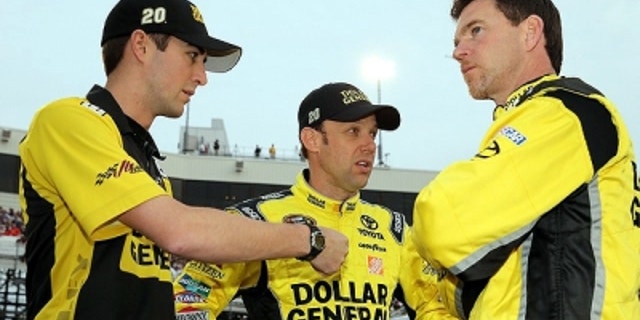 Matt Kenseth didn't run a competitive lap Wednesday, yet he gained seven positions in the Sprint Cup point standings, rocketing from an out-of-Chase 11th to an impressive fourth.
In an auto racing series often trumpeted as the most competitive in the world, this sort of movement doesn't happen often.
Welcome to the world of NASCAR appeals, and to Matt Kenseth's brave new world – that of major championship contender.
The stunning Wednesday decision by a NASCAR appeals panel to eliminate most of the penalties levied against Kenseth and Joe Gibbs Racing could have the impact of reshaping the season – and reinventing NASCAR's approach to policing its teams.
The most obvious result is a big shot in the arm for Kenseth, who was very critical of the NASCAR penalties after the engine in his Toyota was found to have a too-light connecting rod following his April 21 Sprint Cup victory at Kansas.
Kenseth's driver point penalty was reduced from 50 points to 12, resulting in his single-day climb up the standings to sit behind only Jimmie Johnson, Carl Edwards and Dale Earnhardt Jr. 10 races into the season.
Kenseth had a good chance to finish in the top 10 – and thus automatically qualify for the Chase – even if the 50-point penalty had been upheld, but now he is back where the results of his season to date say he belongs. Near the top.
Additionally, crew chief Jason Ratcliff is suspended for only one race (instead of six), a key positive as the tour moves into a particularly tough portion of the schedule.
Beyond the particulars of the penalty changes, the biggest plus from the Kenseth and JGR point of view might be the knowledge that they "won" this skirmish, apparently having convinced the appeals panel that the thrust of the NASCAR penalties was too severe – and also somewhat misdirected – for the level of the infraction.
Paired with Tuesday's decision by NASCAR chief appellate officer John Middlebrook to reduce the penalties levied against Penske Racing for rear-end housing violations at Texas Motor Speedway, the week has been a downer for NASCAR's enforcement arm.
It's fairly unusual for NASCAR penalties to be significantly impacted on appeal, so this week's reversals – involving two of the sport's key teams – can have the impact of rattling the foundation of the sport's garage policing.
Whether the changes result in modifications to NASCAR's enforcement approach remains to the seen. What is not in question is this – Matt Kenseth is free to fly again.
Mike Hembree is NASCAR Editor for SPEED.com and has been covering motorsports for 31 years. He is a six-time winner of the National Motorsports Press Association Writer of the Year Award.