CUP: Emphasis Is On Winning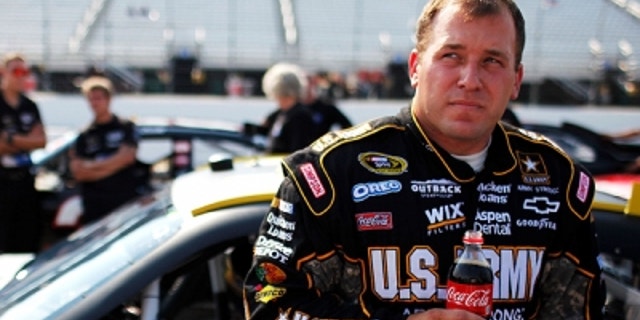 It's time to win.
With seven races remaining before NASCAR's Chase to the Sprint Cup, go-time isn't enough. Wins – with an "s" – will determine which drivers inevitably qualify for NASCAR's postseason.
Certainly, the top five drivers in the points standings – Matt Kenseth, Dale Earnhardt Jr., Greg Biffle, Jimmie Johnson and Denny Hamlin – are locks. The next five drivers are in a six- to 15-point range behind Hamlin in a tighter contest.
But remember this: Entering the 2011 Brickyard 400, Brad Keselowski (currently in 10th place) was 23rd in the points standings with one win to his credit. Starting at Indianapolis Motor Speedway the No. 2 Dodge team ignited a seven-race run that included two wins, four top fives, six top 10s and an average finish of 4.85.
Currently, no driver outside of the top 20 in points, the cutoff for getting one of the wild-card spots, has a win. Of the three drivers in the wild-card standings with single wins – Kyle Busch, Ryan Newman and Joey Logano – Busch has the best average finish of 13.1. Newman average qualifying effort of 7.6 is second only to Juan Pablo Montoya (fifth) on the Cup tour but Newman's average finish of 20.2 at Indianapolis is disappointing for an Indiana native.
Two wild-card notables without wins this season are defending Indianapolis victor Paul Menard and Jeff Gordon, who holds the distinction of winning the first Brickyard 400 plus three more. The adopted Hoosier tops the Sprint Cup Series with wins and a remarkable 476 laps led at the track.
Carl Edwards has been consistent at Indy. He's finished second, posted three top 10s, completed every lap and never finished worst than 18th. But a Ford hasn't won this race since 1999 when Dale Jarrett was victorious, then went on to win the championship.
Certainly, Chevrolets are the favored cars at the Brickyard. Chevy racers have kissed the bricks following the finish in the last nine events on the 2.5-mile oval. And among the wild-card campaigners, no one is as hot as Kasey Kahne right now with two wins and 10 top-10 finishes in the last 13 races.
At the Brickyard, it's been all or nothing for the 32-year-old. Kahne has a 7.9 average qualifying effort but his average finish of 15.9 is marred by two crashes in eight starts. Last year Kahne led 48 of his career 88 laps led at Indy. He was a contender until spinning in the grass on Lap 120 trying to avoid a collision between Landon Cassill and David Ragan.
Given Kahne's USAC background as a competitor and owner, a win at Indianapolis Motor Speedway tops his bucket list.
"Indy is a race that I want to win as bad as any race that we go to," Kahne said at New Hampshire. "We've come close over the years, so hopefully we can put something together there and have a really strong car."
Could this be the year Kahne exacts his revenge? That's just one of the storylines we'll be watching at Indy this weekend. Here are 10 others on the radar screen:
1. Back to the drawing board
Richard Childress is the only owner to boast three different winners at the Brickyard, including last year's victor Paul Menard. However, RC is still looking for his first win of 2012. It's hard to believe that Kevin Harvick has yet to win a race this year despite holding on to sixth in the points standings for the last six races. Don't be surprised if RCR moves interim director of competition Kent Day back to technical director. Dr. Day was slotted into Scott Miller's role after he left for a similar position at Michael Waltrip Racing in September. But it appears that part of the spark left with Miller. The challenge is finding the right people-person to pull the operation together. If that were an easy task, every team would be successful.
2. Qualifying on time
NASCAR is kicking around the idea of qualifying the top 38 drivers on time and cutting the number of provisionals down to four plus one for former champions. With sponsors at a premium right now, it could be catastrophic to eliminate provisionals altogether, particularly when a driver missing a race could result in a benefactor pulling its support from the team.
3. Big money, big money
The Brickyard 400 boasts the second-largest purse of the season. No doubt, the start-and-parkers will be coming out of the woodwork for a big pay day. Last year Robby Gordon parked after five laps when his engine failed and collected $133,356. But consider this: Last week Stephen Leicht attempted to run the entire race at New Hampshire but finished 32nd. Leicht earned a little less than $14,000 more than J.J. Yeley, who parked after just four laps and took home $69,767. Well not really. Yeley, who announced he was leaving on Twitter last week, received 10 percent for his effort. For the season, Robinson-Blakeney Racing has collected more than $1 million for running 2,311 of a possible 5,488 laps. That's not even half of the laps raced in 2012. In the last two weeks, NASCAR confiscated the No. 49's engines after the race for teardown at the technical center. Sending a message?
4. Not Chuck Norris
Carl Edwards will have a new crew chief this weekend with Chad Norris taking the reins for Bob Osborne at Indianapolis. Yes, Norris is making his Cup debut at a critical time for Edwards, who hasn't won a race in 52 events and sits 46 points outside of the Chase Zone. Will a new crew chief ignite a spark on the No 99 team? Norris, who has been at Roush Fenway Racing since 2005, believes so. "We definitely do have a task in front of us with the great people that we have here at Roush Fenway Racing and with (team owner) Jack (Roush) and Ford and all the great sponsors we have and (general manager) Robbie Reiser," Norris said on Sirius/XM NASCAR Radio. "We are going to get into this thing, we are just going to have to put our heads down and dig hard for these next six or seven races and go out and win some races and get all the points we can."
5. The right choice
Austin Dillon announced before the Nationwide Series race that he will wait a year before making the move full time to the Sprint Cup Series. Yes, Dillon, 22, won the Camping World Truck Series title last year, but he has yet to run a full season of Nationwide Series competition. In his 26th start, Dillon won his first NNS race and is currently second in the points standings despite multiple sanctions by NASCAR. Still, a second full season in NNS running against a field peppered with Cup regulars never hurt anyone. Are you listening Danica?
6. Make or break
Despite all the changes to Earnhardt Ganassi Racing in the offseason, drivers Juan Pablo Montoya and Jamie McMurray are still struggling to get their programs rolling. Although McMurray is eight positions higher in points than he was a year ago, Montoya is four positions lower after the first 19 races. Still, both drivers have enjoyed success and disappointment at the Brickyard. Both drivers have won at the track – McMurray two years ago in the 400, Montoya in the 2000 Indy 500. If there's an oval Montoya should win on, it would be Indy. He has an average qualifying effort of fifth. His best showing at the Brickyard in stock cars was his 2007 debut when he qualified on the front row and finished second. He's led 202 laps at the track with his most dominant run coming in 2009 when Montoya led 116 circuits before he was busted with a speeding penalty on pit road and finished 11th. With new engines coming from Earnhardt Childress Racing (ECR), Sunday should offer an accurate picture of where this organization stands.
7. Taking chances
One year ago, pundits were contemplating who would replace Carl Edwards if he left Roush Fenway Racing. One year later, how the landscape has changed. Matt Kenseth is leaving. Ricky Stenhouse Jr. will take his place while Trevor Bayne jumps into a full-time Nationwide Series ride next year. Certainly, Stenhouse, the defending Nationwide champ, has paid his dues. Bayne, 21, has run a limited schedule but has shown promise with top-10 finishes at Las Vegas and Talladega on the Cup side this season and finished 14th or better in all five 2012 Nationwide starts with three top 10s and 74 laps led in four of those races. Next season, Bayne will have a solid effort behind him as he runs for the Nationwide title. What he does with the opportunity is up to him.
8. High road
Parker Kligerman must have been deflated after hearing that Ryan Blaney was jumping into the No. 22 Penske Racing Dodge for three Nationwide races later this year. Still, he made the most of the opportunity he had on Sunday at Chicagoland. He finished seventh – ahead of veteran teammate Sam Hornish Jr. – and raised his average Nationwide finish for the season to ninth. Kligerman, who turns 22 next month, is currently fifth in the Truck standings but, like any aspiring racer, hopes to move up the ranks. Following Sunday's race, Kligerman was "disappointed" that he didn't finish better but left on a high note. "Hopefully, I'll get another shot in this car," Kligerman said. "If not, it's been a pleasure and honor."
9. Generation Next
While NASCAR's crop of up-and-coming drivers including Ryan Blaney, Kyle Larson and Chase Elliott have received a lot of attention of late, here's three more winners (all on Saturday night) to consider for the short list: Ross Kenseth (yes, Matt's son) won the Redbud 300 at Anderson (Ind.) Speedway in the ARCA/CRA Super Series. Jeb Burton (Ward's son) won at the family's home track of South Boston, leading 143 laps in a Late Model in the Wheelen 150. And Cale Conley earned his first victory in the K&N Pro Series East tour at his home track of Columbus (Ohio) Motor Speedway – leading all 150 laps. It was the fourth race of the season for the 20-year-old Vienna, W.V.-native and his 14th career start.
10. The 'Dinger
AJ Allmendinger's "B" urine sample will be tested on Tuesday. The analysis should take between seven to eight hours. Allmendinger will have his own independent toxicologist present to review the results. Penske Racing expects to have the results back by Thursday. Regardless of the outcome, this should serve as a wake-up call for all competitors to perform the necessary due diligence with all ingested products as well as what to do when the phone rings and the Medical Review Officer is on the other line.