CUP: Edwards Wrestling Nagging Streak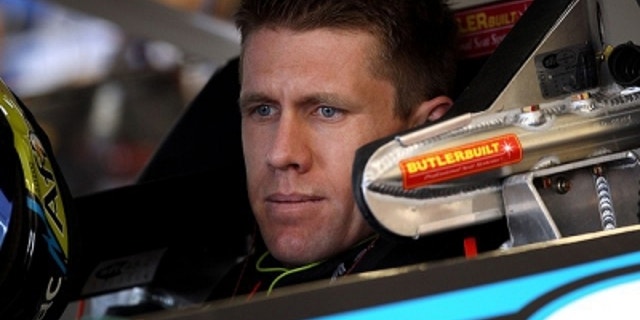 Now that Dale Earnhardt Jr. has ended a stupefying winless streak that had reached 143 races, the "honor" of holding the Sprint Cup series' most puzzling run of futility might fall to Carl Edwards.
Edwards hasn't won a Cup race since March of last year, a run of 48 straight races.
Edwards has led in only two of 15 races this season for a total of 207 laps. By comparison, Jimmie Johnson, the leader in that category, has led 790.
Edwards is 11th in Sprint Cup points and sits on the precipice of missing the Chase – unless he can solve the problem of missing victory lane.
And Edwards will face a tall challenge to end the winless streak this weekend, with the tour rolling into California for the first of two road-course races – this one at Sonoma.
Edwards has not adapted well to road-course racing. In seven events at Sonoma, he has one top five (a third last year) and only two other top 10s.
"Road course racing was one of the hardest things for me to figure out how to do when I came to NASCAR," Edwards said. "I was terrible. Boris Said and Max Papis have both helped me a ton, and now it's something I really look forward to doing. We're fortunate to have Marcos Ambrose in the Ford camp since he's someone I've been leaning on the last year or so, and hopefully we can go out there and compete with those guys."
Ambrose put his name in the Cup win column by finishing first in last year's race at Watkins Glen.
Although Edwards is still looking for his first road-course triumph, he said he has reached a level of fun on the circuit's left-and-right courses.
"It's about as much fun as you can have in these stock cars," he said. "You slide around, go up and down hills, bounce over curbs, shifting gears; it's really pretty exciting."
Edwards said there is no issue with Roush Fenway Racing road-course equipment. He and his team simply must get the job done, he said.
"I think our Roush Fenway Fords are good enough," Edwards said. "It's always a different race there. To me, it seems like that what worked last year doesn't ever seem to work the next year, so hopefully we get something good this year.
"Our road course program is good enough for Marcos to win, so we need to step it up as drivers and drive as well as him. He's spectacular, and I think he's one of the best road-course racers on Earth. I'd put him up against anyone. He's shown us how good our equipment can be."
Mike Hembree is NASCAR Editor for SPEED.com and has been covering motorsports for 30 years. He is a six-time winner of the National Motorsports Press Association Writer of the Year Award.