CUP: Edwards Confident Going Into Season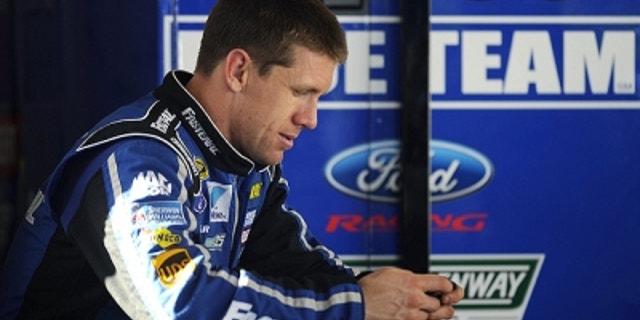 Carl Edwards has been upbeat since what he called an excellent run at the recent Charlotte Motor Speedway Gen-Six car test.
"I thought about that test all winter," Edwards said Thursday. "Those tracks are the bread and butter of the season. You can make a Chase run just based on those tracks.
"Our intermediate track falling performance was a little scary last year. From my first race, I've always been super-confident at those tracks. That's why the Charlotte test was so important. We needed to make sure there wasn't something missing there."
The 2013 season will be a crossroads one for Edwards. After almost winning the Sprint Cup championship in 2011, he drove into unknown territory last season, failing to win a race, scoring only three top fives and finishing a dismal 15th in points.
For him, it was wilderness kind of stuff.
The new year starts with dramatic change – the arrival of veteran Jimmy Fennig as crew chief and virtually a new team.
"It appears that Jimmy has a very good perspective," Edwards said. "We're going to work hard, do the job and reap the benefits. That's not something he yells at people about. It's just expected. That's the feeling I get from him. He holds everyone to a high standard. And that's good. It's not a social event. We're there to do a job."
Fennig has been one of the most successful crew chiefs of the past 20 years, and he also has been one of the quietest garage area residents over those years.
Is he old school in a new era?
"I don't think he's against innovation," Edwards said. "I've seen stuff on his cars that are pretty amazing. He's so quiet. I might have confused that a little in the past with being not engaged. He is as firmly rooted as anyone I've been around. I'm more than excited about it.
"We can boil this down to a few things. We have to qualify well, we have to have cars that race fast, we have to have a fast pit crew, and Jimmy and I have to work well together. My plan is to give Jimmy and the guys on the team everything I've got and be the best I can be. I'm hoping that gets us back where we belong, and that's fighting for the championship."
Mike Hembree is NASCAR Editor for SPEED.com and has been covering motorsports for 31 years. He is a six-time winner of the National Motorsports Press Association Writer of the Year Award.