CUP: Edwards Breezes To Daytona 500 Pole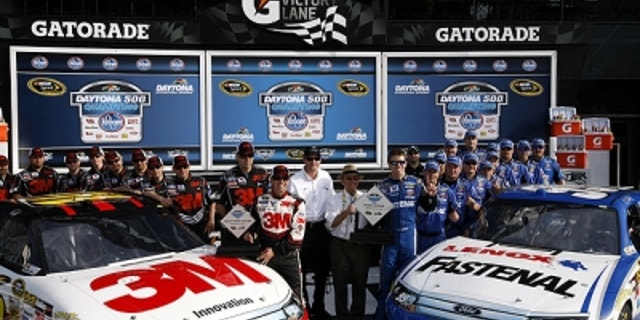 Fords flew in the high winds of Daytona International Speedway Sunday afternoon.
Roush Fenway Ford drivers Carl Edwards and Greg Biffle locked in the first two starting spots for the Daytona 500 Sunday by posting the fastest qualifying speeds in a time-trial session buffeted by gusting winds.
Edwards ran 194.738 miles per hour to win the pole, his first for the Daytona 500. Biffle was second at 194.087.
In the 500's unique qualifying format, only the first two spots are locked in by qualifying. The rest of the 43-car field will be determined by Thursday's 150-mile qualifying races, qualifying speeds and provisional starting spots.
Edwards had the day's fastest speed despite running without crew chief Bob Osborne, who missed this week's activities at Daytona because of the death of his father. RFR engineer Chip Bolin substituted for Osborne.
"To have the two fastest cars at Daytona be Fords is a testament to Robert Yates and Doug Yates (engine builders) and the guys who engineered these cars over the winter," Edwards said.
"Coming down here, I didn't really consider the pole something that was a possibility. This is huge."
Completing the top five were Dale Earnhardt Jr., Marcos Ambrose and Casey Mears.
Danica Patrick was 30th fastest in qualifying for her first Sprint Cup start.
Among the "go-or-go-home" drivers, defending race champion Trevor Bayne, Tony Raines and David Stremme ran fast enough Sunday to guarantee starting spots in the 500.
Clint Bowyer had the afternoon's 22nd-fastest speed, but his car failed to pass post-qualifying inspection. Officials said the car did not meet front-end height requirements.
There is no activity scheduled at the speedway Monday and Tuesday. Two rounds of Sprint Cup practice are scheduled Wednesday afternoon before Thursday's twin qualifying races.
Mike Hembree is NASCAR Editor for SPEED.com and has been covering motorsports for 30 years. He is a six-time winner of the National Motorsports Press Association Writer of the Year Award.