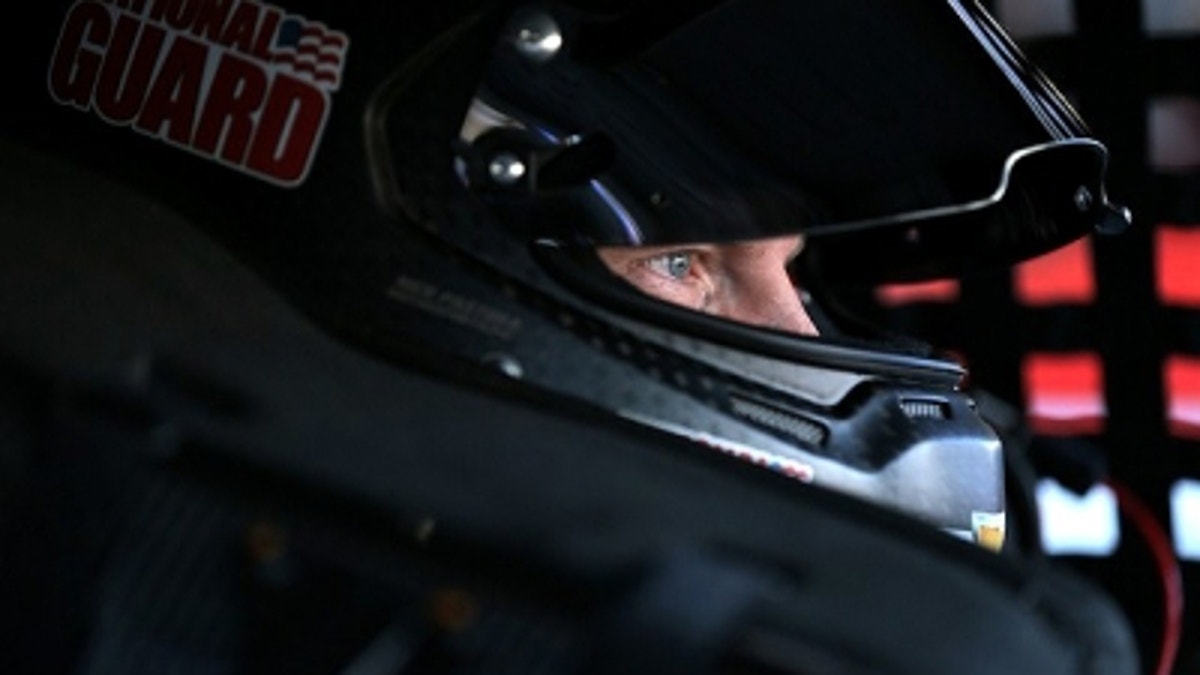 Dale Earnhardt Jr. had never filled out an NCAA tournament bracket before this year, even though he's a hoops fan.
He would have done it earlier, but he doesn't like to lose.
"I didn't really know if brackets were even that fun to do," he said Friday. "I hate making the wrong pick, but what are you going to do? There's a lot of games."
NASCAR's most popular driver seems to be getting a whole lot closer to some more important victories during his outstanding start to the year. With two top-five finishes already, Earnhardt is second in the standings through four races, trailing Brad Keselowski by nine points heading into Sunday's race at Fontana.
After his second straight second-place finish at the Daytona 500, Earnhardt followed up with three solid races, coming in fifth at Phoenix, seventh in Las Vegas and sixth last weekend at Bristol despite a rough day. Earnhardt has been driving too long to get excited a mere month into the season, even if his fans don't share his caution.
"When I hear people talking about the fast start, I just feel like you've got to take a lot of different factors into the equation," he said. "We've had good fortune. We've got real lucky. ... We've ran well. We've had good cars, too. We also had real good fortunes on where we were restarting, what lane we were in, and just having good opportunities to get positions for various reasons at the end of these races."
His teammates realize it's more than luck that's keeping Earnhardt up front. He's already comfortable in NASCAR's new Gen-6 car, which suits his driving skills well.
"Junior Nation, as we all know, is very vocal and large," Jimmie Johnson said. "Any time he wins, it's a nice reprieve from the pressure that's associated with that. It would mean a lot to him on many levels, and for his team. They've been getting so much stronger year after year, week after week, and I think they'll be winning on a regular basis here before long."
There's a good reason Earnhardt always brings discussions about his early steadiness back around to the importance of finishing first. He has made a tradition of getting off to strong starts -- most notably in 2004, when he won at Daytona and Atlanta early -- only to cool off late in the season.
Earnhardt has been fairly consistent in recent seasons, yet has still won only four races in the last eight years. His victory at Michigan last August was his first win since 2008.
Yet his current start is his best yet: Earnhardt had never put up an average finish of better than 10.25 in the first four races of the Sprint Cup series. He's just one of five drivers to complete all 1,283 laps this season, and nobody has spent more time on the lead lap -- 99.53 percent, or all but six laps.
"It's a long year, and we're going to have some bad luck," he said. "It's bound to happen. Nobody runs the whole season perfectly, and I'm just trying to get as many points as we can early, so when that bad luck comes, it doesn't hit us as hard as it hits some of these guys early."
Earnhardt saw the importance of early points up close last season, when Hendrick Motorsports teammates Kasey Kahne and Jeff Gordon got off to slow starts and spent all summer playing catch-up. After two straight trips to the Chase, Earnhardt has proved he knows plenty about consistency.
While other drivers whine about the new Gen-6 car's quirks and worry about its development during its first four races, Earnhardt has been a vocal supporter from the start, and his comfort is showing up on the track. Earnhardt's Chevy SS is lighter and more suited to his driving style.
Earnhardt also loves the well-worn 2-mile track at Fontana, where he finished third last year.
"I like racetracks where you can move," Earnhardt said. "It's real rough down the straightaways, really. The corners are fine, not rough at all. If they would just re-pave the straightaways, this place would be a blast. ... We should have a pretty good run here if we do everything right."
If last week was an indication of Earnhardt's readiness, this could be his time. Earnhardt started 32nd at Bristol and moved up 26 spots, with third-year crew chief Steve Letarte guiding him through smart pit stops.
When Kahne won, he brought Hendrick's Victory Bell into the shop for everybody's enjoyment -- and it served as a reminder to Earnhardt.
"Every employee rings the ball," Earnhardt said. "It's fun. I enjoyed that. I thought it was a good way to bring everybody together as one unit, one team. I'm ready to ring the hell out of it."
When Earnhardt isn't working on another win, he's checking out his bracket, which he said was 11-5 on Thursday. As a big fantasy football player and a North Carolina basketball fan, he's even got a strong feeling about the NCAA final.
"I think Indiana will beat Duke," he said. "I'm not a big Duke fan."