CUP: Earnhardt Jr.'s Season Up For Grabs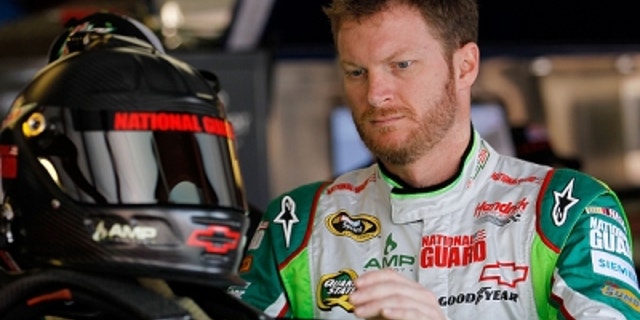 Dale Earnhardt Jr. knows the time for playing it safe is over.
With just seven races left in a mostly successful 2012 NASCAR Sprint Cup season, it's time for third-generation driver to throw caution to the wind and go all out.
Earnhardt admitted as much Friday morning at Talladega Superspeedway, where on Sunday he'll pilot his No. 88 Hendrick Motorsports Chevrolet and go for his sixth career victory at the 2.66-mile superspeedway.
Three races into the Chase for the Sprint Cup, Earnhardt is seventh in points, 39 markers back of leader Brad Keselowski. But as well as Keselowski is running these days, Earnhardt will not and can not make up a nearly one-race points deficit with a bunch of top-five and top-10 finishes over the last seven races.
No, Earnhardt needs to win. Now.
And a good place to start would be in Sunday's Good Sam Roadside Assistance 500 at Talladega, a track Earnhardt loves.
"We're in a position where it really doesn't matter … we can't be conservative at all," Earnhardt said. "We really got to, you know, take a lot of risks. With just a few races left, as good as everybody's running, as good as Brad and Jimmie (Johnson) and the 11 car (Denny Hamlin) have been running, we have to get pretty aggressive and that should play right into this racetrack's hands."
Of course, Earnhardt knows that doing so at this track is not without risks. In fact, there is probably no track where a driver has less control over his own fate than at Talladega, where pack racing and big crashes rule.
"It's a lottery, I like to say," Earnhardt said. "Because the guy that wins has done something right and earned it for sure, but … you really don't have quite as much control over your own destiny as you do at other race tracks."
Earnhardt said he's optimistic about his chances for a sixth Talladega victory on Sunday.
"I feel pretty good," said Earnhardt. "I guess because we don't have nothing to lose. That really fits right in to how you sort of race this racetrack. Kind of a non-holds-barred-lay-it-out-there-and-see-what happens kind of thing."
Earnhardt said he will not be conservative on Sunday.
"Any time you're cautious, you tend to get yourself into trouble," said Earnhardt. "And the guys that are a lot more aggressive seem to find themselves towards front of the mess when it all goes down and end up being the ones that cross the finish line with some type of reasonable finish."
So Earnhardt said it's go-for-broke on Sunday.
"We're just going to throw it all out there, man," he said. "I love running here … I feel like we can be more aggressive."
And like his fans and fellow competitors, Earnhardt's interested in seeing how it all shakes out.
"You really don't know what things are going to go down or what's going to happen," he said. "Sometimes it happens with the usual suspects and sometimes it's a surprise of even who would be involved in it. I've been on the receiving end of some wrecks here and I've started a few myself. So you just go out there and try to run as hard as you can and try to put yourself around people you like to work with and benefit from having people around you that you trust and that usually pays off."
Tom Jensen is the Editor in Chief of SPEED.com, Senior NASCAR Editor at RACER and a contributing Editor for TruckSeries.com. You can follow him online at twitter.com/tomjensen100.