CUP: Earnhardt Jr. – A Reason To Believe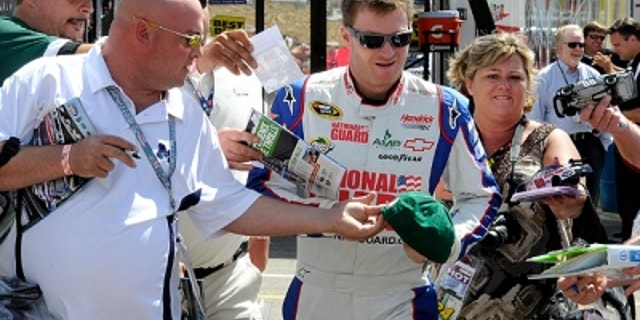 So, Dale Earnhardt Jr., any changes to the No. 88 Chevrolet you drove to a face-saving victory at Michigan International Speedway in June?
"I think all we did was wash it," Earnhardt Jr. said.
Makes sense.
The Quicken Loans 400 was a watershed event for Junior, mainly because it finally ended the question the sport's most popular driver faced every week: "Hey, Junior, when are you going to win?"
Earnhardt Jr. led 95 (of 200) laps in winning that race, slamming the door on talk that, despite a consistently good season, he couldn't win.
That victory pushed Junior along the way to leading the points, a position he gave up when Jimmie Johnson returned to the top spot last week at Watkins Glen.
Junior figures he has a very good shot at his first championship. He has 15 top-10 runs, more than any driver other than Johnson, who has 16.
The win here in June, Junior said, provided a big boost for the second half of the season.
"Getting over that hurdle and getting that first win did a lot to relieve you and reassure you that you can win," Junior said Friday. "If we were still winless, we would feel somewhat snake-bitten in a way. That might mess with your psyche a little bit, mess with you mentally.
"Once you break through that barrier, it gives you a reason to believe you can do it again any moment."
The mission now, Earnhardt Jr. said, is to add more wins. That's the only missing element as he prepares for the start of the Chase.
"We want to win more races and get more bonus points so we can lead the points once we go into Chicago," he said. "The win probably gives the team a lot of confidence. We've been so strong this year. We're just a little shy in the win column for how we've performed throughout the year.
"If the wins want to wait and come in the Chase, that's fine, too. We want to win every opportunity we have on the race track. We don't show up to lose."
Earnhardt Jr. got some good news this week with the National Guard's decision to renew its sponsorship with the No. 88 team for next season. The Guard will have primary sponsorship placement on the 88 cars for 20 races.
"I expect them to continue to be part of the program," Earnhardt Jr. said. "We've had a real positive relationship. It's good for our team and good for the sport."
There has been some opposition in Congress to military sponsorship of some sports programs, and the Army is not returning as a sponsor of driver Ryan Newman and Stewart-Haas Racing next year.
"I feel comfortable that we're set and can move forward," Junior said. "I think the opposition will always kind of be there, fighting the fight. That's part of their jobs, I suppose, but I feel pretty comfortable with the agreement and think it's pretty concrete."
Mike Hembree is NASCAR Editor for SPEED.com and has been covering motorsports for 30 years. He is a six-time winner of the National Motorsports Press Association Writer of the Year Award.