CUP: Dover Roadblock For Keselowski?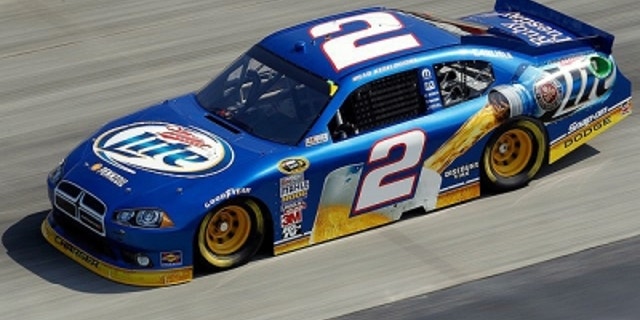 Only two races into the Chase, and already the talk is out there – the fight for the championship will be between Mr. Reliable, Jimmie Johnson, and last week's Superman, Denny Hamlin.
But wait a minute, Brad Keselowski might say. I'm in this, too.
Indeed, Keselowski is a strong second in the Chase standings, only a point behind leader Johnson and six in front of third-place Hamlin. The Penske Racing driver has had a very strong Chase start, winning at Chicagoland and finishing sixth Sunday in Loudon, where Hamlin won after leading 193 laps.
One of Keselowski's first big hurdles in pursuit of his first Sprint Cup championship arrives Sunday in the AAA 400 at Dover International Speedway.
Compared to the rest of the Chase field, Keselowski is a raw rookie at Dover. He has run only five Cup races at one of the toughest tracks in NASCAR. Every other Chase driver has raced at least 13 times at Dover, and Jeff Gordon has fired engines at the track 39 times, giving him thousands of laps on Keselowski.
Additionally, Keselowski's brief Cup history at the track has not been good. He has no top 10s, and his average finish is 17.0. On the plus side, he won a Nationwide Series race at Dover in 2009.
"There is no question that Dover is probably our weakest track in the Chase," Keselowski said. "We've had some good, not great, cars there in the past. I let a top-10 finish slip away there last year when I stalled the car on pit road late in the race.
"So we know we can get a solid finish, but we're going up there to win the race. I know (crew chief) Paul (Wolfe) has really targeted Dover for the last several weeks, really putting a lot of emphasis on it. I'm confident we can go up there and keep ourselves in the championship conversation. This Miller Lite Dodge team took a great step last week at Loudon. We took a fifth to 10th-place car and finished sixth with it. That's what championship teams do."
Dover has been called a bigger Bristol because both tracks have concrete surfaces and produce relatively high speeds for their sizes.
"I'm sure a lot of people look at us and say, 'They run well at Bristol, they should do the same at Dover,'" Wolfe said. "That's just not necessarily the case. They may look the same, but Dover is its own animal.
"The speeds are higher and the loads are much greater. I definitely feel we are making progress at Dover, and I'm really excited about this weekend. Brad is the kind of driver that can excel there, and we should see that this weekend.
"He's as focused as I've ever seen him. We still need to qualify better, especially this weekend. Dover is a place where it's very difficult to make up track position. But I can guarantee that everyone will get our best shot this weekend."
Mike Hembree is NASCAR Editor for SPEED.com and has been covering motorsports for 30 years. He is a six-time winner of the National Motorsports Press Association Writer of the Year Award.