CUP: Different World For Stenhouse Now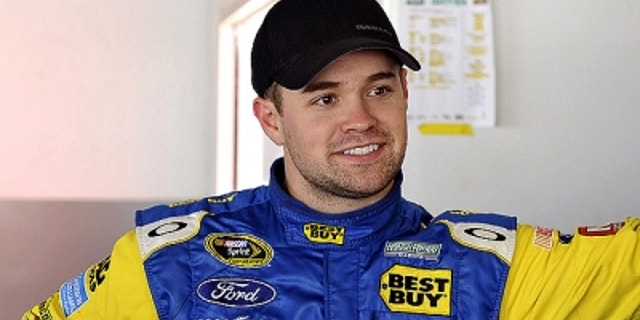 NEWYou can now listen to Fox News articles!
Ricky Stenhouse Jr. is trying to find his way on the NASCAR Sprint Cup series, and he can't even ask his fellow rookie and girlfriend Danica Patrick for a whole lot of advice.
The two drivers are on different teams, so technical questions about how to set the car up or adjustments to how the car run aren't allowed. Instead, any conversations about business don't get all that specific, Stenhouse said Tuesday.
"We do talk a little bit about how we're driving," Stenhouse said. "But most of the time I'm watching football or basketball or something."
Stenhouse took time out of his first full season in Sprint Cup racing to promote the Bojangles 500 next month at Darlington Raceway with stops in Columbia that included taking in a South Carolina spring football practice, meeting with Gamecocks coach and NASCAR fan Steve Spurrier and a brief conversation with defensive lineman Jadeveon Clowney.
Stenhouse won the Nationwide Series two years in a row before making the jump to the big leagues. His best finish of the year was 12th at the season opening Daytona 500 and he has led just one lap at Las Vegas. He is currently 15th in points in Sprint Cup and trails Patrick for Rookie of the Year.
The 25-year-old driver said the adjustment to NASCAR's premier series has been tough.
"The competition level is just so much higher in the Sprint Cup series. I know the race tracks, I know my crew and my guys, but I don't know how all the guys are out there racing," Stenhouse said.
He said he is still trying to figure out how to properly use the brake and keep things smooth with the 250 extra horsepower he gets in Sprint Cup cars. He also is getting used to running longer races.
"I don't know exactly what I need in my car to be good at the end of a 500-mile race, compared to a 300-mile race," Stenhouse said.
Stenhouse's first Sprint Cup season started with plenty of off track news, as his relationship with Patrick became public just before the Daytona 500. Stenhouse's head drooped a little Tuesday as he was asked about his famous girlfriend Tuesday, but he still answered the questions.
"I enjoy talking about the on track stuff," Stenhouse said.
The Mother's Day weekend race at Darlington is about a month away, and Stenhouse said he likes the track. He won the Nationwide pole in 2012 before finishing sixth and finished 10th in his second start at the track in 2011.
Stenhouse couldn't resist a plug for his sponsor Zest soap as he talked about looking forward to racing at Darlington's unique egg-shaped oval and trying to keep from getting too many of the track's famous black scuffs on his car from scraping the wall.
"They like to be zestfully clean," Stenhouse said, motioning back to his car. "Hopefully we can keep the right side clean. It's tough to do at Darlington."