CUP: Different Pressure For Keselowski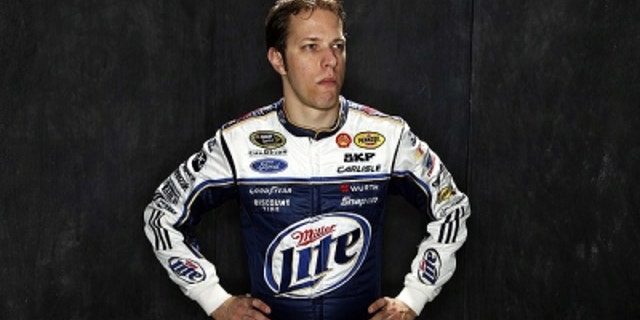 Right now, Brad Keselowski is the toast of the NASCAR world.
The reigning NASCAR Sprint Cup champion celebrated his 29th birthday on Tuesday and will soon start what no doubt will be a vigorous title defense in his No. 2 Penske Racing Ford Fusion.
Over the last two seasons, Keselowski has demonstrated prodigious talent, admirable consistency, impressive physical and mental toughness, and keen instincts.
All of which mean exactly nothing in 2013. Because right now, Keselowski has zero Sprint Cup points, the same as every other driver in the series.
But he does come into the season with baggage he didn't have last year, when he was just one of many very, very good drivers. Now, he's the champion. And, therefore, the guy every other driver wants to beat.
Kurt Busch knows the feeling. He won his only NASCAR Sprint Cup championship in 2004 but, by the midway point of the '05 season, Busch already had decided to leave Roush Fenway Racing and move to Penske where, in 2010-11, he was Keselowski's teammate.
"There's the target that's been put on your back because you're the guy on top," Busch said of entering a new season as a champion. "And when you're the guy on top, everybody wants to push you off."
Busch said a lot of things change after the first title.
"The pressure that comes with it comes from all areas – not just internally in your team, because you'll have a young, hard-charging teammate," said Busch. "But it's everywhere, whether it's sponsors, media, different things with the fans. … There's not one thing to look for; there's just a lot to keep in mind."
Jimmie Johnson, the only driver to win consecutive championships since Jeff Gordon in 1997-98, thinks Keselowski will be fine, as long as he runs well. The stress will only set in if and when Keselowski's performance tails off, according to Johnson.
"A lot of it depends on how the season starts," said Johnson, who won five titles in a row from 2006-10. "If you take off where you left off, it's pretty easy and you get accustomed to what being the champion is, the perks that come with it, the notoriety, then everything kind of blends in.
"But once you are a champion, at any point following that when you don't run like you should for a period of time, the questions will come," said Johnson. "That is when any driver and team is tested. It just depends on when that moment in time is. Brad and Paul (Wolfe, Keselowski's crew chief) are both very strong together. I don't see it affecting them and preventing them from succeeding, but they will be reminded often that you have to go out there and earn each and every week."
Four-time champion Gordon sees the situation as a mixed blessing.
"I think a lot of times the hardest thing is to get the first one because once you get that first one, it gives you confidence in yourself and your team," said Gordon. "You know: I'm capable of doing this. Especially in the new format, to do battle over 10 weeks, you got to get in and you got to be on top of your game for 10 weeks.
"So to me that gives you confidence to come back and do it again. But it also puts a target on you. People are now focused on you, paying more attention to your every move, what's going on throughout the season. That's going to make it a little bit more difficult for you to repeat."
For his part, Keselowski professed to be the same guy he always was, someone focused on doing things the way he thinks they should be done.
"I am going to do my own thing," Keselowski said during Thursday's annual NASCAR Media Day get-together at Daytona International Speedway. "If it works great and, if not, then whatever. I am going to be my own person and look out for what is best for the sport. I have always felt that way, whether I was a champion or not. I feel like every driver has a responsibility to make the sport better and all it can be. I might have a louder voice now, but I took it seriously before I was a champion."
One driver squarely in Keselowski's corner is Mark Martin who, at 54, is the oldest full-time driver in the series, and has raced with a lot of great drivers dating back to the early 1980s.
"I think he's incredibly resilient," Martin said of Keselowski. "I don't think that pressure, or whatever, is going to be a problem for him. He's really, really smart, he's really bright. Roger Penske said it best: 'His windshield is wider than most.'"
As for last year's championship, Martin said, "It wasn't a fluke, it wasn't that big of a surprise. It was a little bit of a surprise, but not that big of a surprise to see him pull off what he did last year. Yeah, he can do it again. Many times."
Sure, Keselowski could win again, but it will take another maximum effort with many things going right, as they did last year.
"It's not a layup," said Johnson of defending a championship. "I don't think they feel that it is, but I have had years where we left the Chase successful, started the season successful, then midway through the year it became really tough. Then the pressure sinks in and your mind starts playing some games on you. Those were moments we just had to learn from and work through. I would expect at some point in the year they will go through that, too.
"Plus, other teams want to step up and find out where their weaknesses were, what they missed out on in winning the championship and make themselves better. So, competition gets better and you have to improve along with that."
Tom Jensen is the Editor in Chief of SPEED.com, Senior NASCAR Editor at RACER and a contributing Editor for TruckSeries.com. You can follow him online at twitter.com/tomjensen100.