CUP: Despite Poor Finish, Earnhardt Still Points Leader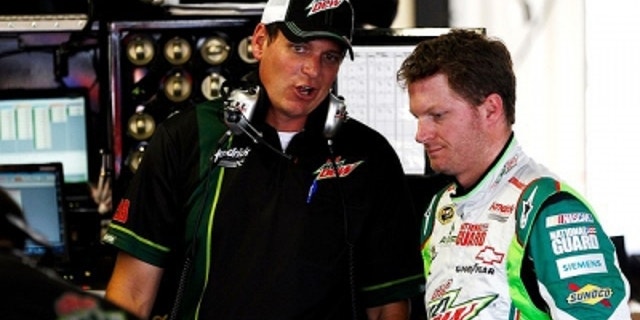 Despite transmission woes Sunday, Dale Earnhardt Jr. retained the NASCAR Sprint Cup points lead with a 32nd-place finish in the rain-shortened race at Pocono Raceway.
Earnhardt developed transmission problems 50 laps into the Pennsylvania 400. However, a late-race accident between Jimmie Johnson and Matt Kenseth, which knocked Kenseth from second to 23rd seven laps before the event was called because of rain, enabled the No. 88 Hendrick Motorsports team to retain a five-point advantage over Kenseth in the standings.
Junior led 17 of the first 48 laps, then had trouble after his second pit stop. After Earnhardt told the crew his car had a tight handling condition, his team changed four tires and made a track bar adjustment.
Earnhardt was barely up to speed when he warned crew chief Steve Letarte that the car had "no third, no fourth" gear.
Letarte repled, "Yeah, that's not going to work . . . go to the garage."
"We don't have third or fourth gear so we have to change the transmission," Earnhardt said while waiting in the garage "I know the guys in the transmission shop are disappointed. We don't ever break parts. The time was out, and it started to miss some shifts. It was hard to get into gear.
"We put (the transmission) in (Saturday) during qualifying, and it was fine. When the race started it was kind of aggressive, there was a bit of a vibration and the car was just out of time. It started missing some shifts. It was difficult to get it into gear and then finally (going) from third to fourth coming out of the tunnel, it didn't have any fourth. And then I went to third and it didn't have any third."
Earnhardt entered the weekend with a 14-point lead over Kenseth. In NASCAR's stop at Indianapolis last week, Junior had tied eventual Pocono race winner Jeff Gordon's record for completing 21 consecutive races on the lead lap and was set to break the record on Sunday. But Earnhardt finished 32nd, 18 laps off the pace.
"It's tough," he said. "We had a good run going. The Diet Mountain Dew Chevrolet was pretty fast. Jimmie (Johnson's) the quickest car out there, but we felt like we might have been able to work on ours — we were tight — I thought we could make it better than what we were."