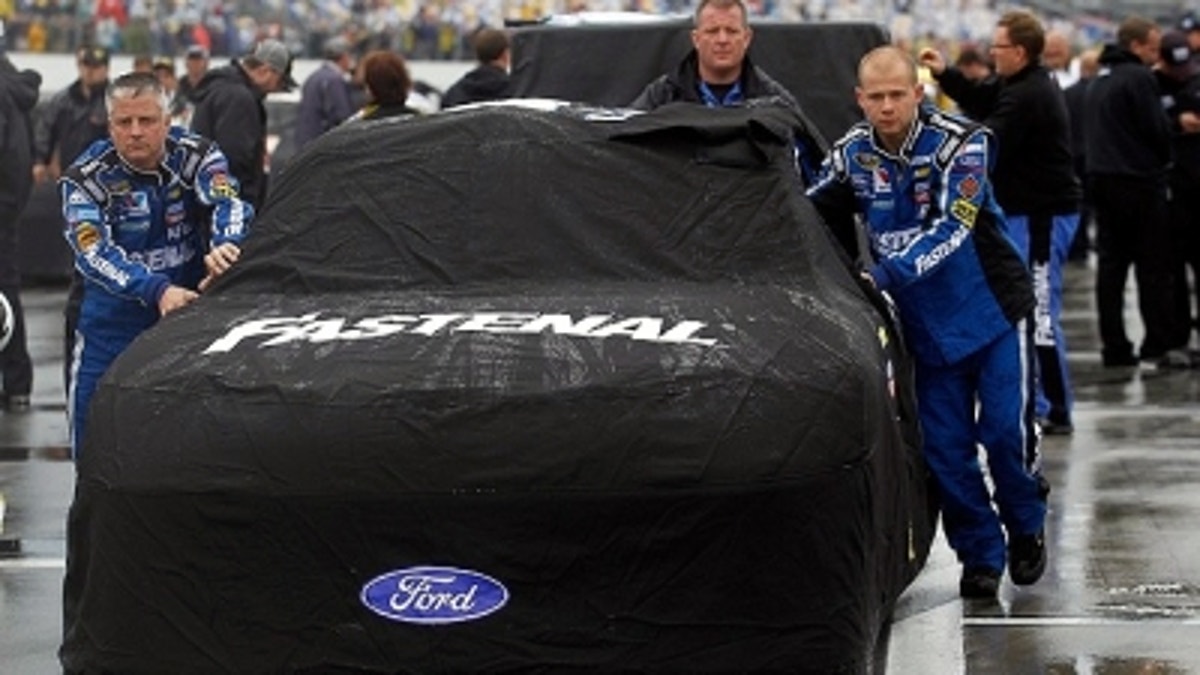 For the first time in the 54-year history of the Daytona 500, the Great American Race has been postponed due to rain.
So what can fans expect with the green flag scheduled for 12:01 p.m. on Monday?
5. Rainy days and Mondays
Yes, race fans, there's an 80 percent chance of rain for Monday, so bring your rain gear — and your patience. Tickets for the Daytona 500 will be honored on Monday — or perhaps Tuesday when the forecast calls for just a 20 percent chance for rain.
4. High anxiety
Greg Biffle, who will start on the front row with Roush Fenway Racing teammate Carl Edwards, felt the pressure building as he waited in his motor coach on Sunday. Certainly, the longer the competitors stew, the higher the stress level will rise. Biffle says he was more frustrated "knowing that we have a good car . . . and I feel like we can win this race. There's just so much anxiety. I've watched all the programming leading up to this with all the interviews and then to just put it on hold makes it tough for a driver because there's all kinds of adrenaline, and then you have to try to sleep tonight. It's still a big race, so you try to stay hydrated for tomorrow."
3. Green day
With Sunday's downpour washing off the tire rubber, track conditions will change and NASCAR likely will institute a competition caution for teams to check tires and make adjustments to the cars. In the teams' favor is the newer track surface at Daytona and grip should be up with this tire combination.
2. All wet
For engine men, the greatest concern will be the condensation getting into the ethanol — which acts as a moisture magnet — and damaging the engine. Also, if temperatures rise, don't expect to see as much tandem drafting, which plays havoc with overheating the engine.
"If we end up racing in 70-, 75-, 80-degree weather, then obviously the drivers aren't going to be able to push as hard and you're going to have some effects there," said Joe Gibbs Racing crew chief Dave Rogers. "The weather is definitely going to affect the way the race plays out, but at this point, as a crew chief there's not much you can do because you can't work on the cars at all. We just have to stay here and play it out."
1. On the road again
Should the race be delayed until Tuesday, the greatest grind likely will be put on the smaller teams that don't have the resources of the NASCAR powerhouses that have multiple transporters, cars and personnel to prepare for next weekend's race in Phoenix. This could be particularly difficult on the truck drivers who will have to drive 500 miles back to Charlotte, NC, and then make the additional 2,050-mile trek to Phoenix International Raceway.