CUP: Daytona 500 Delayed By Track Vehicle Fire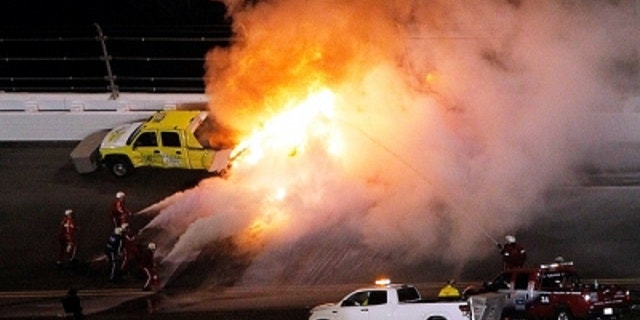 Monday's Daytona 500 was interrupted by one of the most bizarre incidents in NASCAR history as a collision between Juan Pablo Montoya's race car and a track jet drier sparked a huge on-track fire.
There apparently was a mechanical problem on Montoya's car, causing Montoya to lose control while returning to speed during a caution period. Montoya's car slammed into a jet drier vehicle that was working in the turn-three area during the caution.
The impact caused the tank of fuel at the rear of the track vehicle to explode, and seconds later there was a huge fire. The driver of the jet drier escaped, and Montoya was not hurt.
Track safety vehicles responded to the fire quickly, but workers needed several minutes to bring the fire under control.
Because of the incident, the race was redflagged for about two hours. The cars were stopped on the track backstretch, and the drivers eventually climbed out of their vehicles to discuss the situation with their competitors.
Montoya said his car had "a weird vibration. Every time I got on the gas it vibrated. The car turned right while I was asking the spotter to check out the rear end."
The driver of the jet drier, Duane Barnes of Michigan International Speedway, was transported to nearby Halifax Medical Center but was released without serious injury.
Jet driers and other track vehicles routinely are driven on track surfaces during caution periods to assist in cleanup operations. The jet drier was being used to blow debris from the track.
Some drivers were skeptical about restarting the race after the impacted area of the track was cleared of fuel and cleaned, but the final 40 laps were run without additional problems on that part of the track surface.
"The track held up well," Dale Earnhardt Jr. said. "The drivers didn't get an opportunity to see the track before we restarted. When we came off that turn, it looked very scary and tragic. It was an unfortunate incident, but NASCAR did a great job to finish the show."
Mike Hembree is NASCAR Editor for SPEED.com and has been covering motorsports for 30 years. He is a six-time winner of the National Motorsports Press Association Writer of the Year Award.