CUP: Crew Chiefs Keep Shufflin'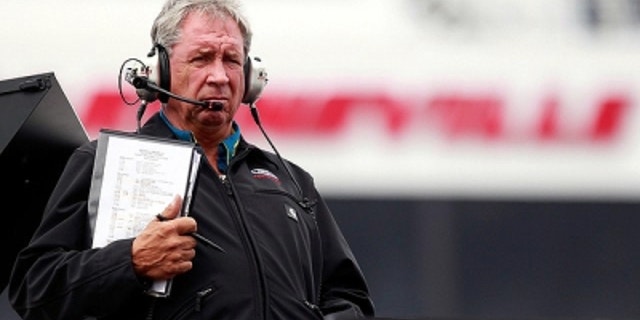 NEWYou can now listen to Fox News articles!
The position of the NASCAR Sprint Cup crew chief is always a volatile one, with annual turnover in the 40-50 percent range.
Because sponsors spend so much time and money promoting drivers, when performance falls off, it's usually the crew chief who is the first to go, not the driver. Following are some of the more notable driver-crew chief changes for 2013.
Carl Edwards – Jimmy Fennig — No frontline Sprint Cup driver had a more disappointing 2012 season than Carl Edwards, who came up a single point shy of a championship in 2011 but disappeared this year. To get Edwards back on track — he's currently riding a 69-race winless streak — Roush Fenway Racing founder and co-owner Jack Roush has decided to team Edwards with veteran Jimmy Fennig.
Fennig was crew chief for Bobby Allison when he won the Daytona 500 in 1988 and Kurt Busch when he won his Sprint Cup championship in 2004. More recently, he's led Matt Kenseth's team to three consecutive points finishes of seventh or better.
Jeff Burton – Luke Lambert — Richard Childress Racing had a brutal season in 2012, with only one race victory. Jeff Burton finished 19th in points and hasn't won a race since 2008, which was also the last year he finished in the top 10 in points. There will be lots of changes at RCR this year, and one of them will be to reunite Burton and Luke Lambert, who worked together in the second half of 2011.
This year, Lambert was crew chief for Elliott Sadler's RCR Chevrolet in the NASCAR Nationwide Series. Sadler had a successful 2012 campaign, finishing second in points to Ricky Stenhouse Jr. for the second consecutive season.
Matt Kenseth – Jason Ratcliff — Much will be expected of Matt Kenseth in his first season with Joe Gibbs Racing. In fact, the 2003 Sprint Cup champion will be expected to contend for a championship right out of the box, which is the big reason JGR lured him away from Roush Fenway Racing. At JGR, Kenseth will be paired with Jason Ratcliff as his crew chief.
This year was Ratcliff's first at the Sprint Cup level, where he served as Joey Logano's crew chief. Ratcliff has extensive experience in the NASCAR Nationwide Series, where he was crew chief for consecutive owner championships in 2009-10.
Joey Logano – Todd Gordon — In four full seasons with Joe Gibbs Racing, Joey Logano never developed into the kind of legitimate title contender the team hoped he would when they picked him to replace Tony Stewart. In 2013, Logano moves to Penske Racing, where a change might well allow him to blossom. There, he'll be paired with Todd Gordon, who was crew chief for AJ Allmendinger and Sam Hornish Jr.
Like Ratcliff at JGR, 2012 was Gordon's first full season at the Cup level, as he had primarily worked in the Nationwide Series. There, Gordon served as crew chief for a number of drivers, including Brad Keselowski, Jason Keller and Kenny Wallace.
Ricky Stenhouse Jr. – Scott Graves — After earning consecutive Nationwide championships, Ricky Stenhouse Jr. will move to the Sprint Cup Series in 2013, where he will replace Matt Kenseth in the No. 17 Roush Fenway Racing Ford Fusion. There, Stenhouse will be paired with Scott Graves, who served as crew chief for Stenhouse's four Cup starts this season and was a full-time engineer for Carl Edwards.
Tom Jensen is the Editor in Chief of SPEED.com, Senior NASCAR Editor at RACER and a contributing Editor for TruckSeries.com. You can follow him online at twitter.com/tomjensen100.