CUP: Crew Chief Turnover Is Staggering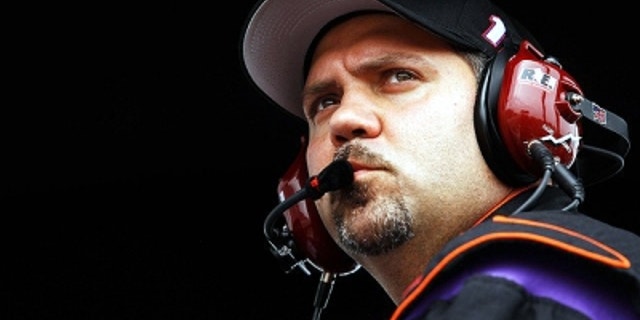 Surprised Bob Osborne was replaced Tuesday as crew chief of the No. 99 Roush Fenway Racing Ford driven by Carl Edwards?
You shouldn't be.
Although NASCAR Sprint Cup crew chiefs are paid handsomely — a top-tier crew chief can earn more than $1 million a year — the rate of turnover at the position is staggering.
With huge pressure from sponsors to win, and millions of dollars in incentives to make the Chase for the Sprint Cup, the crew chiefs are the ones at risk when a team underperforms. Sponsor marketing is almost always tied to drivers, another reason crew chiefs are expendable.
In the case of Edwards, last year he re-signed with Roush Fenway, but only after Ford stepped up to the plate, adding lucrative stock options to his already multi-million-dollar deal. With that investment, expectations were very high but the performance simply hasn't been there this year.
And now, Osborne is gone as Edwards' crew chief. But he is hardly alone in the category of top crew chiefs replaced in recent years.
If you go back to the 2010 Daytona 500 — less than 2 ½ years ago — there are only four driver/crew chief/team combinations that are still intact:
Jamie McMurray and Bono Manion at the No. 1 Earnhardt Ganassi Racing with Felix Sabates Chevrolet;
Kyle Busch and Dave Rogers at the No. 18 Joe Gibbs Racing Toyota;
Ryan Newman and Tony Gibson at the No. 39 Stewart-Haas Racing Chevrolet; and
Jimmie Johnson and Chad Knaus at the No. 48 Hendrick Motorsports Chevrolet.
Two other driver/crew chief tandems are still together, but at different teams: Kasey Kahne and Kenny Francis, and Paul Menard and Slugger Labbe. Both those pairs were at Richard Petty Motorsports when the 2010 season began. Kahne and Francis moved to Hendrick Motorsports this year, while Menard and Labbe joined Richard Childress Racing prior to the 2011 season.
Following are some of the high-profile crew changes in recent years:
Darian Grubb — The reigning championship crew chief was told by Tony Stewart prior to last year's Chase for the Sprint Cup that he was going to be replaced after the season ended. Steve Addington took his job on the No. 14 SHR Chevrolet.
Steve Addington —The South Carolina native was crew chief for both Busch brothers — Kyle from 2008 to late 2009 and Kurt from 2010-11. But he left Penske Racing at the end of last year to join SHR and become Stewart's crew chief.
Mike Ford — After leading Denny Hamlin to six consecutive Chase appearances, including a second-place finish in 2010, Ford was fired after the 2011 season and replaced by Grubb. After enjoying a couple of months off, Ford moved to Richard Petty Motorsports and is now crew chief for Aric Almirola.
Gil Martin — Kevin Harvick finished third in points in both 2010 and 2011, but that wasn't enough to salvage Martin's job. He was replaced this year by Shane Wilson, who was Harvick's crew chief when he won his second NASCAR Nationwide Series championship.
Steve Letarte — Although he was Jeff Gordon's crew chief for five consecutive Chase appearances, Letarte was part of a three-crew-chief swap at Hendrick Motorsports at the end of 2010. He now is Dale Earnhardt Jr.'s crew chief and Alan Gustafson is Gordon's crew chief.
Greg Zipadelli – After serving as crew chief of the No. 20 Joe Gibbs Racing entry from 1999-2011, Zippy left JGR to become competition director at SHR, where he was reunited with Tony Stewart.
Drew Blickensderfer — The veteran began 2010 season as crew chief for Matt Kenseth and the No. 17 Roush Fenway Racing Ford, but was replaced after the Daytona 500. He later became David Ragan's crew chief, before the No. 6 Ford was shut down. For 2012, Blickensderfer moved to Richard Childress Racing to become crew chief for Jeff Burton, Burton's fourth crew chief in the last five seasons.
Greg Erwin — Crew chief for Greg Biffle, Erwin was replaced in July 2011 by Matt Puccia. Erwin moved on to Richard Petty Motorsports, where he served as crew chief for first AJ Allmendinger and then Aric Almirola. He was fired earlier this year and replaced by Mike Ford.
Pat Tryson — The steady Tryson led Kurt Busch to a fourth-place points finish in 2009, but moved to Michael Waltrip Racing and Martin Truex Jr. in 2010. He left MWR and is now crew chief for David Gilliland and the No. 38 Front Row Motorsports Ford.
Jay Guy — Was Brad Keselowski's crew chief at Penske Racing for 2010, and replaced by Paul Wolfe afterward.
Tom Jensen is the Editor in Chief of SPEED.com, Senior NASCAR Editor at RACER and a contributing Editor for TruckSeries.com. You can follow him online at twitter.com/tomjensen100.