CUP: Chicago Friday Notebook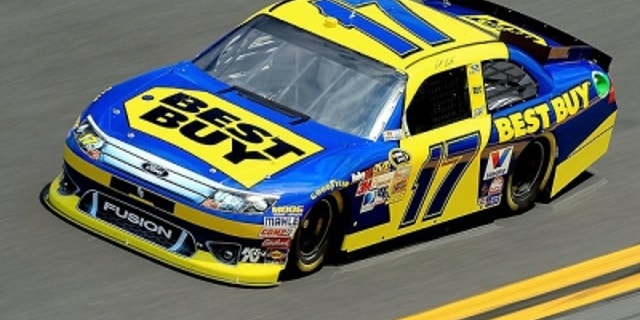 NEWYou can now listen to Fox News articles!
PROGRAMMING NOTE: Danica Patrick will be a guest on Trackside on SPEED tonight at 11 pm ET/8 pm PT.
BEST BUY RENEWS WITH ROUSH FENWAY – Best Buy will continue its sponsorship role with Roush Fenway Racing next season and will be the "anchor" sponsor for Ricky Stenhouse Jr.'s No. 17 car.
Stenhouse will move up from the Nationwide Series next year to replace Matt Kenseth in the 17. Kenseth is moving to Joe Gibbs Racing.
Zest and Fifth Third Bank also will be involved in the 17 sponsorship and with other Roush Fenway cars.
"Ricky is really a very lucky young driver because he's able to step into a mature team, regardless of how the personnel winds up being distributed next year," said team co-owner Jack Roush. "He takes on one of the three seats at our table. He's at the head of this generation of rookies coming through. We're very happy and proud of Ricky and what he might do."
Jimmy Fennig, crew chief for Kenseth this year, probably will continue in a Cup crew chief role next season, Roush said.
Roush Fenway president Steve Newmark said a few "primary" race sponsorships remain for Stenhouse's car next year.
PATRICK VOTES FOR STEWART – Danica Patrick, Sprint-Cup-driver-in-waiting for Stewart-Haas Racing, has two team owners in the Chase for the Sprint Cup – Dale Earnhardt Jr., her Nationwide Series owner this year, and Tony Stewart, fielding Cup cars part-time for her this year and full time next season.
So, does she have a rooting choice?
Noting that the question is somewhat unfair, Patrick voted for Stewart.
"Since I'll be driving for Stewart-Haas next year, I guess it would mean I'd probably be cheering for Tony a little more since that will be my full-time team next year – if I had to pick one," she said.
LAP AFTER LAP AFTER LAP – If relentless consistency means anything as 12 drivers roll into the Chase, give a long look to Greg Biffle.
Through 26 races, series drivers had the opportunity to run a total of 7,264 laps. Biffle completed 7,262 of those laps, helping to explain why he led the point standings after the regular season.
The next five drivers on the laps-completed list are Kevin Harvick, Dale Earnhardt Jr., Paul Menard and Martin Truex Jr.
Mike Hembree is NASCAR Editor for SPEED.com and has been covering motorsports for 30 years. He is a six-time winner of the National Motorsports Press Association Writer of the Year Award.