CUP: Chasing The Chase – Kyle Busch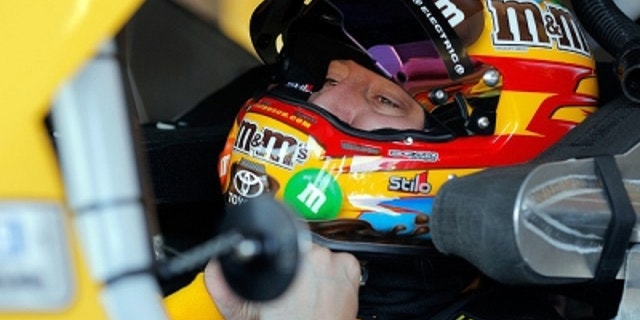 After a solid second-place finish at Indianapolis Motor Speedway two weeks ago, Kyle Busch appeared to return some zip to his season.
Much like Jeff Gordon, Busch has been plagued by a "good-cars-but-bad-finishes" kind of year, and the runnerup run at Indy not only put some fire under the Joe Gibbs Racing team but also put Busch in the second wild-card position for the Chase for the Sprint Cup.
That was then.
This is now.
In Sunday's race at Pocono Raceway, Busch returned to the briar patch, crashing after breaking a brake rotor and finishing 33rd.
That run dropped Busch from 11th to 15th in the point standings, virtually closing the door on any hopes he might have had of making the top 10 Chase positions. He also lost the wild card and now is behind Kasey Kahne, Jeff Gordon and Ryan Newman in the race for those two positions.
Over the next five races, Busch probably needs a win – or two – to make the Chase.
"We had hoped we had shaken it, but obviously it's not to be," Busch said of his bad luck. "It's going to hurt us a lot in the points. We're obviously not going to make the top 10, so if we get a win – great, we'll make the Chase. If not, we'll probably miss it.
"It's just the way it seems to be, but the way our year has gone, it's just inevitable to have something every week happen."
Busch won at Richmond in the spring, starting a streak of four races in which he finished no lower than fourth. That run put him eighth in points.
But then the gremlins returned. In the seven-race stretch from Dover to Loudon, Busch had a best finish of 10th. The run included a pair of engine failures.
Now Busch, generally considered one of the best wheelmen in the sport, has his back to the wall with only five races remaining to the Chase cutoff.
Bristol (Aug. 25) and Richmond (Sept. 8) would appear to be Busch's best shots at adding one or more wins. He has won at Bristol five times and at Richmond four times.
He owns single victories at the other tracks – Watkins Glen, Michigan and Atlanta – remaining on the pre-Chase schedule.
Mike Hembree is NASCAR Editor for SPEED.com and has been covering motorsports for 30 years. He is a six-time winner of the National Motorsports Press Association Writer of the Year Award.