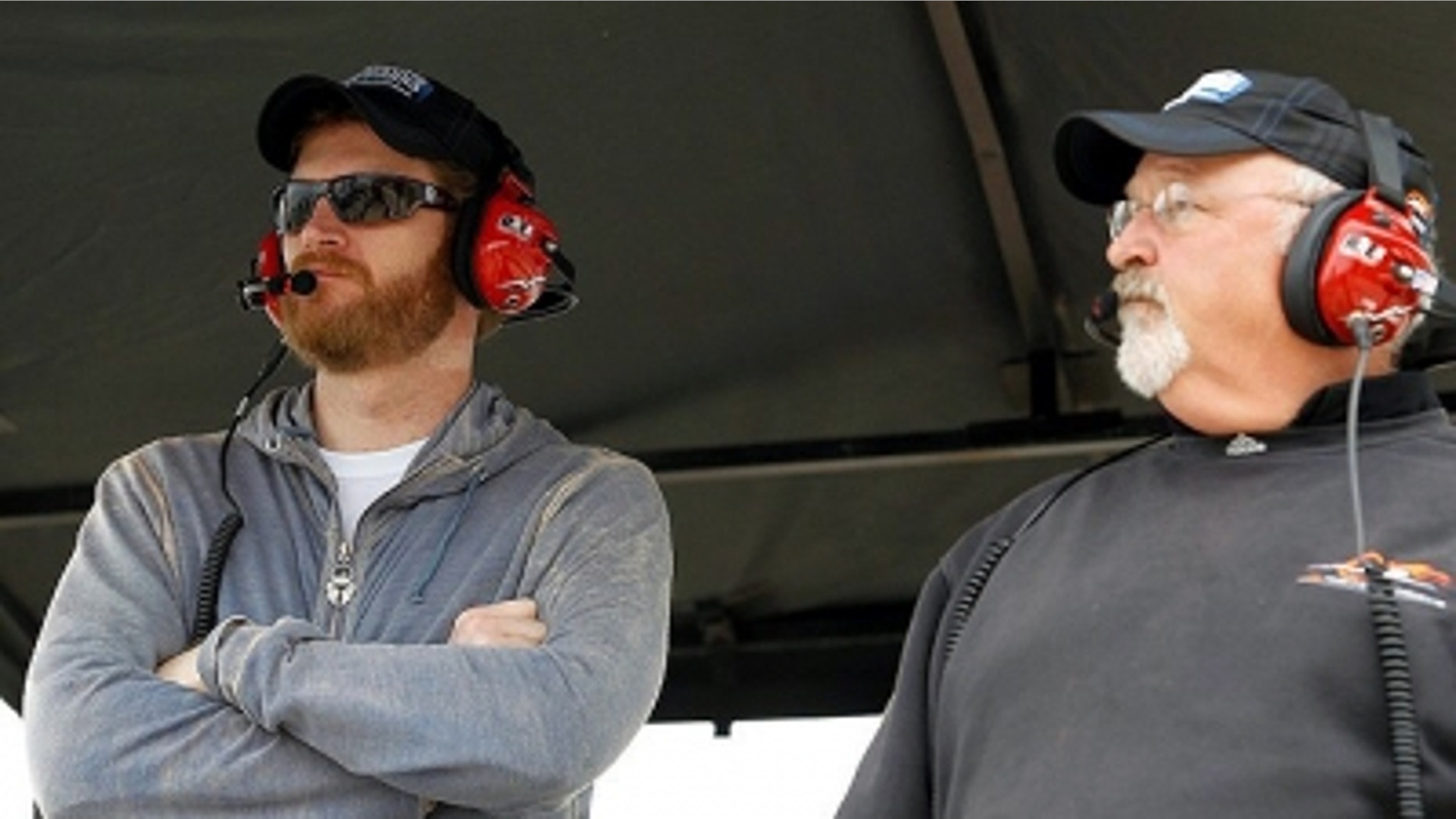 A DRIVER AND A BOSS – Dale Earnhardt Jr. has been a busy guy lately. He's in the Chase for the Sprint Cup, and he's had a full plate preparing for and participating in everything that surrounded Week One of that exercise.
And, oh, by the way, the business side of Earnhardt Jr. has been plugged in, as well. On that front, it hasn't been a pleasant two weeks for the driver of the 88, who also happens to be the principal owner of the JR Motorsports Nationwide Series team.
One after another the hammer blows came over the past two weeks as first Tony Eury Sr., JRM's competition director, and then Tony Eury Jr., crew chief for Danica Patrick at the company, left the operation.
This was not simply two employees grabbing their hats and coats and moving on. This was like a family reunion gone awry.
Eury Sr. is Earnhardt Jr.'s uncle, and Eury Jr. is his cousin. They have long and strong ties back to the Dale Earnhardt Inc. days. Senior has been a sort of father figure to Earnhardt Jr., and Eury Jr. was Junior's crew chief for two Nationwide Series championships and 17 Sprint Cup wins.
JRM's performance in the past two years has been mediocre at best, however, leading to a parting of the ways that would have been almost impossible to predict several years ago.
Whether troubles on the homefront will impact Earnhardt Jr.'s efforts as the Sprint Cup season rolls into its most critical weeks remains to be seen, but the unsettled nature of the situation at JRM can't be a positive.
VICKERS RETURNS TO 55 – Brian Vickers is back.
Vickers has had a limited – but productive – season this year in a part-time driving role for Michael Waltrip Racing. He is scheduled to make his seventh appearance in the team's No. 55 car in Sunday's Sylvania 300 at New Hampshire.
Vickers has had three top-five runs in the car – a fourth and fifth in two races at Bristol and a fourth at Sonoma.
His last scheduled run for MWR will be at Martinsville Speedway Oct. 28.
He'll join teammates Clint Bowyer and Martin Truex Jr. – both in the Chase – this weekend.
"It's going to be great to get back to New Hampshire," Vickers said. "We had a great car at the end of the race last time we were there. It will be a solid platform to start from. The energy level of the whole organization has been elevated now that the Chase has started.
"All of MWR should be proud of the accomplishments of this season. Having Clint and Martin in the Chase is a big feat. I know that feeling from when I made it in 2009. It shows how hard the entire team has worked."
HANDLING KEY At NHMS – New Hampshire Motor Speedway is one of the most handling-sensitive tracks in NASCAR, and fine-tuning cars to sweep through the turns will be a key for Chase drivers in Round Two this week.
"The hardest thing is just making your car turn in the middle of the corner and being able to have enough forward drive up off," said Chaser Kevin Harvick. "It always seems like the New Hampshire race comes down to a track-position strategy call on two tires or four tires toward the end of the race. Track position will play a big part, but getting your car to handle right will probably play an equal part.
"There's a lot of braking. You have to really work on getting your car through the center of the corner and still have the forward drive you need up off the corner."

Mike Hembree is NASCAR Editor for SPEED.com and has been covering motorsports for 30 years. He is a six-time winner of the National Motorsports Press Association Writer of the Year Award.