CUP: Chase Elliott Takes After Dad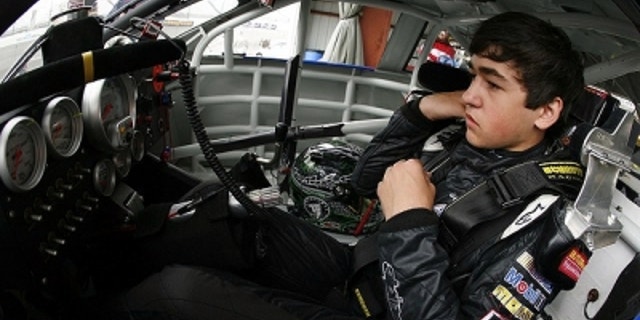 When Chase Elliott thinks about his dad's remarkable NASCAR career, he calls his family's accomplishments "crazy" and "unbelievable."
People might soon be saying the same thing about Chase, the son of former NASCAR Cup champion Bill Elliott.
Bill Elliott and his family-owned team from Dawsonville, Ga., took the NASCAR world by storm in the 1980s. With his brother Ernie building the engines, Elliott won 11 races with car owner Harry Melling in 1985 and then won the Cup championship in 1988.
Elliott wound up winning 44 Cup races, including four from 2001-03 for Ray Evernham. He won the 2002 Brickyard 400 at Indianapolis with 6-year-old Chase sitting on the pit box.
"It's crazy the stuff he's done," Chase said of his dad. "The success they had in the '80s with what they had to work with was absolutely unbelievable. Uncle Ernie, he had his motor stuff figured out, he was the man.
"He did such a great job with that. He had so much figured out that no one else had a clue and people couldn't figure out how they were so fast, especially at Daytona and Talladega."
Chase, 16, is starting to turn heads as well and appears to be headed for big things himself. While working his way through the short-track and Late Model ranks with his dad's team, he won four Late Model races in 2009 and then 13 in 42 starts in 2010 (with 29 top-five and 39 top-10 finishes).
Last year, as a development driver for Hendrick Motorsports, Chase scored three top-five and six top-10 finishes in 12 races as the youngest driver in the NASCAR K&N Pro Series East. He also finished third in a K&N Pro Series West race at Phoenix.
He also won the Champion Racing Association National Super Late Model championship in November, scoring eight wins and capping the season by winning the prestigious Snowball Derby in Pensacola, Fla., becoming the youngest winner in the 44-year history of the event.
His racing accomplishments even earned him Sports Illustrated's High School Player of the Week in April of last year.
For Chase, whose family-owned team will have Hendrick support again this season, winning the Snowball Derby, the nation's biggest short-track race, was huge. And he won it in dramatic fashion, rallying from a wreck and winning a five-lap shootout at the end.
"To me, that was probably the biggest race I have won so far," he said. "That was really cool. Trying to progress in the short-track racing and trying to come up through NASCAR, to win that race was big for me.
"It was just exciting. It's such a big race and so many good guys go down there and try to win that race and a lot of guys have been going down there for a number of years to win that race. And for us to be fortunate enough to even put ourselves in position to win [was awesome]. That race is so hard to put yourselves in contention to win, much less win it."
Chase will race in the K&N East again this year for Hendrick and his dad's team. He will drive Hendrick cars and his team will be led by former Hendrick Cup crew chief Lance McGrew.
"I've never really raced for anyone but my Dad, so this will be a different experience," he said. "We will have a lot of help from Hendrick Motorsports."
His plan is to be in NASCAR's Nationwide Series by the time he's 18 – if that's Rick Hendrick's plan.
"I think at 18, I would definitely like to be running Nationwide," Chase said. "I think if we can get through these next two years and do well and when I turn 18, if Mr. Hendrick thinks Nationwide would be a good step, then that's what we should do. If he thinks I should run another year of ARCA or whatever it may be, we'll do whatever he thinks and I'll be 100 percent supportive of it."
Despite his pedigree and famous father, and the backing of powerful Hendrick Motorsports, Chase's approach is just like any racer – to win. He says he gets very little trouble from other racers who may be resentful because of his background and backing.
"It's hard for me to say. If people don't like it, they definitely don't say it to me," he said. "To me, I just want to be another racer. I'm just there to win the race, just like everybody else, and I think a lot of guys agree. I'm just another racer and we're all there to do the same thing, and that's to win."
SceneDaily.com • Bobby Labonte, JTG Daugherty team face big challenge after moving from MWR