CUP: Challenging Times For Newman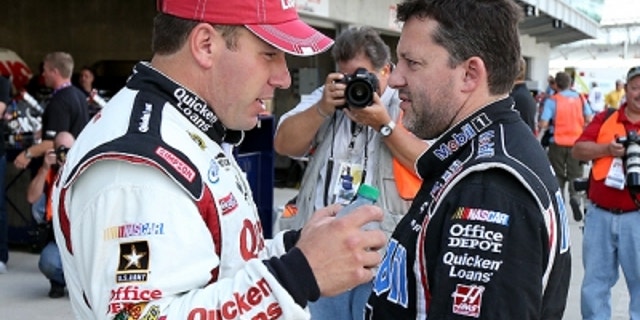 Ryan Newman may be the odd man out in more ways than one this season, and that's definitely not what the veteran racer wants.
Newman is in his fourth year driving the No. 39 Stewart-Haas Racing Chevrolet for his friend and boss Tony Stewart, but the future is murky at best. Earlier this year, the U.S. Army announced it won't return as one of Newman's primary sponsors next season. And while Stewart wants Newman back at SHR, his return is contingent on cobbling together enough sponsorship to fund the car and keep it competitive on track.
"I'm praying that I can (field three cars) next year," said Stewart. "I hope so. I'm doing everything I can to do that."
Equally concerning to Newman is his place in the NASCAR Sprint Cup points standings. Heading into Bristol Motor Speedway last weekend, Newman was 13th in points and leading the race for the second wild card spot in the Chase for the Sprint Cup.
But at Bristol, Newman got spun by Juan Pablo Montoya on Lap 189 of 500, finishing 36th. That dropped Newman to 15th in points, 19 points behind Kyle Busch and 3 points behind Jeff Gordon in the race for the second wild-card spot. Suddenly, Newman has a hugely uphill fight in front of him.
"It was definitely disappointing for us," said Newman of the Bristol crash. "We know we are in the fight for one of two wild-card spots, and to be involved in a wreck that took us out of the race and then cost us two spots in the points was definitely a big hit for us. But that's part of racing. I've said all along that the wild-card spot could change each and every lap, and it still can."
Now, with just two races left in NASCAR's regular season, Newman knows he needs to make things happen, starting with Sunday night's AdvoCare 500 at Atlanta Motor Speedway.
"We're going to Atlanta and to Richmond with the same goal we've had all season – to win," said Newman. "That's the mission and that's what we need to do. We're here to get the best finish we can for the U.S. Army Medicine Chevrolet. We're determined and focused on what we need to do, and I know we're not going to give up. This team has proven that to me time and again. We won't give up."
Newman has never won at Richmond, although he has seven poles at the ultra-fast 1.54-mile quad oval track. Still, the numbers don't place him as a favorite here. Newman opened his NASCAR Sprint Cup career with three consecutive 10th-place finishes at AMS. Since then, he's posted just three top 10s in 16 races, his best finish being a fifth in 2004. Newman's average finish here is 17.474.
To get back in championship contention, Newman and the rest of the No. 39 SHR team will need to step it up big time this weekend.
"Atlanta is fast, especially when the conditions are right," said Newman. "You have to hit your marks. It's bumpy enough that those bumps can spit you right out. Getting into Turn 1 and the middle of 3 and 4, you've got catch everything just right. It's kind of like surfing or wakeboarding — you've got to catch the waves right and, obviously, put the car in the right spot to do the right things with the gas and the steering wheel. I think it's the combination of the tire grip we have, initially, and it's a wide-open racetrack. There's plenty of room to race there. It's one of the best racetracks we go to for three- and four-wide racing in the corners."
History or not, Newman knows there's but one goal on Sunday: Put the No. 39 SHR Chevy in Victory Lane and bring home the trophy.
"With Atlanta being a one-off race, it has a different feel to it now and a different feel to it than a lot of tracks we go to. But, in the end, we are there to do the same job, and that's to win."
Tom Jensen is the Editor in Chief of SPEED.com, Senior NASCAR Editor at RACER and a contributing Editor for TruckSeries.com. You can follow him online at twitter.com/tomjensen100.