CUP: Can Keselowski Repeat?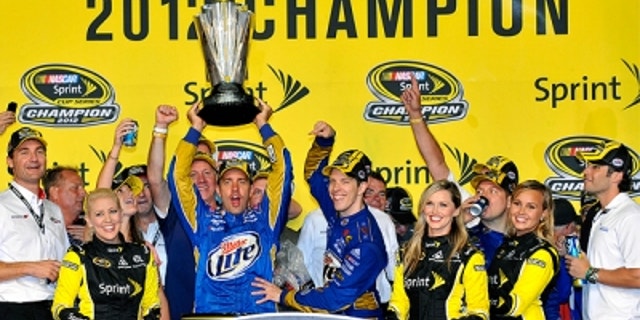 Out with the old, in with the new, and, with the calendar flipped to 2013, the Sprint Cup championship waits for the taking again.
Can Brad Keselowski, the surprise 2012 champ, repeat this year? If so, it would be unusual. No driver not named Jimmie Johnson has won back-to-back championships since Jeff Gordon in 1997-98, and no Ford driver (Keselowski now sits in that group) has won the title since Kurt Busch in 2004.
Keselowski has beaten the odds before, obviously, with his 2012 title the most striking evidence. Few predicted his run to the championship, although his second full-time Cup season (2011) had produced a fifth-place points finish.
Now the future is about continuing to grow the productive relationship Keselowski and crew chief Paul Wolfe have developed and working with Ford engineers to make the transition from Dodge to the Blue Oval seamless. And, of course, hitting the right notes at the right times. In addition to scoring five wins in 2012, Keselowski also had a fine record of turning bad days into manageable ones, a process that is critical over a long season in the NASCAR point structure.
He and Wolfe put things in place to make all that happen, but the road ahead is still tough, Keselowski said.
"There's a lot of work to be done," he said. "And … I feel like we're still at the beginning. I don't feel like – you can't judge something off the beginning. You know, if you were building a house and you just looked at the foundation, it doesn't look like much of anything. I feel like we're very early. We've got the cement poured, and I want to keep building."
Although it seems odd considering the results of the past year, Keselowski said he had problems transitioning from Nationwide to Sprint Cup.
"I think I suffered from some serious confidence issues when I first came into Cup that were a result of a lot of things, mostly just not having the speed to be successful and trying to do too much," he said.
"I was trying too hard to be the 'i' in team, and there is none, and that's pretty obvious looking back now. But I didn't know that. I do now. But it's not until you have a group around you that shows you that you don't have to do all the work, that you can share it, and that as long as you respect them, care about them and work with them, you can be successful. And that's something I had to learn on my own. I never had anybody teach me that. Nobody ever taught me about teamwork. That's something I had to learn on my own."
The road to a continuation of success begins in a few weeks for Keselowski. Stay tuned for Part Two.
Mike Hembree is NASCAR Editor for SPEED.com and has been covering motorsports for 30 years. He is a six-time winner of the National Motorsports Press Association Writer of the Year Award.