CUP: Can Johnson Find Old Magic?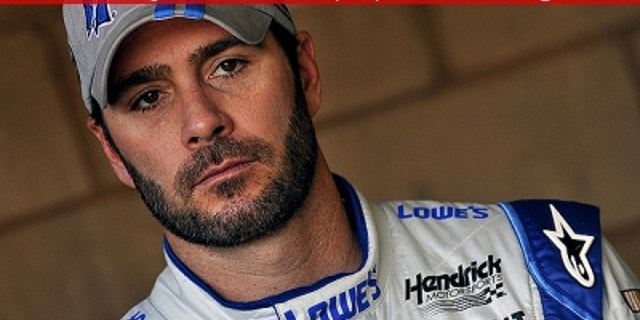 There are those who believe Jimmie Johnson's golden horseshoe suddenly reappeared on Sunday at Auto Club Speedway, where Johnson scored a 10th-place finish when the race was rain shortened just after his oil cooler started puking vital fluids onto the track's surface.
You might think that Johnson's meteoric rise from 49th in the NASCAR Sprint Cup points standings after the Daytona 500 to ninth now is proof that the five-time champion is back on winning form, as well.
The truth is, Johnson's status ought to become a lot more apparent after Sunday's Goody's Fast Relief 500 at Martinsville Speedway in rustic Southern Virginia. It wasn't very long ago that Johnson owned Martinsville, winning six races at the tiny 0.526-mile track. From the fall of 2006 until the spring of '09, Johnson scored an impressive five victories in six starts.
In fact, Johnson, his Hendrick Motorsports teammate Jeff Gordon and Denny Hamlin of Joe Gibbs Racing combined to win 14 of 18 races at Martinsville from 2003-10. But last year, Johnson and the other two Titans of Martinsville were all shut out, as Kevin Harvick won in the spring and Tony Stewart claimed the fall race.
Johnson is keen to reverse that and have another winning weekend this time out.
"I do have a lot of success at Martinsville, but it took me a few tries to get it right," he said. "And since then, it's been a very good track for me. I certainly want to get back to my winning ways there."
Even if he can't win, Johnson expects to post a substantially better finish at Martinsville than the 10th-place he earned at ACS or the ninth he got a week before at Bristol.
"At a minimum, we always end up with a real strong finish" at Martinsville, said Johnson. "When I think of how close we were to victory last fall — it didn't happen but we led a lot of laps and our car was a factor in the end. I'm looking forward to going back and trying to win there again."
Although Martinsville is the smallest track on the NASCAR Sprint Cup circuit and the slowest oval, it is also a extremely technical and challenging track for the drivers.
"Martinsville is really rhythm-based," said Johnson. "That's me as a driver, and really takes place at any track, but that is one of the tracks where the rhythm is so important and so specific. And I have a very good rhythm for the race in the long run and have always struggled a little bit with qualifying in the short-run rhythm there. I feel like I get better each year. I did get a pole there at one point and I hope to find that magic once again when we go back because qualifying is so important."
The good news for Johnson is that his season seems to be turning around. Last week, his 25-point Daytona 500 penalty was overturned and on Sunday he scored his fourth consecutive top-10 finish.
"Well, it definitely is a relief to be back in the top 10," said Johnson, who completed only one lap in the season-opening Daytona 500 before being crashed out of the race.
"We put ourselves in hole to start the season after our finish at Daytona," he said. "I think that was one of the lowest spots we've ever been in the points, but our guys buckled down and worked hard and we have the finishes to show for it. I'm very proud that we have finished in the top 10 in all of the races since Daytona. I hope that continues in Martinsville. It has certainly been a good track for us but, as you know, anything can happen there."
Tom Jensen is the Editor in Chief of SPEED.com, Senior NASCAR Editor at RACER and a contributing Editor for TruckSeries.com. You can follow him online at twitter.com/tomjensen100.