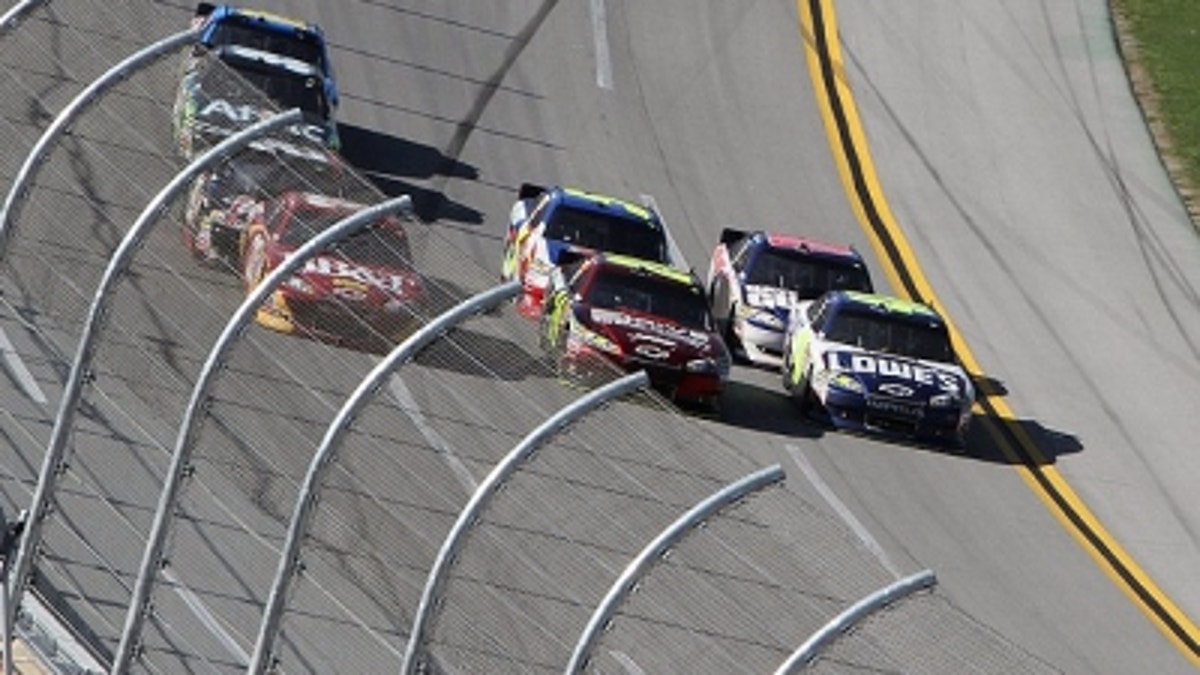 Jimmie Johnson has a tough act to follow this weekend: himself.
Last year at Talladega Superspeedway, site of Sunday's Aaron's 499, Johnson took the white flag in seventh place in his familiar No. 48 Hendrick Motorsports Chevrolet.
Just 2.66 miles later — the distance of a lap around the high-banked Alabama track — Johnson used a push from teammate Dale Earnhardt Jr. to take the checkered flag by just .002 seconds over Clint Bowyer, tying the NASCAR record for narrowest margin of victory. The top eight cars, two pair from Hendrick and one pair each from Roush Fenway Racing and Richard Childress Racing, crossed the line separated by a mere 0.145 seconds.
It was a show the likes of which was rarely, if ever, seen before and one that will be almost impossible to duplicate or improve on.
Historically, Talladega has been a place of feast or famine for Johnson.
Since 2006, the five-time champion has two victories and two runner-up finishes at Talladega. But in his last five starts, he also has three finishes of 26th or worse. That's not unusual at Talladega, because so much is out of the control of the drivers.
At the only other restrictor-plate race so far this year, the Daytona 500, Johnson got crashed out just past the start-finish line to start Lap 2, finishing 42nd. But in the eight races since then, Johnson has two runner-up finishes, four top fives and six top 10s. His worst finish of the year post-Daytona was a 12th place at Martinsville, and that was because he got wrecked going for the victory.
Johnson expects Sunday's Talladega race to follow a theme very much like the Daytona 500, which featured much more big-pack racing and fewer two-car tandems.
"I do think we will see some of the same type of racing," he said. "I think the warmer temperatures are going to play a factor, especially with the pack-type racing we will have. The elevated temperatures are going to make it harder for us to push and keep cool in the pack. It's definitely going to be a thinking man's race."
And, of course, once again this weekend all four Hendrick drivers will be looking to deliver victory No. 200 for team owner Rick Hendrick. The team has been stuck on 199 since Johnson's victory at Kansas last fall.
"We're thinking about it all the time, and Rick reminds us all the time to get that out of the way," Johnson said of the elusive win No. 200. "Man, we've been all around it, and have had a lot of shots at it this year. Unfortunately, we've haven't been able to pull it off. We had one through three locked up there at the end of Martinsville, and felt like that was the day for it to happen. Rick won his first race there. Two hundred there would be a great way to book-end all of that. That would have been a real special weekend, but it just didn't work out."
But victory No. 200 will come sooner or later and when it does, Johnson said, "It will be awfully special. I hope to be that guy."
Tom Jensen is the Editor in Chief of SPEED.com, Senior NASCAR Editor at RACER and a contributing Editor for TruckSeries.com. You can follow him online at twitter.com/tomjensen100.