CUP: Business As Usual For Johnson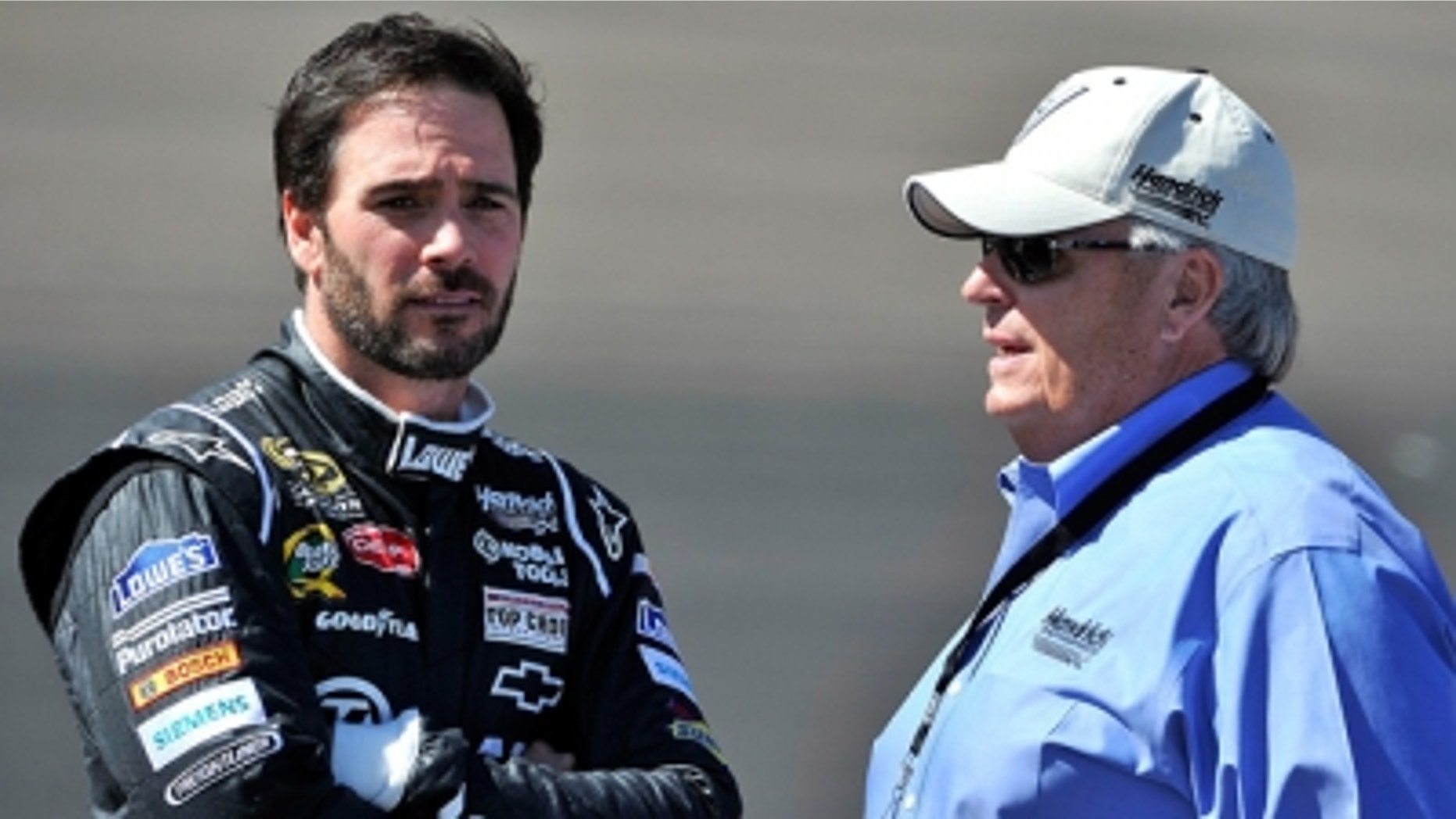 Jimmie Johnson's 2012 NASCAR Sprint Cup season hasn't exactly gotten off to an awesome start. That much should be obvious to even the most casual observer.
Let's see here ... hmm.
Forty-second place finish in the Daytona 500? Check.
Crew chief Chad Knaus and car chief Ron Malec suspended for six weeks each, pending the result of an appeal? Check.
Wheel issue that likely cost him a victory in Phoenix? Check.
Thirty-seventh in points after two races? Check.
Business as usual for Johnson, Knaus and the rest of the No. 48 Hendrick Motorsports team? Well, yes, the answer to that is also "check."
Despite myriad early-season problems, some of which are self-inflicted by the team, Johnson said that he will continue to race the way he always has and will not panic, no matter what.
"No, no strategy change," Johnson said when asked about his approach to this week's Kobalt Tools 400 at Las Vegas Motor Speedway.
Johnson has good reason to stay the course.
In 2005, Matt Kenseth was 35th in points after two races and still made the Chase for the Sprint Cup. In 2009, Ryan Newman was 33rd and made the Chase.
No one's ever come back from as far as 37th after two races to make the Chase but Johnson is very confident. And, he has something of an ace in the hole: NASCAR altered the points system last year so that the top 10 in points and the drivers in positions 11-20 with the most race victories make the Chase. Johnson figures that leaves him in solid position, even with all the calamity of the first two weeks of the year.
"The end result is winning races," Johnson said. "The worst-case scenario would be fighting for a wild-card spot (in the Chase) and that boils down to winning races. It is no different than if we won the Daytona 500. We want to go to the racetrack and perform as well as we can each and every week and win races. That is our agenda."
Of course, it helps that Johnson is pretty darn good at Las Vegas, where he won three years in a row from 2005-07 and again in 2010.
"I always enjoy Las Vegas," said Johnson. "It has been a good track for us, at times. There always seems to be a lot going on. Kobalt Tools is sponsoring the race, so we will have a lot of stuff going on and it will be a busy weekend. I'm enjoying a little down time with the family but am looking forward to getting to Las Vegas and continuing on the good momentum we had at Phoenix."
Johnson said he was encouraged by his strong run at Phoenix International Raceway, where he overcame a wheel issue on the right rear of the car to finish the race fourth.
"Obviously, it was very important," Johnson said. "I'm really proud of the way the Lowe's team came together. My guys worked hard and we focused on what we needed to do. We had a great car — a car that could win — but we had a little hiccup. We were able to come back from that and were able to pull off a top-five finish. It was exactly what we needed. We just need to keep doing that week after week."
Tom Jensen is the Editor in Chief of SPEED.com, Senior NASCAR Editor at RACER and a contributing Editor for TruckSeries.com. You can follow him online at twitter.com/tomjensen100.