CUP: Busch Fast, Johnson Struggles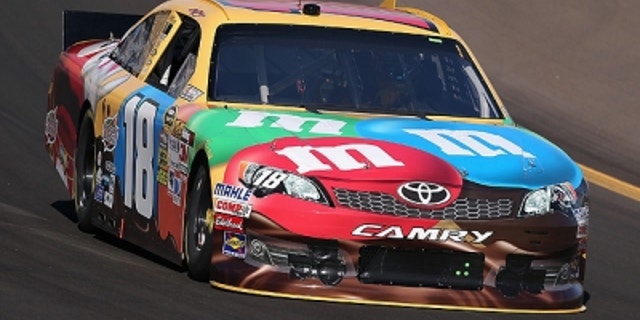 Kyle Busch captured the pole for Sunday's AdvoCare 500 at Phoenix International Raceway, but all eyes remain focused on the tense championship battle between Jimmie Johnson and Brad Keselowski.
Busch set a new track record of 138.766 miles per hour in his No. 18 Joe Gibbs Racing Toyota, while Martin Truex Jr. ran 138.217 miles per hour in his No. 56 Michael Waltrip Racing Toyota to take the second spot.
"I'm looking forward to the race," said Busch, who earned his 10th career pole in 292 NASCAR Sprint Cup starts. "It's just a matter of keeping it going on Sunday … the No. 1 pit selection is going to help us. … We hope it makes for an easy day for us."
"We had a really good practice and we had good speed all day long," said Truex, who had a good effort to end up on the outside of Row 1.
Denny Hamlin, Busch's teammate at JGR was third at 137.578 mph, followed by Kasey Kahne's Hendrick Motorsports Chevrolet and Aric Almirola's Richard Petty Motorsports Ford.
Kurt Busch qualified sixth. Then it was Paul Menard, Regan Smith, Tony Stewart and Mark Martin. Dale Earnhardt Jr. qualified 23rd, with Danica Patrick 36th.
With two races to go on the season, though, the focus remains on the title hunt. Johnson, the five-time champion, holds a narrow 7-point lead over Keselowski, his upstart challenger.
But it was Keselowski who had the much better qualifying effort on Friday, putting the No. 2 Penkse Racing Dodge in 14th, 10 places ahead of Johnson. It was Johnson's worst start since qualifying 37th at Bristol 11 races ago. Johnson went on to finish second in that race.
"I expect for Brad to be strong here," said Johnson. "He and I raced real hard for third or four positions in the closing laps of the spring race. I would assume that we would be right there running nose to tail once again when the checkered flag falls on Sunday."
The Phoenix track, which was repaved and reconfigured in the summer of 2011, was exceptionally slick during the session. In practice earlier, four different drivers crashed and in qualifying, three drivers aborted their laps, turned around and started again.
Tom Jensen is the Editor in Chief of SPEED.com, Senior NASCAR Editor at RACER and a contributing Editor for TruckSeries.com. You can follow him online at twitter.com/tomjensen100.