CUP: Bump-drafting – Gone With The Wind?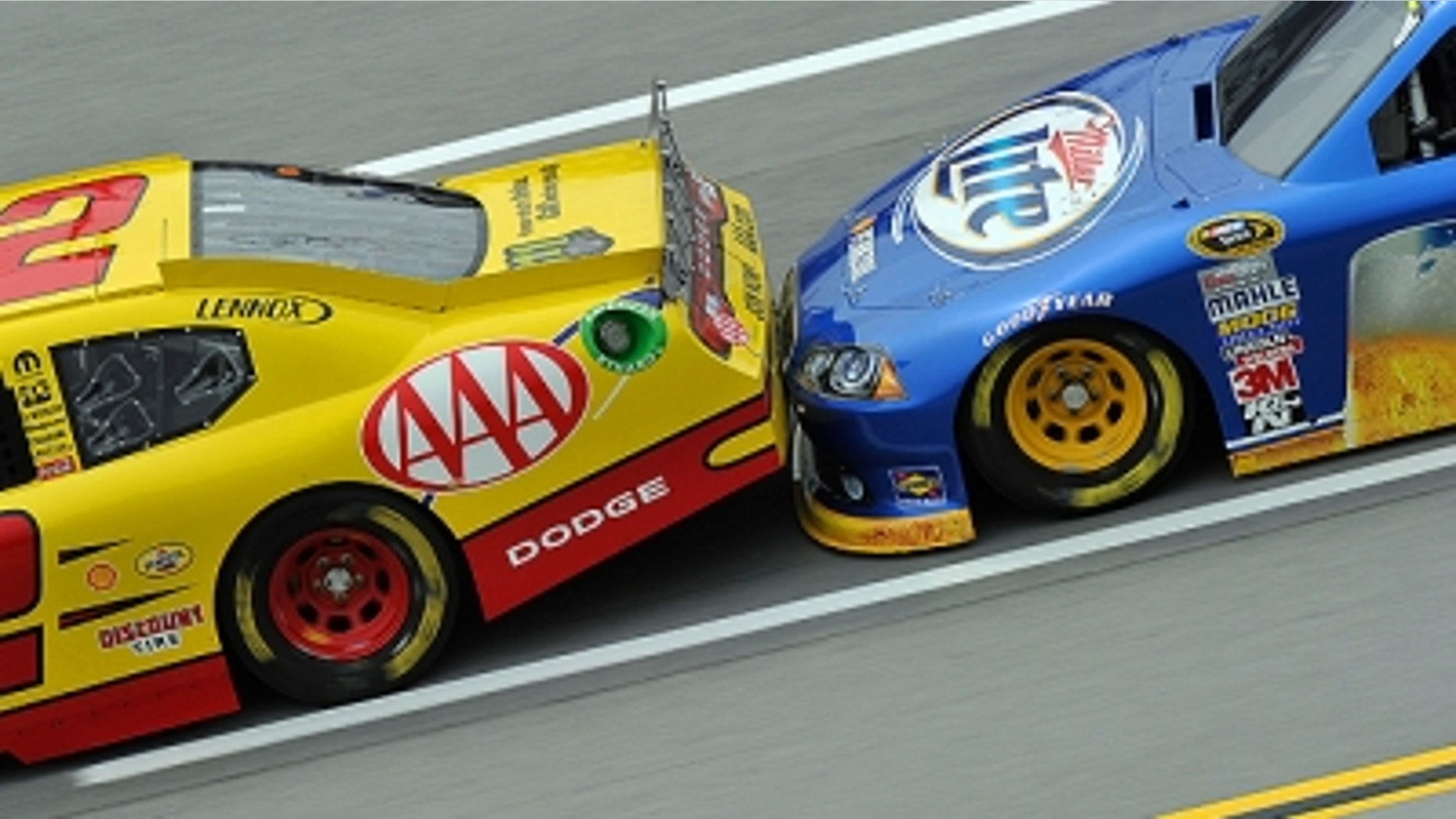 For years at Daytona and Talladega, it has been the way to go – and the way to go faster. Although it seems quite dangerous (and occasionally has been), drivers at restrictor-plate tracks have routinely slammed their cars into the one immediately in front of them, thus pushing both to greater speeds.
It's the art of bump-drafting.
Now it looks like it might become a lost art.
The first serious attempt at bump-drafting during last week's three-day run of preseason testing at Daytona International Speedway was more or less a disaster. Dale Earnhardt Jr. tagged the rear of Marcos Ambrose's car, sending Ambrose into a slide and starting a 12-car wreck that ended the test session for several teams.
It's still January, and much can change between now and the Daytona 500 green flag Feb. 24, but indications from last week's testing lead to the conclusion that bump-drafting will be a minimal factor in SpeedWeeks racing.
"Definitely, the drafting is not like it used to be," Earnhardt Jr. said. "You can't really tandem certain cars. Certain cars don't match up well. Our bumpers on the Chevys have a little bit of a point. It makes it a little bit of a challenge to get into guys and kind of help them. We definitely weren't doing that in the corner at all because it was pretty hairy trying to do it on the straightaways."
The design of the new Gen-Six cars makes it difficult to match bumpers, a critical element in bump-drafting.
"It's going to take a lot more care and concentration and just knowing kind of what is at stake," Earnhardt Jr. said. "Certain cars you line up OK with and can push fine, and, for whatever reason, mine and Marcos' car didn't line up good. We got our bumpers together and it hooked him. For whatever reason, you've got to be careful who you are working with."
Jeff Gordon was a victim of the 12-car wreck.
"You can't push, which I think is a good thing," Gordon said. "The bad thing is, you can still get to the guy's bumper, but the cars just don't line up very well. You really just shouldn't even be doing it.
"So, it's something that is going to have to be dealt with very carefully. You are going to have to be cautious when you do it and do it with the right guys, but most of the time you're going to need to stay away from it. That is certainly something we learned."
The current expectation is that drivers will try to selectively tandem-draft, perhaps in the closing laps or in other limited situations.
"When it comes down to the trophy, check and trophy queen, all bets are off," said NASCAR vice president Robin Pemberton. "They're going to do anything they can do to get there for any or all of the above. That's just the way it always is here. That's what I expect."
Mike Hembree is NASCAR Editor for SPEED.com and has been covering motorsports for 30 years. He is a six-time winner of the National Motorsports Press Association Writer of the Year Award.